Some time ago, Apex Legends released a new Legends with an exciting playing sensation called Vantage. Not only a new sensation, this Legends can also be considered as an observer as well as a very good hunter.
Want to know more about this one Legends? Let's discuss it together!
Also Read: What Is Gun Run: New Mode in Apex Legends?
Vantage, the 23rd Legends in Apex Legends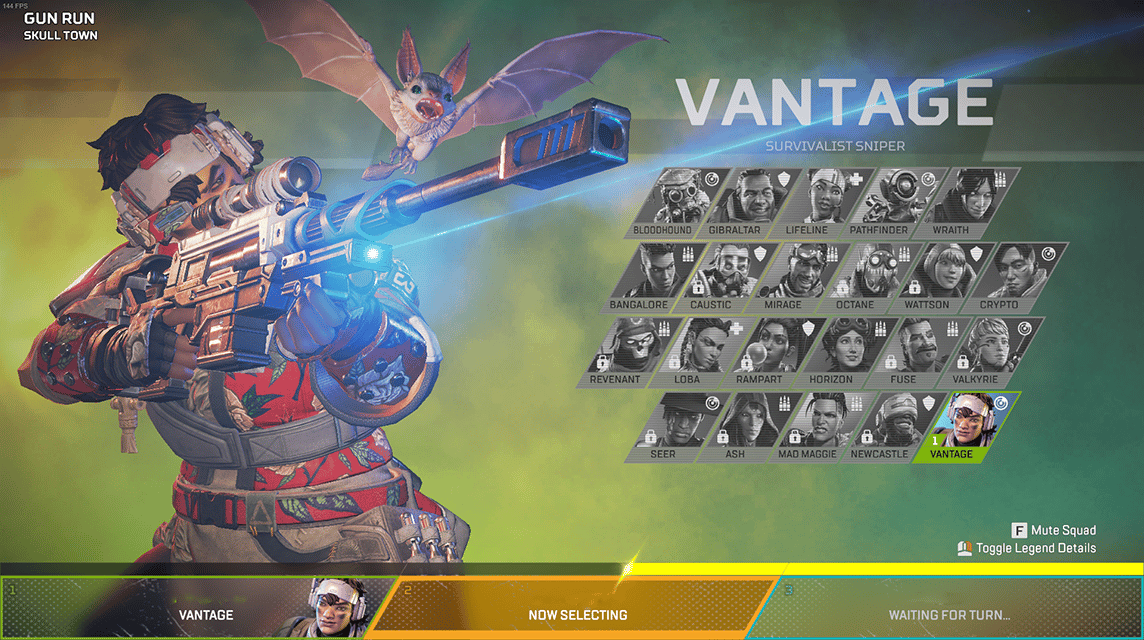 On August 9, 2022, at the same time as Season 14 of Apex Legends, Respawn Entertainment released a new Legends called Vantage. Its presence in the Apex Legends game makes Vantage the 23rd Legends.
Based on his appearance, we can guess that Vantage is a hunter. Just look at the shape of his aiming glasses, a very proper sniper, and also his friend in the form of a small bat.
Apex Legends: Vantage Biodata and Lore
Actually the story about Vantage has been officially told by Apex Legends through the channel YouTubehis. To be more complete, the author has summarized all the backgrounds (biodata) and stories from Vantage from various sources.
Also Read: Apex Mobile Bangalore Skills, Reliable Warriors on the Battlefield
Legends Vantage Brief Biography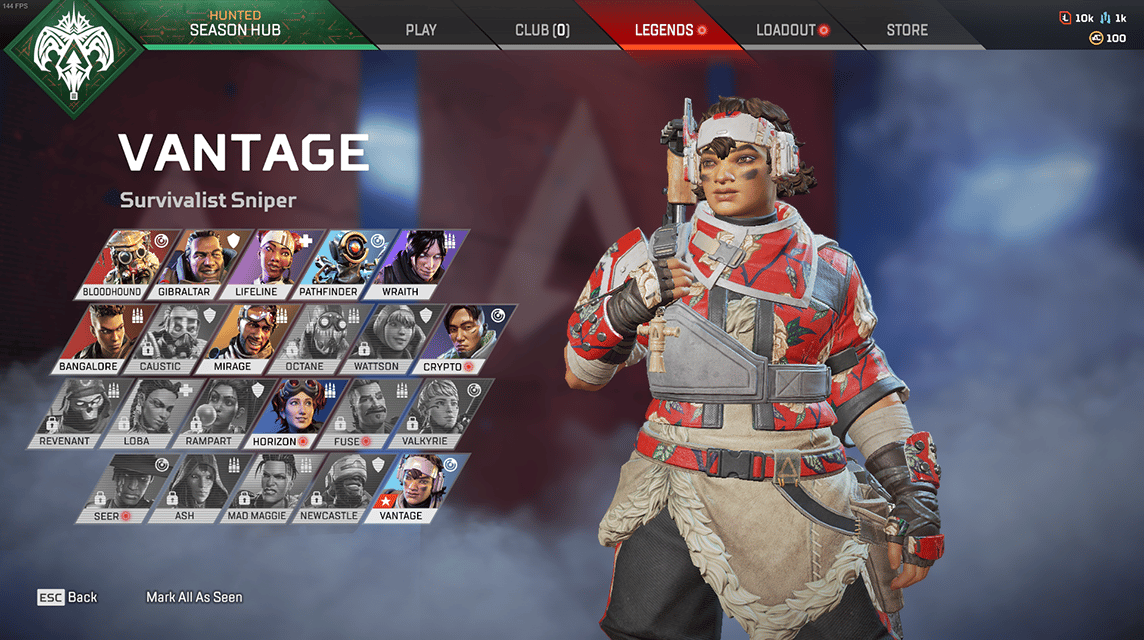 Vantage's real name is Xiomara "Mara" Contreras, daughter of Xenia Contreras. He was born on a planet covered in ice called Pagos in 2716. Now he is 18 years old.
For 18 years, he was raised by his mother to become a survivalist. He was very good at using a sniper rifle since he was little and finally his mother gave him a special sniper.
During his stay on this dangerous planet, his mother always instilled these words in him:
"everything wants to kill me," and the only rule is to "survive."
Lore Legends Vantage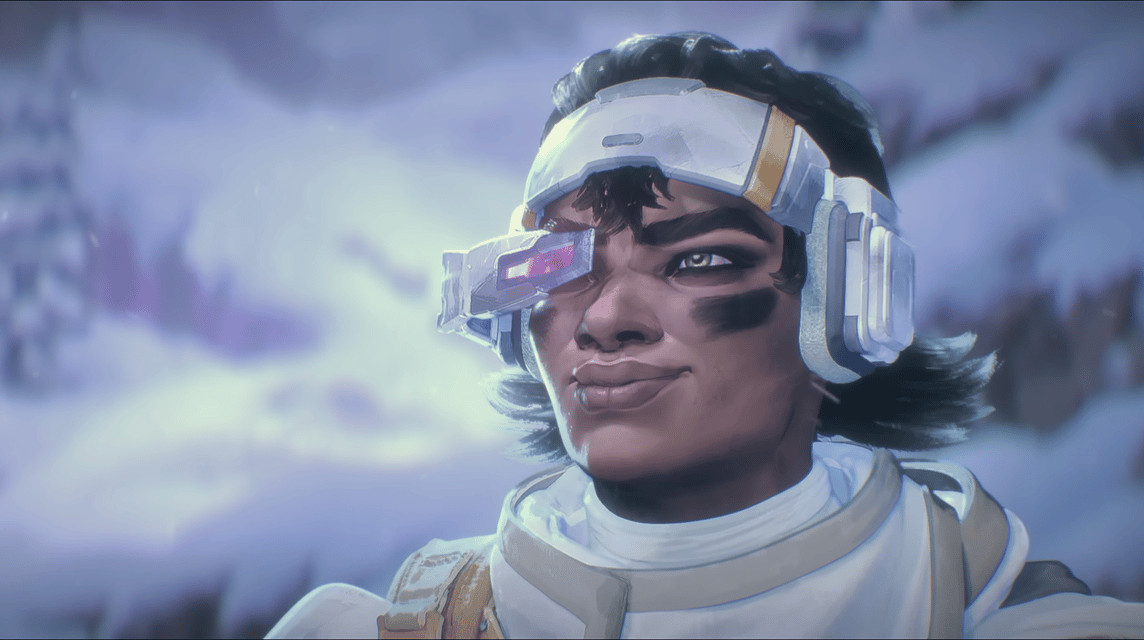 One day, when he shot a bat, the bat fell right on top of a cargo ship GDS Vantage. At a glance, her mother said that Mara had to stay away from the ship because the ship was empty and controlled by robots.
The bats that were shot entered the cargo ship through the gap. Mara, who was curious about its contents, decided to get into the ship.
Upon entering the ship, Mara realized that there were two strange things. The first is the "opened" cage and the second is the sniper on board. Surprisingly, the special sniper given by his mother was exactly the same as the one on the ship.
Getting into the pilot's room, Mara saw that the bat she shot just now gave birth to an albino bat. Accidentally, the bat presses some buttons which reactivate the ship.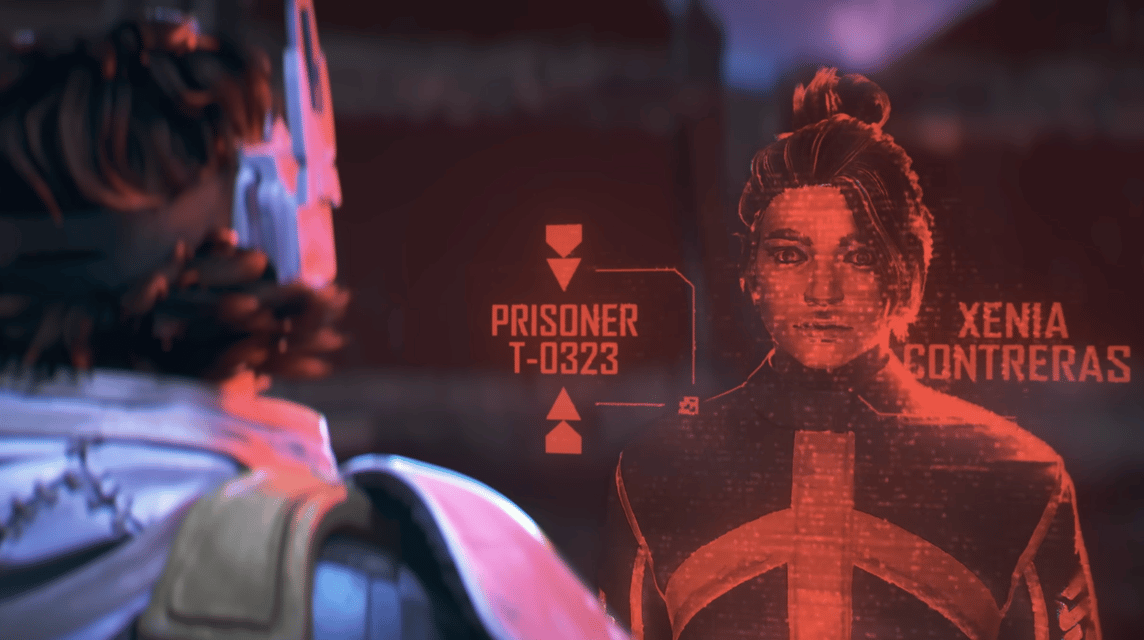 The activation of the ship triggers a laser scanner. because Xiomara is the daughter of Xenia Contreras, she is identified as her mother. To his surprise, it turned out that his mother was a prisoner T-0323.
It is also known that the GDS Vantage is not a cargo ship, but a prisoner ship that crashed on the planet Pagos. Xenia Contreras who survived broke out and survived alone on this wild planet.
The robot that was active on the ship forced Xiomara to return to the holding cell. Unfortunately, the ship moved and eventually fell into the abyss.
Xiomara survived on the edge of the cliff, but was injured and crushed by a ship part of her leg. When he wanted to call his mother using a whistle, the whistle fell into the abyss.
The albino bat that was on the ship was rescued by Xiomara. He flew into the ravine to retrieve the whistle. Even though he had succeeded in getting it, Xiomara was unable to blow the whistle.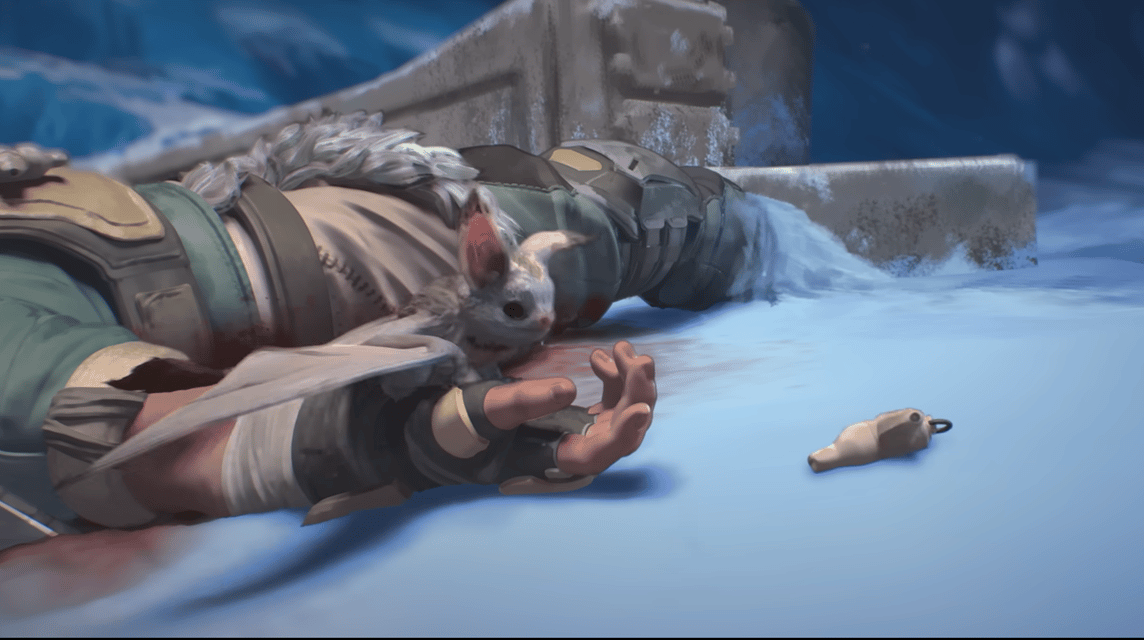 As a result the albino bat had gone to bring the whistle to his mother. It is also seen that his mother seems to have a special relationship with bats.
His mother also found Xiomara in a critical condition. Unable to help her, Xenia gave the Vantage ship Beacon to Xiomara in the hope that the ship would save her.
Scroll to continue reading
Scroll to continue reading
Scroll to continue reading
Scroll to continue reading
Still continue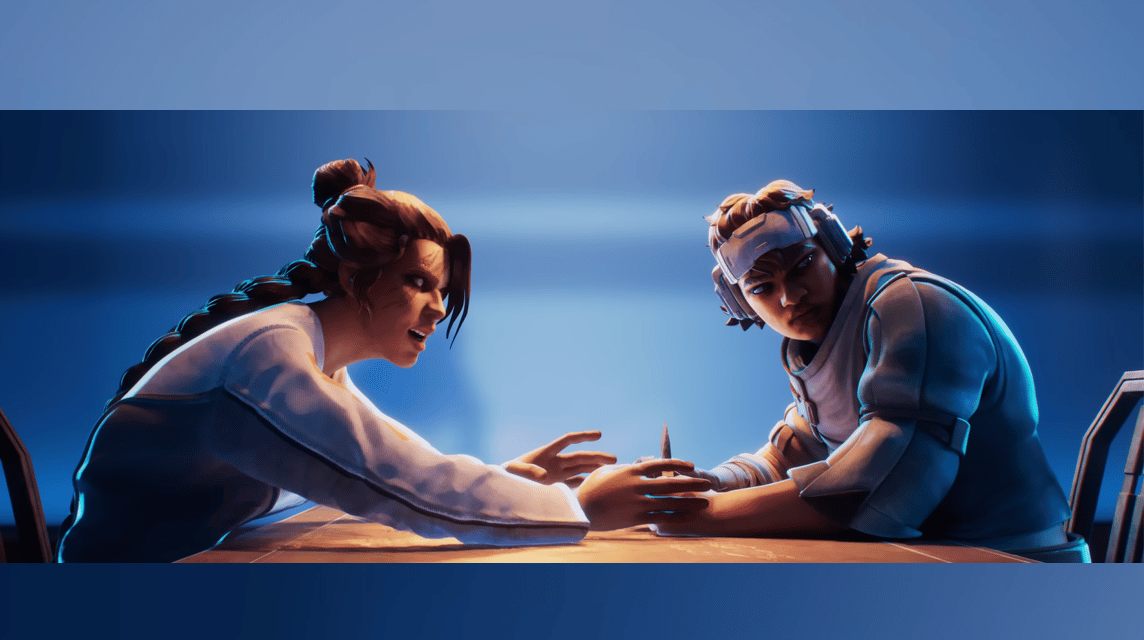 After the beacon was lit, the aid ship came and rescued Mara. Mara is taken to the Apex Games facility, while her mother is arrested and imprisoned.
He regretted because he was the one who made his mother have to be held back in prison. At that time, Mara wanted to help her mother escape, but she refused while planning something.
One way to make amends is to become the Apex Games champion. Together with Echo, her bat, Mara changed her alias to Vantage and joined Apex Legends.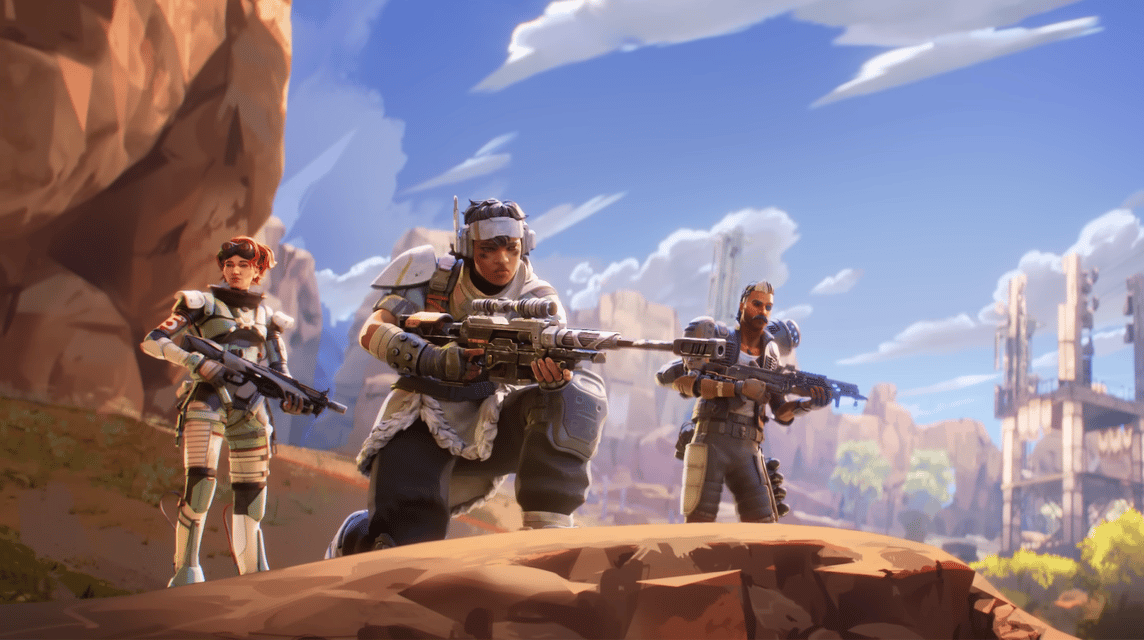 Vantage is positioned with Fuse and Horizon in one team. The Legends trio managed to win the Apex Games, and at the same time, Vantage went public with his mother's case to gain support.
Also Read: Latest Apex Legends Update: Hunted August 2022
Classes, Skills, and Ultimate Vantage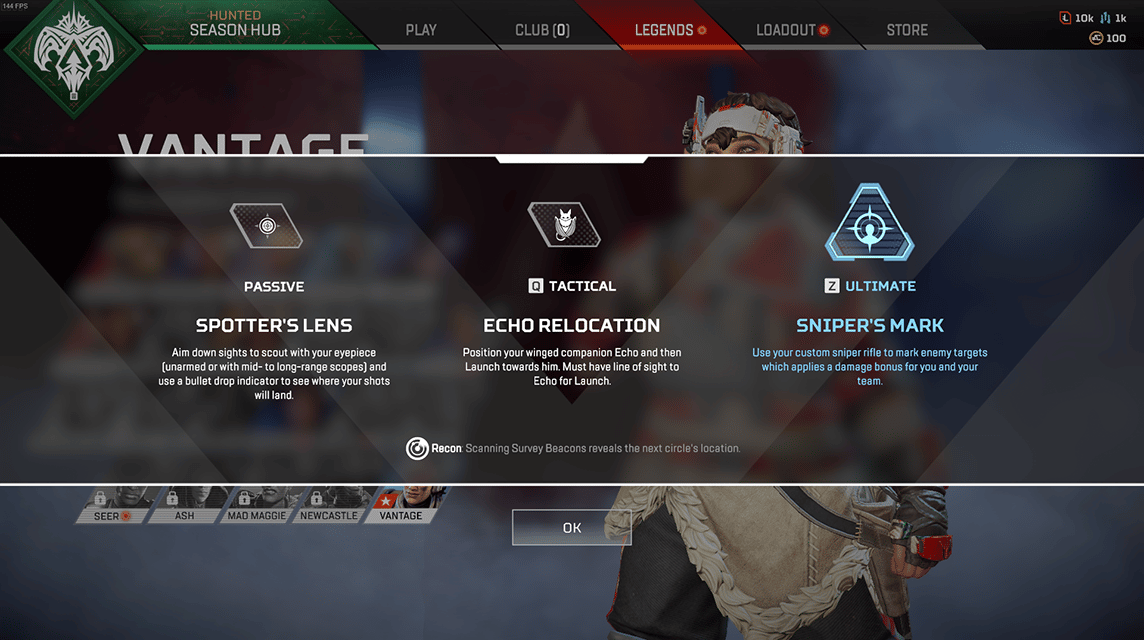 Judging from the story above, Vantage occupies the Recon class. For those who don't know, Recon is one of the four Apex Legends classes whose job is to provide valuable information such as enemy locations or the next ring.
For skills, Vantage has one passive skill and one active skill.
Passive skills her named Spotter's Lens. This skill is active when doing Scope (either with or without weapons). Vantage is able to provide important enemy information such as shields, bullet drop indicators, enemy distances, and even Legends Mirage's helpers.
Active skills her named Echo Relocation. Vantage will release Echo in the specified direction. If you can see Echo clearly, you can fly to Echo or call back using the whistle.
Last is The ultimate which name is Sniper's Mark. Vantage will use his special Sniper, with an 8x sniper scope and a capacity of five bullets. Vantage can mark enemies and deal massive damage if it hits the same target several times.
Also Read: Apex Mobile Octane Skills, Lively Characters You Need to Know
How to Play Vantage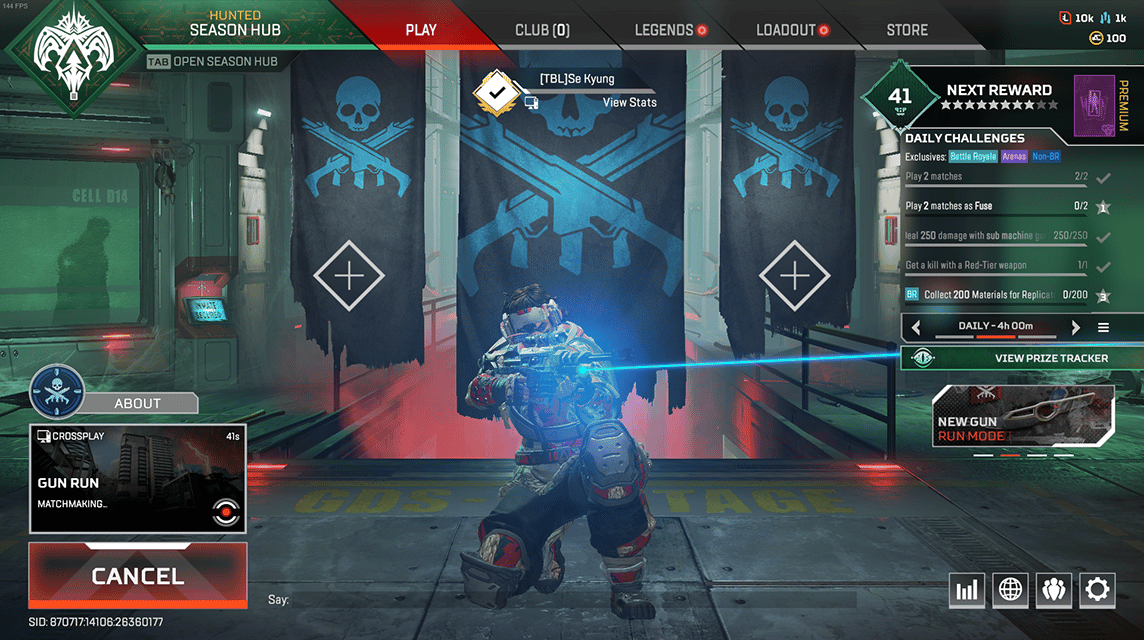 "If You're Not Hunting, You're Being Hunted."
The above sentence probably fits the Vantage way of playing. Hunting in question is not about ambushing the enemy, but stalking the enemy from a distance.
Vantage's passive ability is very good when combined with long-range weapons such as Marksman Weapons or Sniper Rifles. Vantage's skills will be better if combined with high-scope weapons.
Echo Relocation belonging to Vantage you can use to go to the highest place. From that place, you can keep an eye on the enemies moving below.
It also feels like the range of this skill can be further than Legend's trampoline Octane. Even if you jump and pass Echo, you can jump one more time with the space bar, making it farther and higher.
For ultimate Vantage, Sniper's Mark, Don't expect to use it to scout the enemy. In fact, when Vantage chases enemies with its ultimate, it also emits a laser that can tell your position.
Think of it like a counterweight to a very sick ultimate.
Lastly, as a defensive form, you can also take a close-range weapon to protect you later if an enemy gets too close (rifles, pistols).
Also Read: Tips for Playing the EA Apex Legend 2022 Game
That's the profile, lore, explanation, and how to play Vantage, the newest legend from Apex Legends. If you are interested, you can buy it for 750 Apex Coins or 12,000 Legend Tokens.
Fulfill your Apex Coins needs by Top-Up via VCMarket from VCGamers and get attractive promos in it!