Lanjut pembahasan kita soal perdebatan ini, biar kamu yang sudah punya Poco X3 NFC ga galau lagi, jadinya upgrade ke Poco X3 Pro atau tidak.
Untuk yang belum baca bahasan sebelumnya pada Part 1, klik link di bawah ini dulu ya, baru kita lanjut bahas Part 2-nya disini.
Read also: Upgrading the Poco X3 Pro even though you already have a Poco X3 NFC, is it mandatory? – Part 1
Poco X3 NFC VS Poco X3 Pro
Pada saat peluncuran secara global, Poco X3 Pro sudah langsung dibenamkan dengan OS Android 11, berbeda dengan Poco X3 NFC yang hingga saat ini, masih harus bersabar menunggu update dari OS Android 10 ke Android 11, belum ada jadwal resmi dari pihak Xiaomi sekalipun.
Upgrade besar juga terasa pada sektor prosesor. Snapdragon 732G pada Poco X3 NFC, kini di upgrade menjadi Snapdragon seri 8 terbaru dari Qualcomm, yaitu Snapdragon 860.
Hingga saat artikel ini kita posting, belum ada smartphone android dari brand lain yang membenamkan prosesor Snapdragon 860 pada seri smartphone teranyar mereka.
Scroll to continue reading
Scroll to continue reading
Scroll to continue reading
Scroll to continue reading
Mungkin, ada beberapa dari mereka, namun belum sempat diumumkan ke media, kita lihat saja beberapa minggu ke depan, Siapa tahu Poco X3 Pro punya lawan yang sebanding, yang benar-benar bisa diadu head to head!
Untuk tahu seberapa hebat ataupun bagaimana hasil komparasi prosesor Snapdragon 860 dengan Snapdragon seri 8 lainnya, nanti kita akan bahas di artikel selanjutnya, stay tuned Vicigers!
Mengusung prosesor anyar yang lebih bertenaga dari sebelumnya, berarti akan berbanding lurus dengan kemampuan GPU-nya. Apabila sebelumnya Snapdragon 732G didukung dengan GPU Adreno 618, maka kini Snapdragon 860 telah didukung dengan GPU Adreno 640. FYI, di atas kertas Adreno 640 mempunyai kinerja yang cukup memuaskan untuk mendukung sekelas prosesor flagship.
Kedua seri ini, sama-sama memiliki 3 varian RAM dan penyimpanan internal, namun tidak identik sama.
Varian Poco X3 NFC:
6/64GB
6/128GB
8/128GB
Varian Poco X3 Pro:
6/128GB
8/128GB
8/256GB
Untuk varian Poco X3 NFC yang masuk resmi di Indonesia kemarin hanyalah 6/64GB dan 8/128GB, namun untuk pasar global Xiaomi menambahkan opsi varian 6/128GB. Menurut kita sih, varian ini ga terlalu penting, jadi terima kasih untuk Xiaomi karena tidak membawa varian 'nanggung' 6/128GB ke Indonesia.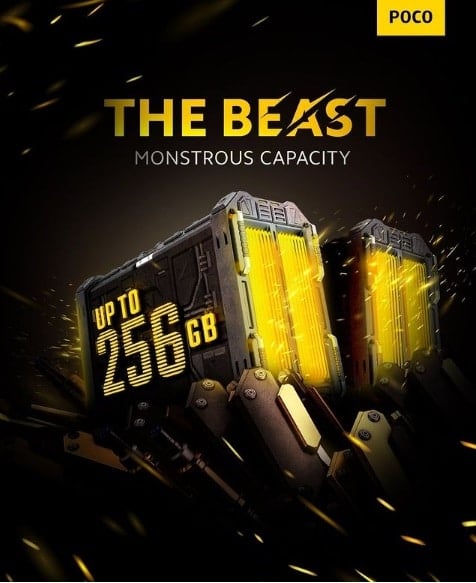 Nah, untuk Poco X3 Pro sendiri, sebenarnya kita belum tahu dan sama sekali belum mendapatkan bocoran, apakah semua varian akan masuk ke Indonesia. Kalau kita melihat sedikit clue dari unggahan pada sosial media Poco Indonesia, rasa-rasanya mereka akan memasukkan varian paling tinggi 8/256GB ke Indonesia, yang bahkan untuk pasar India varian ini tidak masuk resmi.
Karena biasanya Xiaomi Indonesia selalu memasukkan seri Poco dalam 2 varian, kira-kira untuk ROM 128GB, varian RAM 6GB/8GB yang akan masuk resmi? Yuk coba tebak, tulis komen kalian di bawah ya Vicigers!
Read more: Upgrading the Poco X3 Pro even though you already have a Poco X3 NFC, is it mandatory? – Part 3
Don't miss it to always get the latest and complete news updates about games. Starting from new game reviews, tips and tricks and so on. Just follow the account Instagram VCGamers and Channel YouTube yes. Come on! Join the community on Discord VCGamers, the largest gamers community in Indonesia discord.gg/EDWvQ9jQEp