Spices From the West is events Genshin Impact new one in progress. 
Events that are part of the implementation update patches 2.6 Phase 3 just started last week.
As is known, the state of the Covid pandemic in Shanghai is deteriorating, making Genshin Impact 2.7 postponed its release.
Spices From the West has also been pushed back which previously had to be included in update patches 2.6 second.
You will get a total of many Primogems, Mora, books to increase talent, and various items for character ascension from events this so it would be a shame if you missed it.
The event will last for the next 1 month so you still have time to play it.
VCGamers will provide a guide to complete events Spices From the West so keep reading this article because it will be discussed in full.
Event Spices From the West Genshin Impact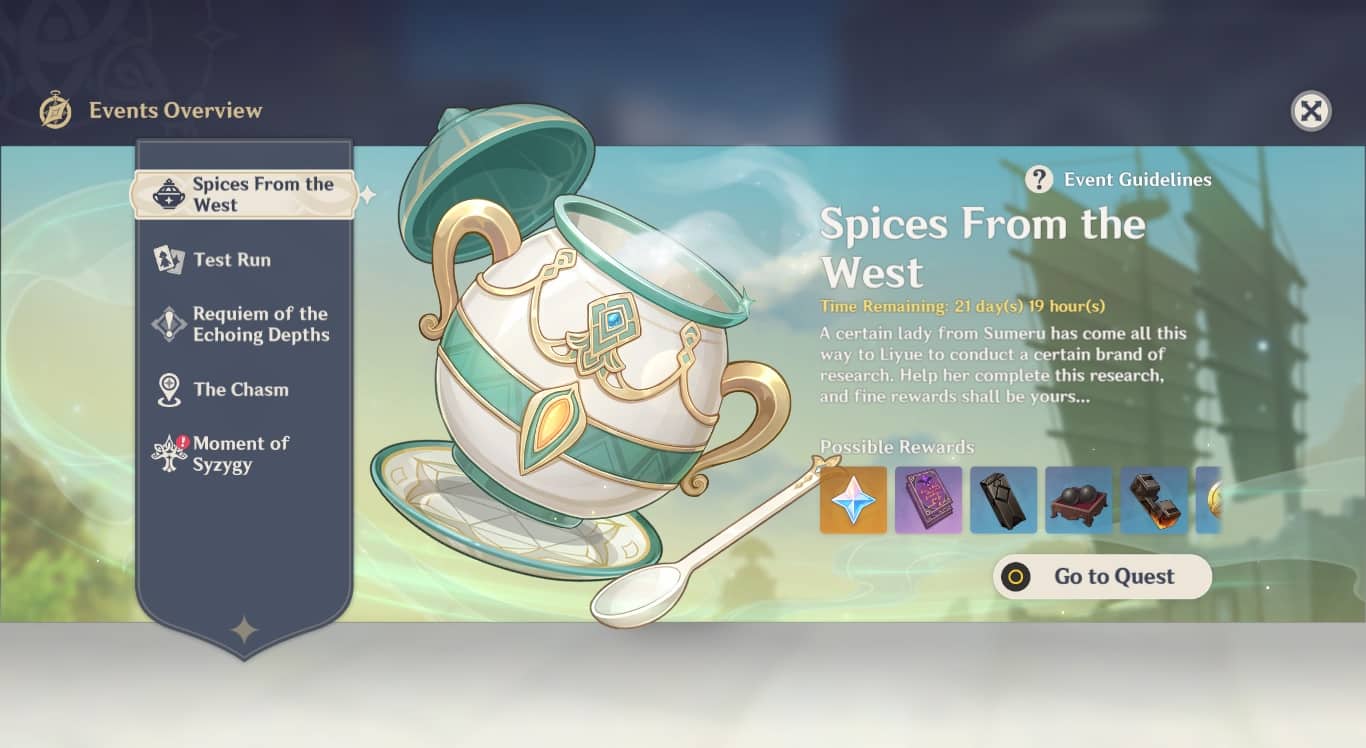 This event will tell you where you have to help a scientist from Sumeru named Nazafarin.
Nazafarin will ask you to try to make seasoning mixed into food.
In addition, you will be asked to help Nazafarin try the Seasoning that has been mixed with food for people you know.
Quest A Visitor From Westward Realms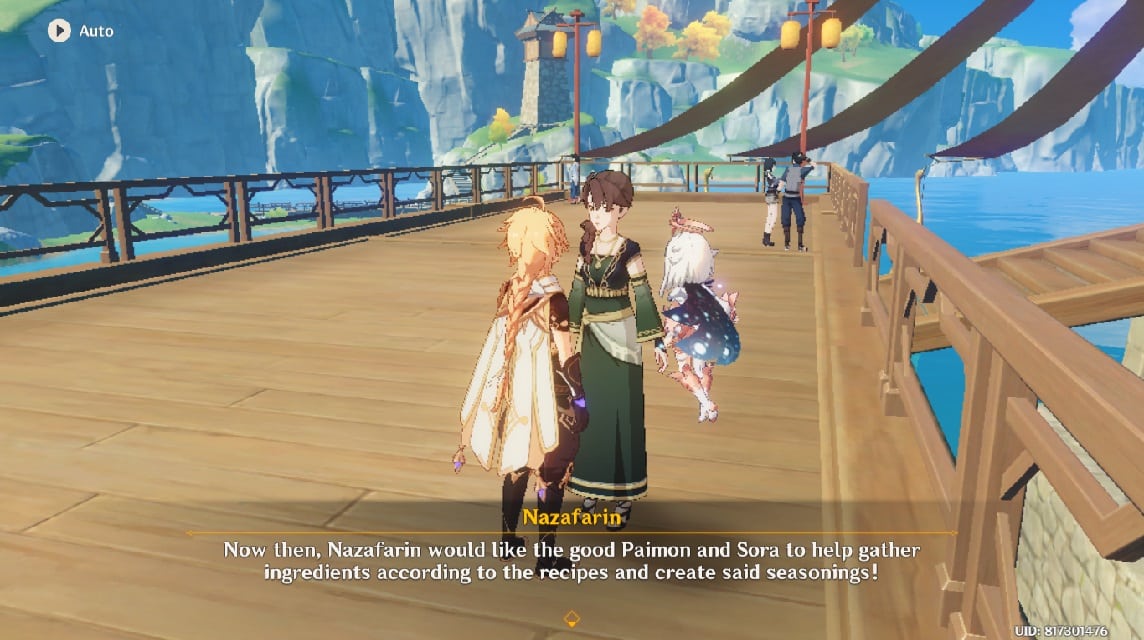 To be able to play events Spices From the West Genshin Impact you must meet various requirements first.
Requirements that must be traveler or players must fulfill are as follows:
AR minimum level 20 and above to be able to make Seasonings

To be able to use the teapot, the minimum AR is 28+

Must have completed

quests "

Idle Teapot Talk

" to obtain the Realm Dispatch, an item that allows you to invite any character you own to be positioned in your Teapot.
If you meet the 3 conditions above, you will automatically get quest by the name A Visitor From Westward Realms.
This quest will direct you to talk to Nazafarin regarding requests related to events Spices From the West Genshin Impact.
In essence, Nazafarin will ask you to help him try Seasoning which he formulated to help with the tasks of Nazafarin's friends.
You will also get some related information Sumeru like Eremit, the warrior from Sumeru that you shouldn't miss from your conversation with Nazafarin.
After you finish talking to Nazafarin, you can start events Spices From the West Genshin Impact.
You will also get rewards in the form of Mora and Adventure's Experiences items.
How to Start Playing Spices From the West Genshin Impact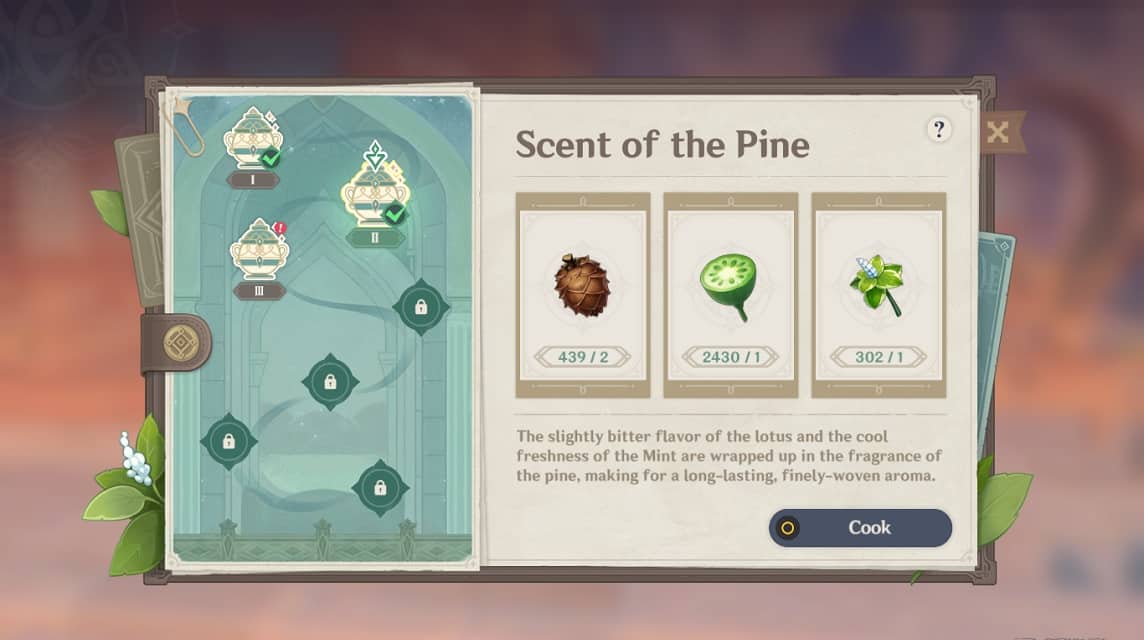 To start playing you can go to the section events which is in the events tab section. You can open it from the Main Menu or from the interface you.
You can go to the Details or Event Details section to start creating Seasonings. 
There are a total of 7 seasonings that you can create which will open up other Seasonings variants every day.
Many of these Seasonings variants will require various items from the Open World that you need to create Seasonings.
Every Seasoning that is included in the list events Spices From the West will require different items.
For example, to make a Seasoning named Scent of the Pine, you will need Pinecone, Lotus head, and Mint.
You can get these items from collecting in the wild, buying them at Bubu Farmacy or other shops, and so on.
How to play is quite easy. You have to adjust the composition of the ingredients that you will enter to make Seasoning.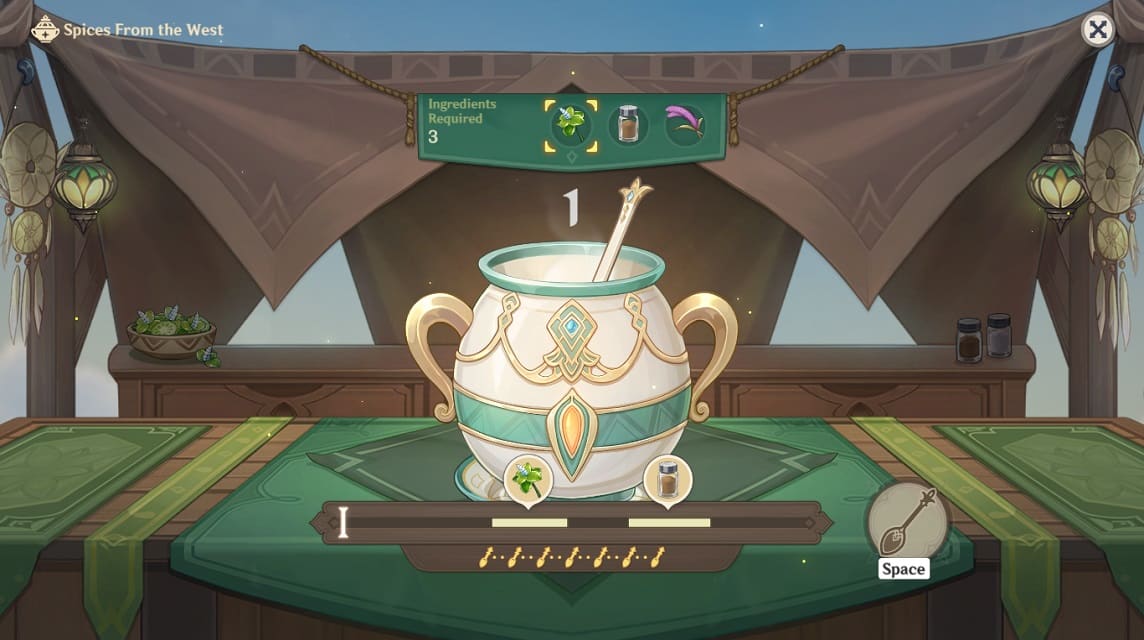 You simply press the "Space" button on the keyboard Your PC or Laptop, while on your cellphone, you just need to press the round icon that has a spoon image in it.
You must have dexterity and the right timing because you can fail to complete the challenge.
There will be a spoon-shaped parameter below that marks the duration you are working on making Seasoning in the duration of the spoon.
The duration of the spoon can be reduced if you press the Spacebar on the wrong material.
You're done working events you will get an item called "Fragrant Seasoning".
You then add this Fragrant Seasoning to your food to give it to the characters in your Teapot.
The way to add it is that you have to make dishes first.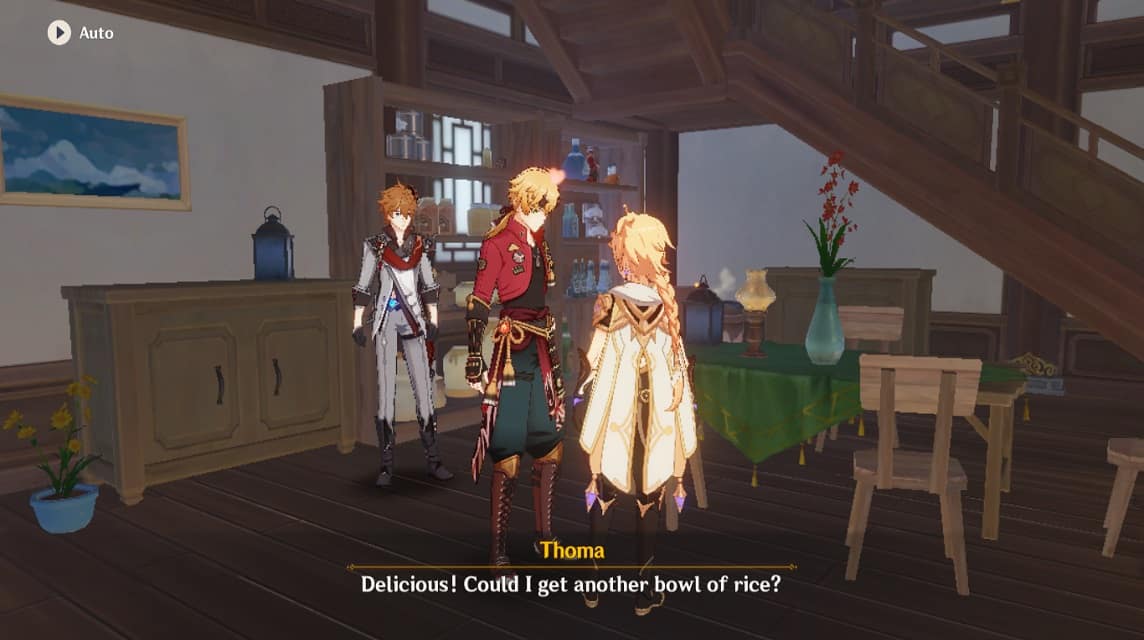 Menu that can be added Fragrant Seasoning from events Spices From the West Genshin Impact is limited to recipes originating from Liyue.
After cooking all the recipes, you can return to the Events menu, go to events Spices From the West, and select "Use Seasoning" or "Use Seasoning".
You will get food by adding the word Fragrant in front of the name of the food, for example Fragrant Jewelry Soup.
You can give this food to the Companion or character you have invited in your Teapot.
You can get different dialogues when you give food. There is a dialogue that states the character likes, is average, and really doesn't like it.
Also Read: These are the best 4-star characters of Genshin Impact 2022 version, you must use them!
Rewards Event Spices From the West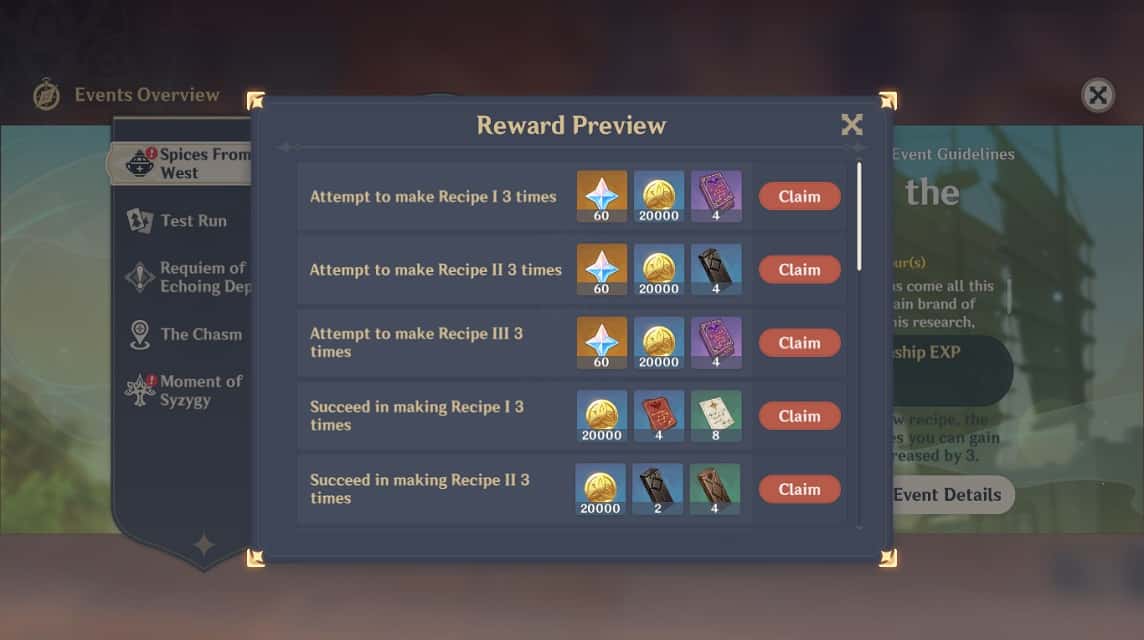 The food that you gave to the character earlier will give additional EXP to the character totaling 3.
In addition to increasing EXP, you will also get various rewards every time you complete Seasoning or give food to your character.
A total of 420 Primogems, 270,000 Mora, Adventure's Experiences, Hero's Wit, and Ascension materials such as Luminous Sands from Guyun, Grain of Aerosiderite, Mist Veiled Lead Elixir, and many more.
That's the guide events Spices From the West Genshin Impact. Even though the processing time is still long, you can do it in installments events this is because there will be events pull it.