Krafton never stops providing new events every month. Now comes the PUBG x Gojek collaboration event which presents many cool skins. One of them is skin ojol.
PUBG x Gojek Indonesia officially launched its spectacular collaboration on Tuesday, 17 May 2022. The collaboration between Indonesia's two great powers has been driven by strong growth, both in terms of user growth and popularity.
With GOJEK as the leading "on-demand" platform in Southeast Asia, PUBG Mobile players will receive permanent exclusive items for the #PUBGJEK campaign event, as well as a number of interesting programs held offline and online on the PUBG x Gojek application.
This collaboration between PUBG Mobile and GOJEK is also a form of appreciation for the work of Indonesian children who have participated in building Indonesia, including GOJEK.
Top Up UC PUBGM at VCGamers now so you are free to express #gamingyourway with the skin of your dreams!
PUBG Mobile Indonesia Product Manager Elvarica Noviyanti also welcomed this extraordinary collaboration and said that PUBGM Indonesia was very pleased to be able to launch this collaboration. 
PUBG x Gojek 2022 Event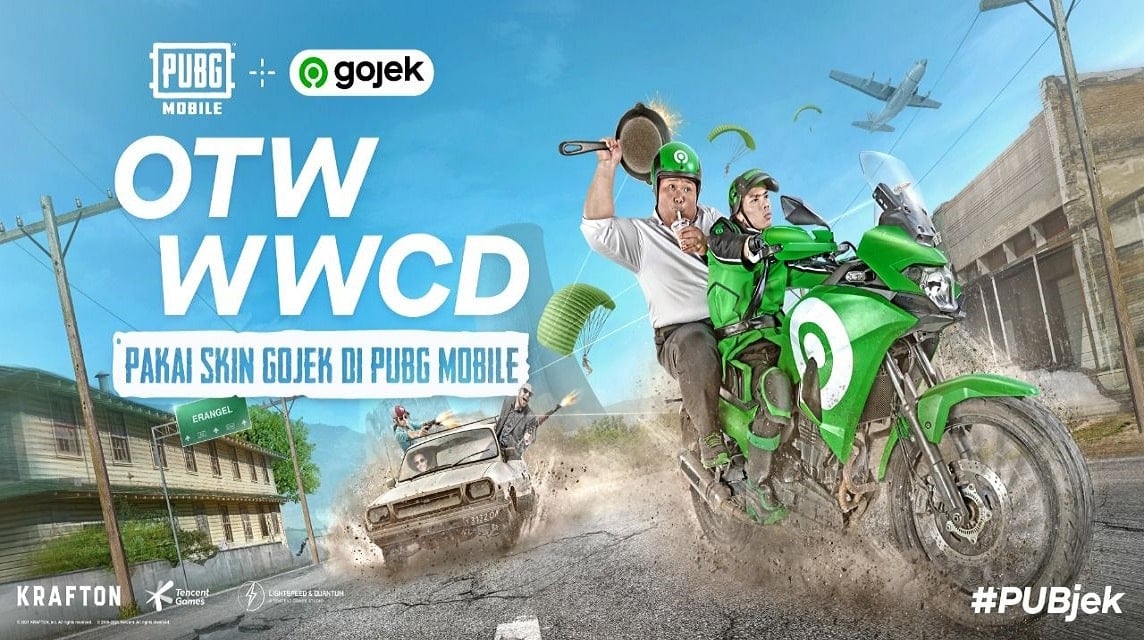 The Big Name PUBG x Gojek Indonesia Cooperation is a form of appreciation for the Development of the Domestic Pool Industry.
Carrying the theme PUBGJEK 5-Star Hero, this form of collaboration that has been long awaited by PUBG Mobile fans is a form of gratitude to GOJEK partners who have become community heroes.
Rama Ishwara as GOJEK's Head of Brand Marketing emphasized that this collaboration was carried out as a form of GOJEK's gratitude and support for the domestic game industry which continues to show positive use.
Indonesia is one of the largest markets in the gambling industry in the world, especially in the field of mobile games and other devices.
Indonesia is also known as one of the six Southeast Asian countries with the largest gaming market along with Malaysia, Thailand, Vietnam, Singapore and the Philippines.
Rama also added that GOJEK continues to innovate in Indonesia, including the development of the creative economy sector such as the gaming industry, and always welcomes collaboration with any brand or company with the same goal.
Rama also hopes that this collaboration will further strengthen the growth of the Indonesian game industry and also Indonesia's position as the country with the largest game market in Southeast Asia.
The PUBG Mobile x GOJEK Indonesia collaboration includes many things, ranging from exclusive items in the form of PUBG Mobile in-game skins, especially outfits, motorbikes, helmets, spray graffiti, profile banners, zone gifts to special PUBG x GOJEK events.
To get exclusive and permanent items, PUBG Mobile players must complete various in-game missions available for individual or team missions. The mission that needs to be fulfilled is to drive the GOJEK engine which distributes the PUBG Mobile game.
In addition to playing PUBGM, players can also get other exclusive items using various GOJEK Indonesia features such as GoCar, GoRide and GoFood orders. Not only getting exclusive skins, players also have the opportunity to get GOJEK Indonesia service vouchers.
How to Get Ojol Skins for Free
Scroll to continue reading
Scroll to continue reading
Scroll to continue reading
Scroll to continue reading
Players can take part in a number of interesting programs made offline and online in the Gojek and PUBG Mobile applications. An interesting feature of this collaboration is the presence of exclusive Gojek-themed items on the website PUBG Mobile, namely a set of Gojek or ojol clothes.
To get a set of exclusive clothes, they just need to play an event called "Gojek Adventure".
Then just play PUBG Mobile as usual with your favorite car and pay attention to the playing cards.
When players reach the milestone of 100 million km, all players will be given a permanent set of Gojek outfits for free. These milestones are calculated together so that all server players in Indonesia can fulfill them simultaneously.
For the record, these prizes can only be won by players who have played 20 matches in classic mode during the event, from 17 May to 8 June 2022. In addition to these prizes, players can also get other prizes in the form of:
graffiti biker,

5 star cyclist,

crate shipping coupons,

Helma Gojek (5 days),

GoFood/Gojek Vouchers.
Read also: Adjustment, Tier Bronze in PUBG Mobile Now Only 3 Tiers
The trick is that players only need to complete daily missions at a distance of 20 km. In order for players to complete the Gojek trivia collection, they must also have a Gojek motorcycle ladder. The skin is in stores until June 8, 2022 and is only available for a starting price of 10 UC.
You just need to play PUBG Mobile and cross playing cards with your favorite car and win permanent gojek clothes for free.
How to get skins and Gojek's glass skin on PUBG Mobile can be done by completing simple missions. All they have to do is play classic mode 20 times.
In addition, players can directly enter the 'Gojek Adventure' event page before 6 June 2022 and collect free gifts. In addition to Gojek jackets and glasses, players can also get Gojek motorcycle skins and helmets until June 10, 2022 with prices starting at 10 UC.
Even though it's finished, Gojek users can still get the two skins. free by making GoRide and GoFood transactions no later than 7 June 2022.
Read also: Team from the Philippines Wins VCG PUBGM Ladies Championship x Logitech G Season 2
Don't forget the interesting events from this collaboration, friends. Invite all your loved ones to get this exclusive item permanently in the #PUBGJEK campaign from 17 May to 8 June 2022. Continue the good work of the game industry in Indonesia and at GOJEK Indonesia.