On this page you can find out how to get this very cool M60 Volcanic Whirlwind FF. Therefore, don't skip it bro!
Free Fire has emerged as one of the most viral and downloaded games in the battle royale category. This game has gained popularity due to its user-engaging elements and regular updates. Developers are constantly adding new events and other dynamics to make the game more enjoyable.
There are lots of good in-game items such as pets, characters, and weapon skins that are much sought after by players.
Weapon skins offer special perks such as customized kill messages and weapon attribute enhancements. Gamers are always looking for events and methods to get these skins for free on their accounts.
Garena has announced an event where players can get amazing weapon skins for free. This article discusses an easy guide to getting the M60 Volcanic Whirlwind FF weapon skin for free on Free Fire.
Well, follow the steps below to get the cool M60 Volcanic Whirlwind FF weapon skin.
M60 Volcanic Whirlwind FF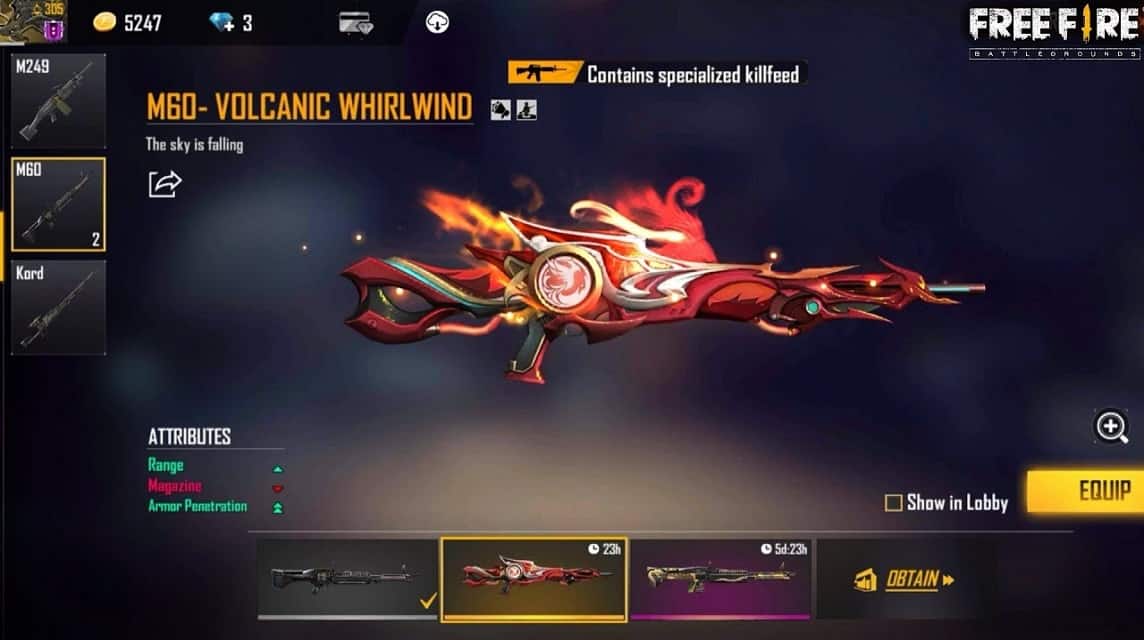 The developer recently introduced a cool looking gun skin for the M60 gun. His weapon is an assault rifle with a fast firing rate.
The skin has a fiery red theme, with flames emanating from different parts of the weapon, making it even more iconic. The skin will be available at the Gun Skin Login event which will come into the game on May 23.
There are three different weapon skins in the event where players can choose their favorite skin and exchange it by registering on the day of the event.
Players are not required to complete any tasks or spend any requests or gold coins to exchange weapon skins to their in-game account.
Here is a simple step by step guide to get the M60 Volcanic Whirlwind FF skin in the Free Fire game:
Open Free Fire on the day of the Gun Skin Login event to enter the redemption screen.

Log in to the account where you want to receive a specific weapon skin.

Tap the event banner or go to the events section to access the event from the in-game calendar icon.

Select the M60 Volcanic weapon skin in the event section by tapping the tick option.

Click the Confirm button to exchange weapon skins for free.

Go to the armory or weapons tab to equip the skin.
When equipping an upgradeable weapon skin, some of its attributes such as damage per hit or rate of fire will change. For the M60 Volcanic Whirlwind FF skin, players get increased range and a double boost in armor penetration.
This will help players win more gunfights in mid-range and long-range battles. However, you have to make do with reducing the magazine capacity for these weapons.
Free Legendary Weapon Skins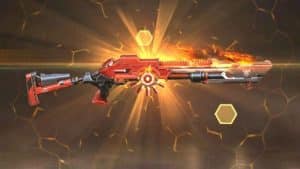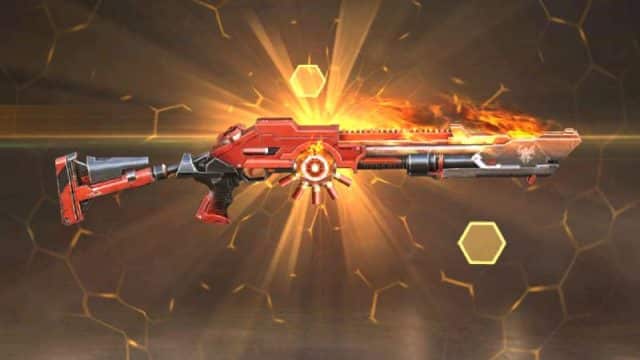 Garena has revealed the upcoming schedule for the MAX exclusive event that they will include in Free Fire MAX in the coming days. It will start immediately and display Magic Cube free in addition to giving permanent legendary weapon skins.
Player attention has been directed to weapon skins because they are part of the login event, similar to offering a pet. The cause of this enthusiasm is the incredible value of weapon skins in the game, often requiring hundreds of diamonds to obtain from shops and events.
This legendary weapon skin is part of the Login for event Gun Skins in Free Fire MAX, which is scheduled for May 23, 2022. Gamers must enter the game on the specified day to collect selected items from the events tab.
Read also: How to Get FFWS Headgear and FF Dagger Haven Warrior
The list of weapon skins up for grabs with the appropriate attributes is as follows:
M4A1 – Netherworld Glacier

UMP – Zebra Papercut

M60 – Volcanic Whirlwind
Users don't need to complete any tasks and can claim any of them after logging in. These are the steps they can follow to claim their respective skins on May 23:
You must open Free Fire MAX on your device and log in to your account on the date of redemption.

Next, you can click on the calendar option and access the events tab.

You can select the Login for Gun Skin tab and select the desired option from the available ones. They can click the claim button.

A dialog box will appear asking the user to confirm the selection, after which the item will be credited to their account.

You can equip skins via the Weapons tab and the Armory section.
Players should not miss this opportunity and enter on May 23, 2022 to collect the weapon skins of their choice. This prize is quite valuable considering that permanent legendary weapon skins are expensive in battle royale titles.
Free Fire MAX has a large selection of in-game items, some of which provide a competitive advantage while others are pure items. However, these can generally be obtained by spending hundreds, even thousands of diamonds.
Read also: How to Get Bundle Haven Guardian FF
In most cases, players don't miss out on the free gifts provided through various game events. Among the options, top-up events are regularly available in the game, and players usually use them to obtain additional items.