Mage users must have their own items. Of the many items, there are only a few Mage hero items in Mobile Legends most favorite.
In fact, there are many deadly options in Mobile Legends for Mage hero items. For many, there are some of the most popular and most commonly used items in the competition.
Not all of them are suitable for the Mage hero you are using, so you need to pay attention to everything that is used and choose the best. Mage is one of the Mobile Legends roles with high damage. 
Come on, top up your diamond mobile legends at VCGamers. Get lots of interesting promos and also cashback. Top Up Mobile Legends here
In addition, they also have the same skills that are very reliable in team fights. The effect of this item will not only increase its damage, but will also add bonuses, such as slow stealing of life, to permanent DPS.
These things will eventually make a list of things below that can be subscribed to Mobile Legends mage users.
MLBB Hero Mage Item List
Well, VCGamers has summarized the five Mage hero items in Mobile Legends that are the most favorite and often used by pro players in competitions.
Holy Cystal
The first thing that is always a Mage hero item subscription is Holy Crystal. This green crystal object is often seen by user guides. This is because this item can add +100 magic power.
In addition, passive skills on this object can increase magic attack by 21 percent - 35 percent over time. This factor ultimately makes the Holy Crystal a favorite of wizard users.
As a Mage hero, of course, you must have items with high damage, now one of the items you deserve is Holy Crystal. Holy Cristal has +100 magic damage and passive skills that can increase Magic ATK by 21 percent - 35 percent, which can be increased according to the hero level.
Concentrated Energy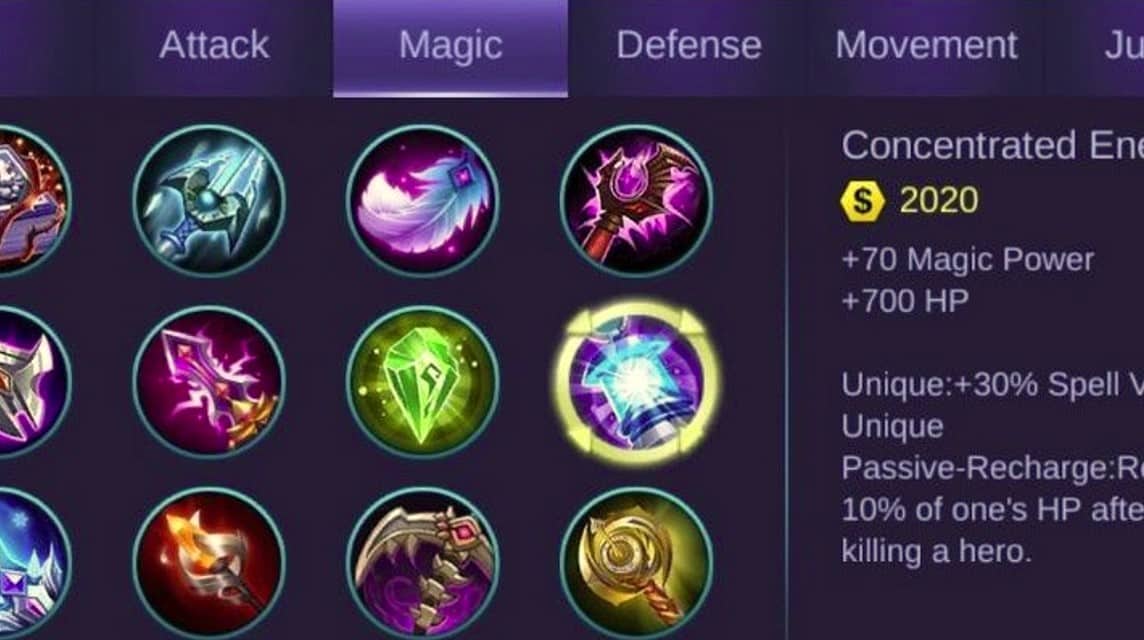 Concentrated Energy is one of the most favorite hero mage items in Mobile Legends. This one hero mage item is very suitable for use by hero mages who need HP rain effects when using their skills as ultimate.
By using this magic item you get additional statistical points in the form of +70 magic power and +100 HP. So it's really worth buying it during the game.
As a belly hero, of course, you need a lifestyle, so you don't have to go back to basics to add HP. This item has +70 Magic Power and +700HP. The most sought after item in this case is a Unique Skill, which adds +25 percent Magic Lifesteal, which you gain when attacking an enemy.
Winter Truncheon
Scroll to continue reading
Scroll to continue reading
Scroll to continue reading
Scroll to continue reading
This item is always purchased when the game has entered the next game. The main feature of this object in the winter stick itself is the 2 second resistance effect. When this option is activated, your hero will freeze and will no longer be a target.
Interestingly, this item is sometimes purchased in other roles, such as killer or shooter. The goal is to prevent damage to the enemy if your hero is the main target.
Winter Truncheon is a magic item that you can use when the game is shown in the next game. Using this item later in the game will help a lot, because thanks to the active skill Winter Paluche you will be much safer. If you use Mage, we recommend using it in game.
Glowing Wand
Glowing Wand is the latest thing that has entered the subscription path for Mobile Legends mage users. It is widely used by gamers and even professional gamers.
This is one of the things that can burn the opponent's Hero more if you issue skills in a series.
The burning effect of this item includes overtime damage which will remain this burning effect for a certain period of time. This magic item can add +75 magic power stats points, +400 HP and +5 percent movement speed.
You can rely on this item in various situations, because this item will burn enemies within 3 seconds with 1 percent damage to the enemy's maximum HP. In addition, this item will also provide other accessories that you of course need.
Read also: Use This Mage Hero To Push Rank ML, Have Durability!
Enchanted Talisman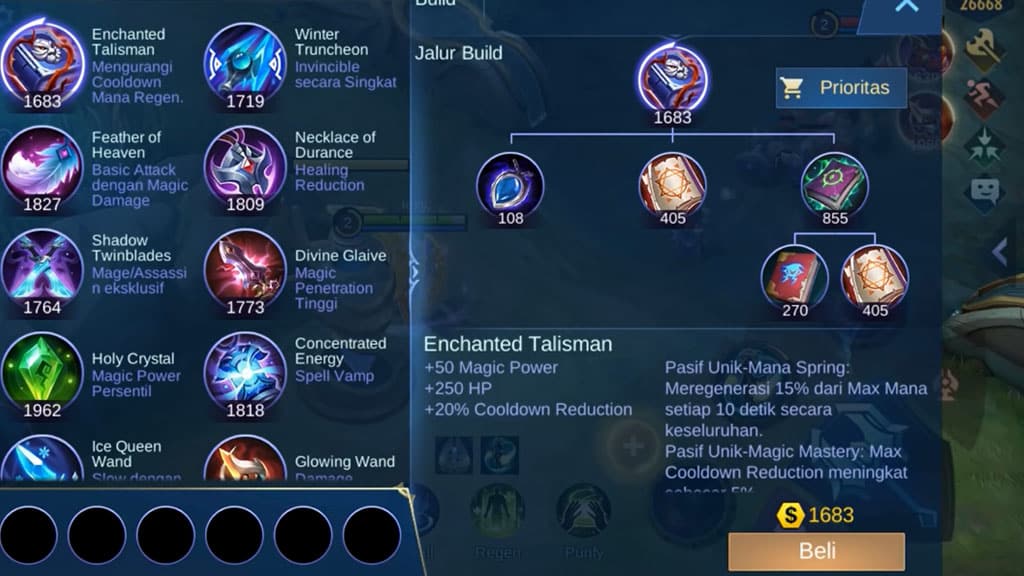 It is often called the "book" of many players. This item is more often used by Hero mages who have a bit of mana like Hero Cecilion. The unique passive of this object can gain a total of 10 percent of its maximum mana every 10 seconds.
So you don't have to worry if you run out of mana in teamfight. The status given to this Enchanted Talisman can increase +50 magic power, +250 HP and +20 percent cooldown reduction. That this is very useful for the Hero's typical belly spam skill.
With countless amazing effects of five Mage hero items, you will immediately be amazed at your opponents. The presence of this object is a real threat because it has a dangerous effect during the game. What do you think? Please write the answer in the comments column. 
Read also: 5 Advantages of Hero Harith in Mobile Legends, Deadly Mage!
Don't forget to top up diamond Mobile Legends only at VCGamers with an easy and fast payment method!