Fabulous Fungus Frenzy is events new Genshin Impact presented on updates 3.2 games.
You will catch a fungus or fungus, one of the monsters you usually fight in open world, which you will then train to fight.
at a glance, events it's inspired by the Pokemon series where you have to train monsters and develop them skills these monsters.
Also Read: 5 Details of Rukkhadevata Missing After Archon Quest Genshin Impact
Requirements to Participate in Fabulous Fungus Frenzy Genshin Impact
Fabulous Fungus Frenzy Genshin Impact is presented starting from November 10, 2022 and will end on November 28, 2022 time servers each.
You must meet several conditions before you can finish events this is:
The main requirement:
Account has reached Adventure Rank (AR) +30

Completed Archon Quest Chapter 1: Act III "A New Star Approach"
Requirements to complete games more satisfying:
Completed Archon Quest Chapter 3: Act V "Akasha Pulses, Kalpa Flame Rises"

Have completed Character Story Yes Miko i.e. "Divina Vulpes: Chapter 1"
Fabulous Fungus Frenzy Genshin Impact Event Rewards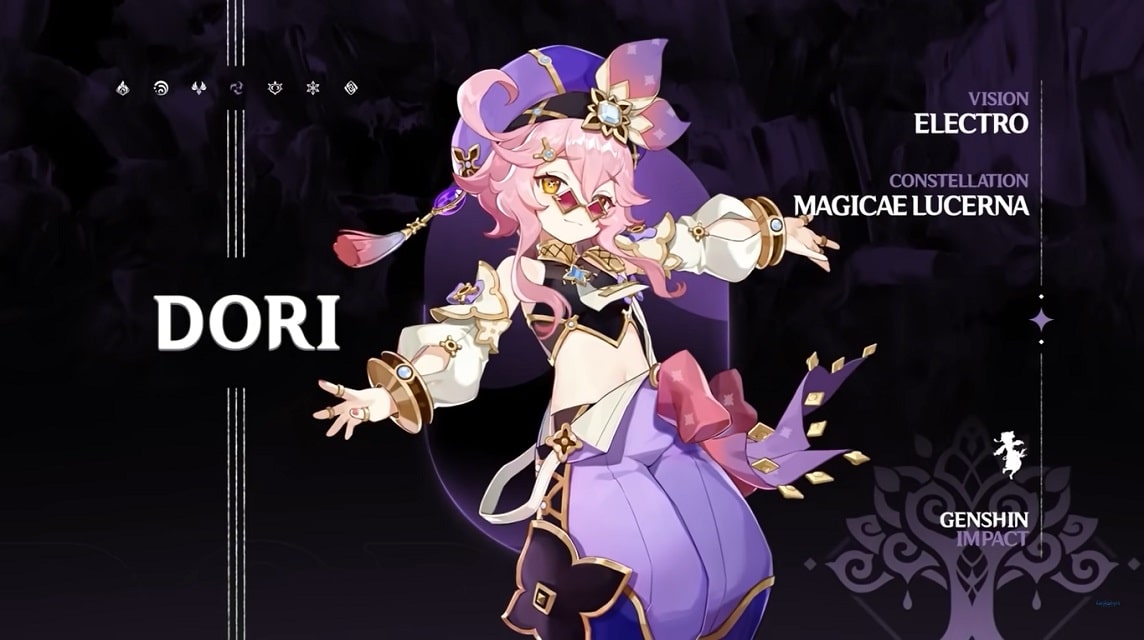 Rewards what you will get is Primogems, Hero's Wit, Mystical Enhancement Ore, materials talent ascension character, Dori, and some items.
Material talents what you will get is:  Guide to Admonition, Guide to Ingenuity, and Guide to Praxis.
You will get Dori for free if you have collected 1000 Mushroom Currency and 1000 Fungus Medals that you collect in various challenges events.
You will also get unique items such as a Special Wisdom Orb model and Teapot Nilotpala Cup Tournament Stage items that you can display.
How to Play the Fabulous Fungus Frenzy Genshin Impact Event
Suite events will go hand in hand with the storyline quests "Fabulous Fungus Frenzy" which will have a total of 5 acts.
Next, you will be introduced to 4 main challenges, namely: Fungus Capture, Coruscating Potential, Special Training, and Tournament in Championship. 
Fungus Capture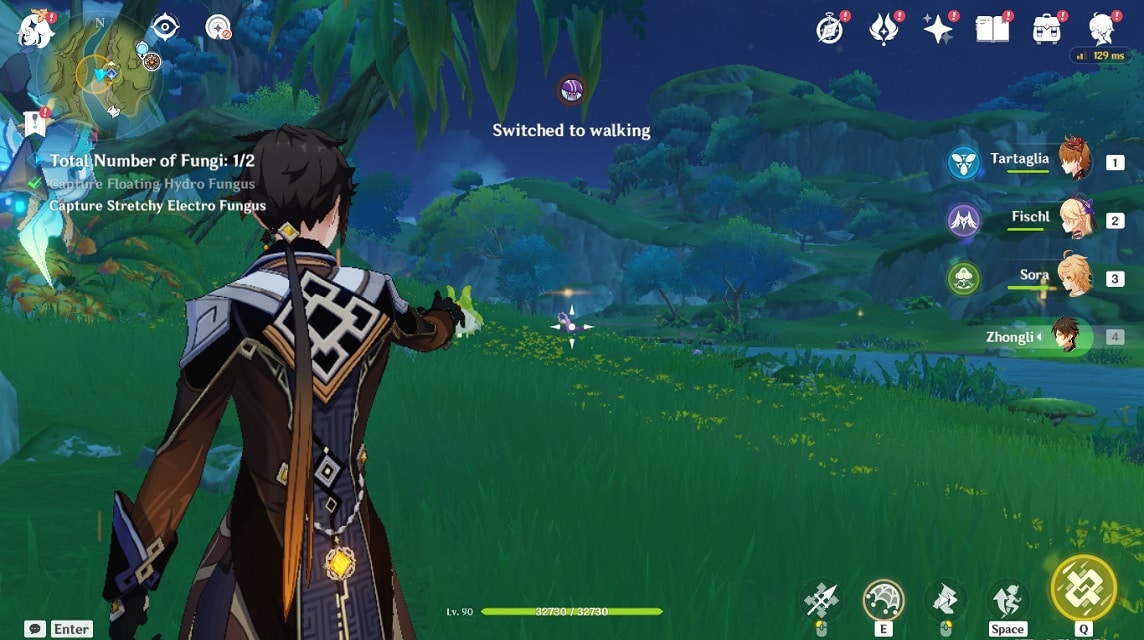 In this challenge you will be asked to catch the various kinds of fungi that you will taming.
How to catch it you will use a tool called Wisdom Orb. The way it works is similar to the tool that already existed in Genshin Impact, namely the Omni-Ubiquity Net.
You'll be looking for a Fungus that has a bright gold star over its head to catch. Next, slowly approach the Fungus and aim the Wisdom Orb to catch Fungus.
A sign that Fungus has been caught and tamed is a circle bar on the screen. If it is full of yellow circles, you have successfully caught the monster.
You also have to pay attention to the distance when catching Fungi. If it is too close, the Fungus will run away and complicate the taming process.
Another thing that you should pay attention to is that when using Wisdom Orb, your Elemental Skills will not work. Be careful of monsters around other than Fungi or it's better to fight them first.
There are a total of 5 locations where you can catch mushrooms and you have to catch a total of 10 fungi. The fungi you will catch are:
Floating Hydro Fungus

Whirling Cryo Fungus

Stretchy Geo Fungus

Stretchy Electro Fungus

Floating Dendro Fungus

Floating Anemo Fungus

Whirlling Electro Fungus

Whirling Pyro Fungus

Stretchy Pyro Fungus

Stretchy Anemo Fungus
Also Read: Build Dori Genshin Impact: Priority Skills, Artifacts, Up to Party
Coruscating Potential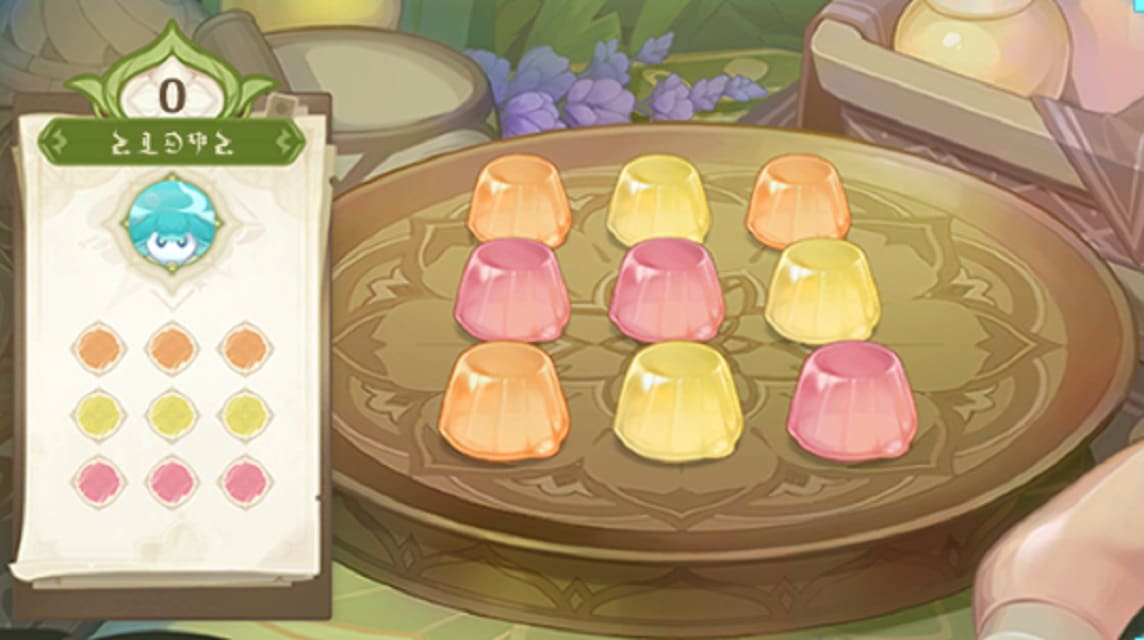 The next challenge is an interactive puzzle. You will be challenged to upgrade and Cultivate to develop new Skills for all Fungi.
Cultivate will be done by giving Fungus Flower Jelly. You have to arrange the Flower Jelly according to the pattern provided with the minimum steps possible.
You can perform various commands to arrange the Flower Jelly according to the pattern:
Switch: Swipe the Flower Jelly up, down, right, and left

Rotate: Turns the 4 directions of the Flower Jelly by 180 degrees

Color: Coloring the Flower Jelly with a certain color

Preset: certain color patterns that make it easier for you to make patterns
Special Training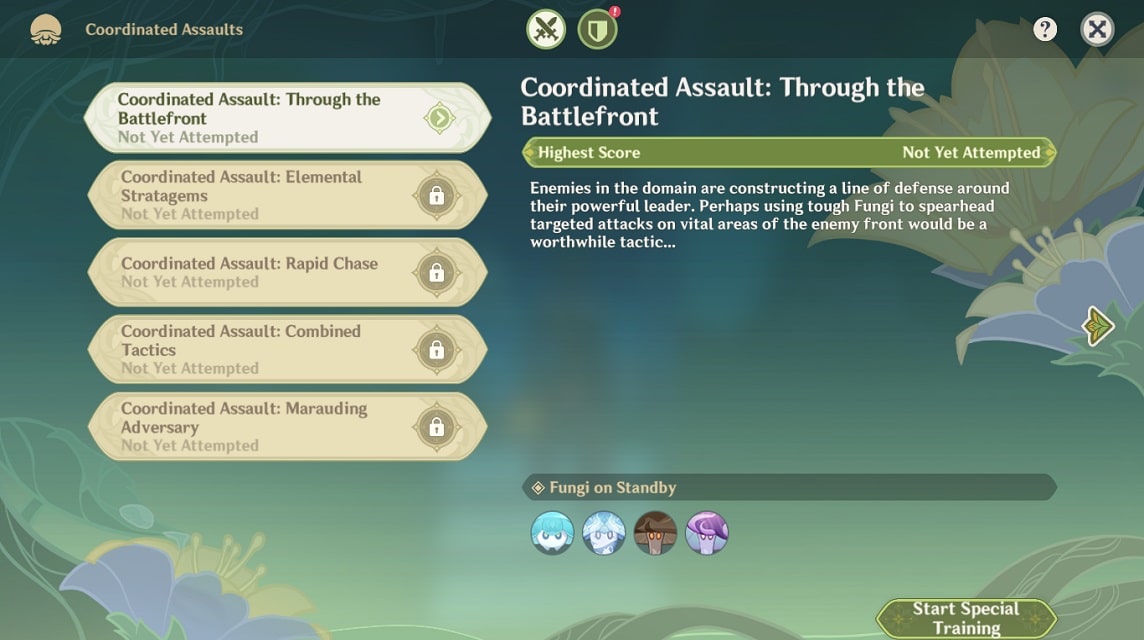 Before doing a tournament, it's not complete if you don't do it training on the Fungi that you have caught.
This domain for Special Training will teach you how to fight using Fungi's abilities. So, all you have to do is give the command to the Fungi.
There are two types of domain challenges namely Coordinated Assault and Zone Defense. There are 4 challenges that you must complete with 3 each stage 
This Special Training is more focused on being a challenge to coordinate Fungi to attack the enemy (Coordinated Assault) and defend against enemy attacks (Zone Defense).
There will be a Focus Attack where your team's Fungi will attack a certain enemy with Skills.
The maximum total Skills that can be used is 6. You must use Plauditory Protection to extend the number of skills that can be used.
Tournament in Championship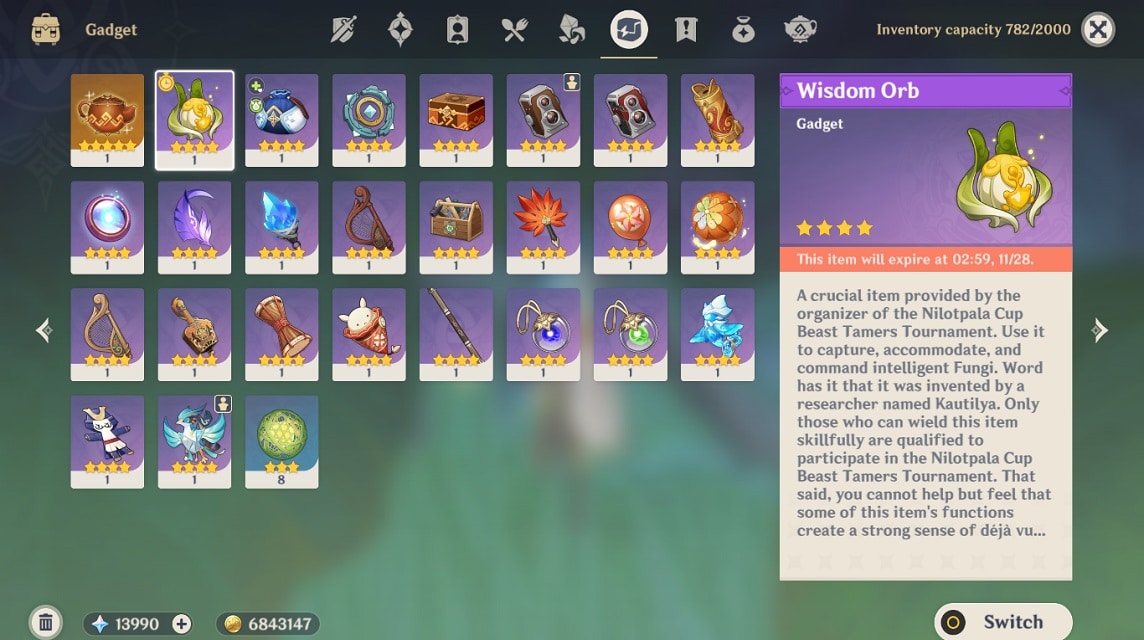 In this final stage, you will apply what you have done in Special Training to fight enemies.
This tournament is also a way to complete challenges and continue the Fabulous Fungus Frenzy until the last Act.
When finished there will be quests mysterious addition to get the Special Wisdom Orb.
The trick is you have to go to Charakram Cave. From the Teleport Waypoint, turn left where there is a separate island. 
Near the tree around there will be Fatui Agent that you have to fight to get the tool.