Hello Vicigers! This time VCGamers will discuss about build Shenhe Genshin Impact.
Shenhe is a character released in update patches 2.2 then coincides with events Liyue's second Lantern Rite.
Honestly, the writer regretted the release of Shenhe a little which made this character become underrated.
Shenhe released together rerun Liyue's other character is Ganyu, Zhongli, and Xiao.
Of course more players prefer to get Ganyu, Zhongli, and Xiao than Shenhe because they already know more about the strength of these 3 characters.
Moreover, Zhongli is known as shield which is very strong and Ganyu and Xiao are the most sought after DPS meta players.
No need to worry about running out of Genesis Crystal Genshin Impact because in VCGamers you can do Top Up Genshin Impact easily and quickly.
Shenhe actually has very good potential and really supports your character, especially DPS Cryo.
Therefore, VCGamers will discuss recommendations build Shenhe for Vicigers.
So that later when there is rerun banner or even those of you who have already got it can maximize Shenhe's potential optimally.
Also Read: Build Kuki Shinobu Genshin Impact, the First Electro Element Healer!
Recommended Builds for Shenhe Genshin Impact
This article will cover all the recommendations build starting from priority skills, artifacts, to team recommendations suitable for build Shenhe Genshin Impact.
The recommended artifacts are adjusted to the artifacts that have been released, where new artifacts will continue to be added throughout updates Genshin Impact.
Skill Priority for Build Shenhe Genshin Impact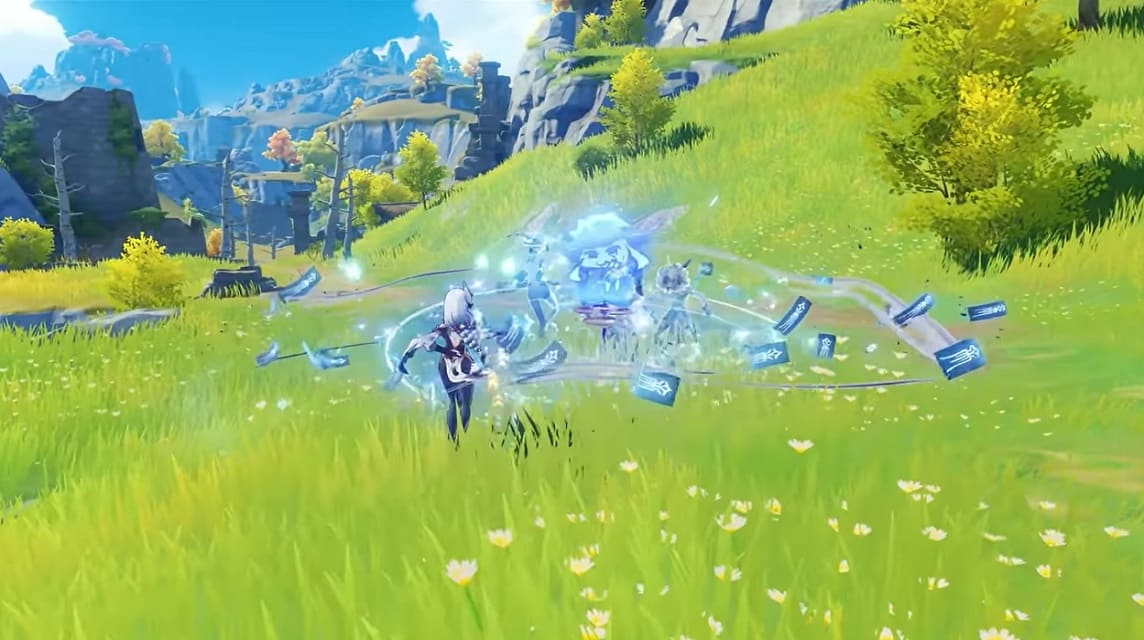 Shenhe Genshin Impact is a Spear user with Cryo element.
Normal Attack 5 consecutive attacks deals Physical DMG to the enemy.
Shenhe's Elemental Skill is Spring Spirit Summoning, Shenhe will give Icy Quill effect to everyone in party you and also give Cryo DMG against enemies.
The Cryo DMG given also depends on whether you press fast (tap) or long press (hold) his Elemental Skill button.
When you tap, Shenhe will give Cryo DMG to the enemy in front of him and Shenhe will dash forward.
If you hold, Shenhe will give AoE Cryo DMG with area damage broad.
Apart from giving damage, Shenhe will give Icy Quill effect. 
All characters in party you who give Cryo DMG both from all attacks (Normal / Charged / Plunge / Elemental Skill and Burst), damage generated will increase based on the total stat ATK Shenhe.
The Icy Quill effect will last a long time if you use it this way hold.
In addition, this Icy Quill effect will increase damage if your other characters give Cryo DMG continuously.
Damage will also be dealt multiplied by the number of enemies hit.
This skill will certainly be very profitable if you use DPS Cryo like Kamisato Ayaka, Ganyu, Chongyun, and so forth.
Elemental Burst Shenhe is Divine Maiden's Deliverance, Shenhe will release the Talisman Spirit which deals AoE Cryo DMG.
This Spirit Talisman will then create an area that gives Cryo DMG for a certain duration.
This area also lowers Cryo and Physical Resistance on the enemy so that the attack given will be greater.
When you've got skills passive Deific Embrace, all characters active in the area will get an additional Cryo DMG Bonus.
From the various abilities of these excellent Shenhe, Shenhe will be very good as a buffer Cryo or Cryo Support.
Shenhe will be very suitable for you to use as support in the Freeze team or any team that uses the Cryo character as the main DPS.
For which ability you should prioritize the level, the author recommends you to prioritize talent Shenhe is Elemental Skill then Elemental Burst. 
It would be great if you could maximize the level to level 10 or max.
Also Read: Build Chongyun Genshin Impact, 4 Star Cryo Underrated!
Artifacts Suitable for Building Shenhe Genshin Impact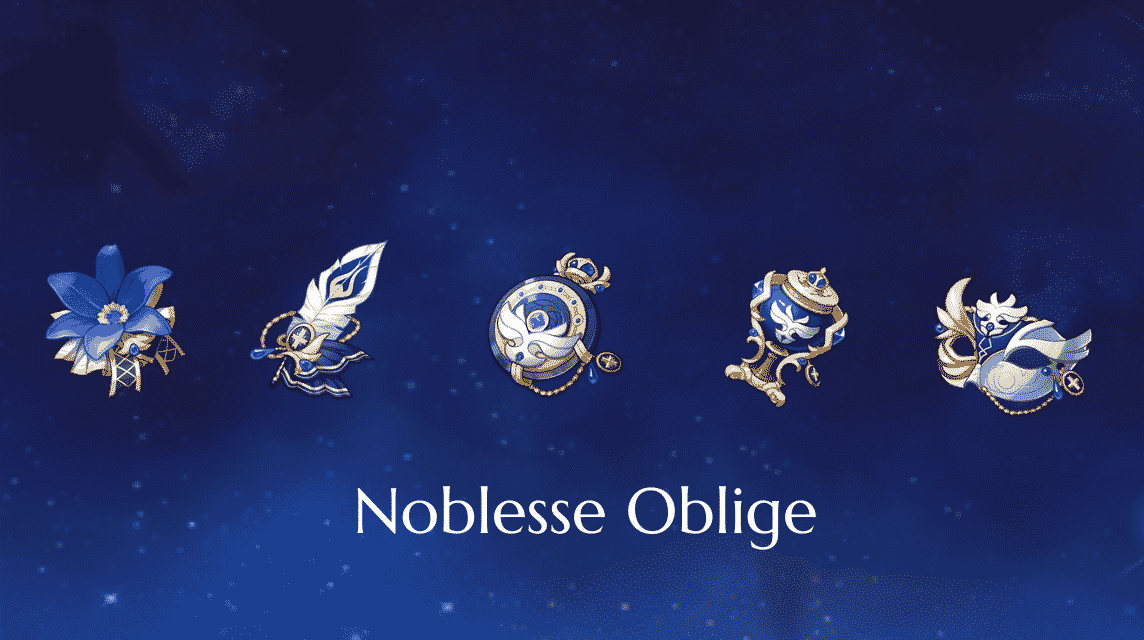 Scroll to continue reading
Scroll to continue reading
Scroll to continue reading
Scroll to continue reading
stat what you should prioritize for build Shenhe Genshin Impact is that you have to search for artifacts with stat ATK or ATK%, Energy Recharge, and Crit Rate/Crit DMG.
All stat main will be great if you use the artifact with stat ATK because buff from Shenhe calculated based on ATK.
You can also use the Energy Recharge stat on the Sands of Eon artifact slot to generate a lot of energy particles to support the use of Elemental Burst Shenhe and support the team.
The selection of artifacts for Shenhe Genshin Impact is also very diverse.
You can use Noblesse Oblige 4 sets if there is no character in your team support who uses this set.
4 sets Noblesse Oblige will increase the ATK of all characters on your team by 20% for 12 seconds after this artifact set user uses Elemental Burst.
You can also use the Gladiator Finale set with artifact set which adds ATK bonuses like Shimenawa's Reminiscence, Echoes of an Offering, and Vermilion Hereafter. 
You can mix and match all of these sets into 2 sets of artifacts for Shenhe.
Also Read: Glossary of Terms in Genshin Impact, Beginners Must Know So Pros!
Weapon Recommendations for Build Shenhe Genshin Impact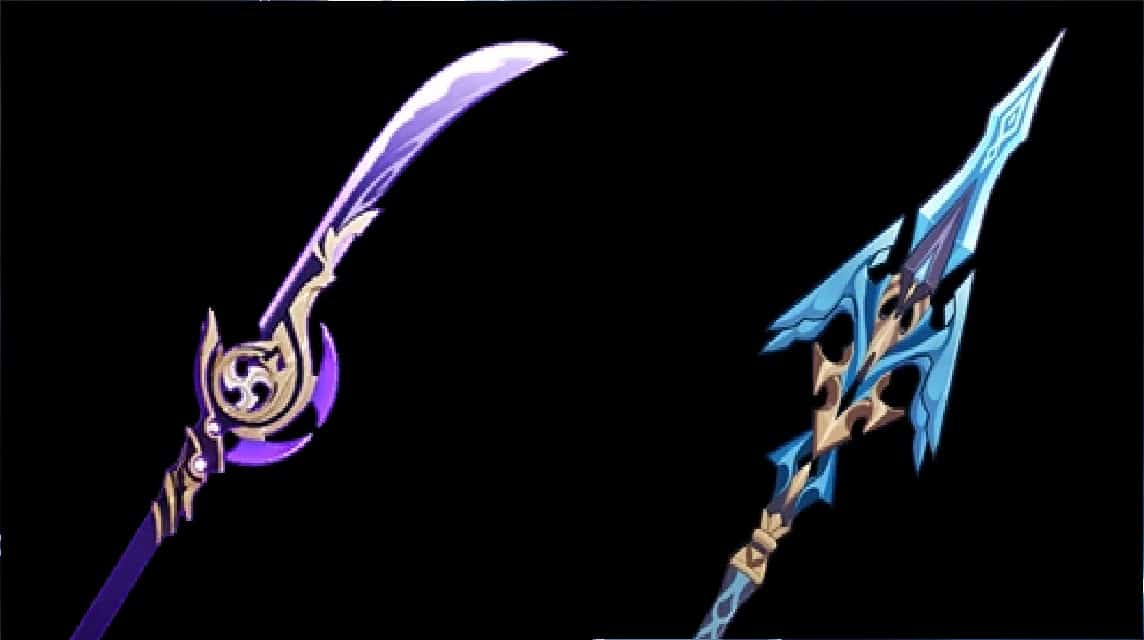 Recommended 5-star weapon for Shenhe Genshin Impact almost all 5-star weapons released at the time this article was released were all good for Shenhe to use.
You can use various customized options to suit stat that Shenhe needed.
5-star Polearm Weapon the most recommended is to use Calamity Queller, Skyward Spine, and Engulfing Lightning.
These three weapons can increase Shenhe's ATK enough and provide stat Energy Recharge required by Shenhe.
You can also use Vortex Vanquisher, Staff of Homa, and Primordial Jade Winged-Spear although it will not be as optimal as using the 3 weapons mentioned earlier.
4 star weapon for Shenhe Genshin Impact are Favonius Lance, Dragonspine Polearm, Deathmatch, and The Catch, Lithic Spear.
All the weapons earlier that had stat not much different from the 5-star weapons recommended for Shenhe before.
For the F2P option, you can use the Kitain Cross Spear which you can get by making it at the Blacksmith.