Kuki Shinobu is the newest character Genshin Impact which was just released in the second part updates Genshin Impact patches 2.7.
You can get this character if you do the Gacha Banner at the Arataki Itto Limited Banner which is currently being rerun.
After trying to play with Kuki Shinobu, the writer felt that role most suitable for Healers and off field Support.
Kuki Shinobu Genshin Impact also has a uniqueness where all of his attacks are fired scale based on HP like Yelan.
Shinobu will also sacrifice their HP to restore HP party you, quite unique isn't it?
No need to worry about running out of Genesis Crystal Genshin Impact because in VCGamers you can do Top Up Genshin Impact easily and quickly.
VCGamers this time will discuss fully about build Kuki Shinobu Genshin Impact.
Also Read: Arataki Drumalong Festival, Exciting Rhythm Game Genshin Impact
Recommended Build for Kuki Shinobu Genshin Impact
This article will cover all the recommendations build Cookie Shinobu starting with priority skills, artifacts, to the recommendation of a suitable team for Kuki Shinobu Genshin Impact.
The recommended artifacts are adjusted to the artifacts that have been released, where new artifacts will continue to be added throughout updates Genshin Impact.
Skill Priority for Build Kuki Shinobu Genshin Impact
As Vicigers know, Kuki Shinobu is a 4-star character with Electro element who uses a sword weapon.
Kuki Shinobu's normal attacks consist of 4 consecutive attacks that deal Physical Damge to the enemy.
The most important and quite unique thing about Kuki Shinobu Genshin Impact is that everything from Elemental Skill and Elemental Burst in scale based on HP.
So that, buffer like Kujou Sara, Bennett, or Yunjin won't affect damage given by Kuki Shinobu.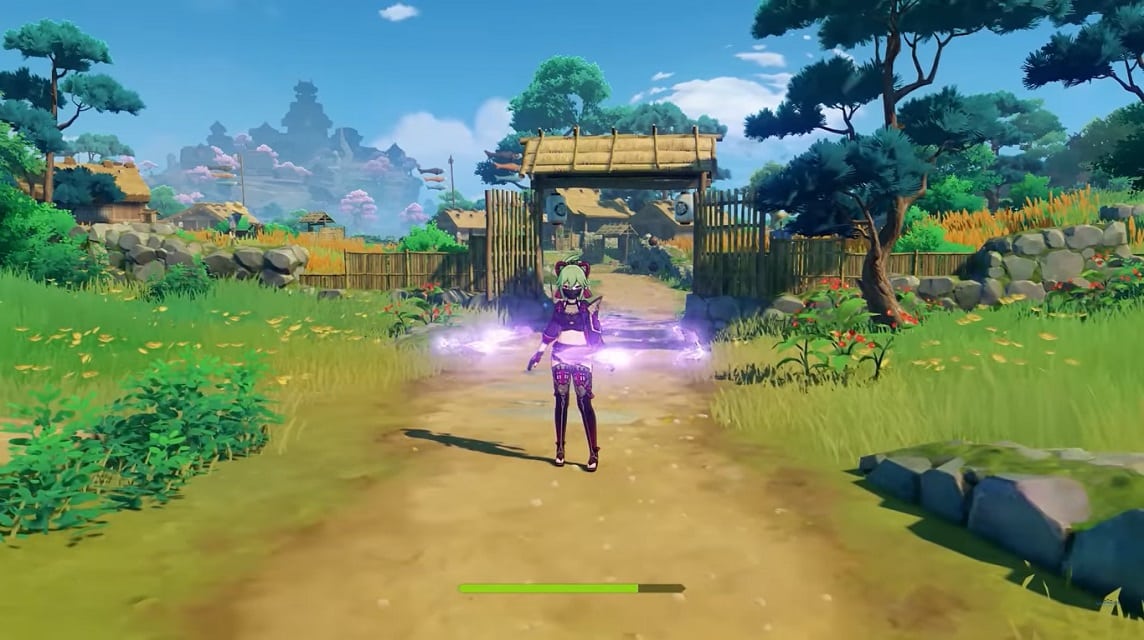 Kuki Shinobu's Elemental Skill is Sanctifying Ring, Kuki Shinobu will create a circle named Grass Ring.
The Grass Ring will rotate and spread around Kuki Shinobu giving AoE Electro DMG to the enemy.
For party Nearby will also get HP recovery depending on the maximum total HP of Kuki Shinobu as long as the character is within Shinobu's AoE range.
Use skills it will also use the 30% HP Shinobu. However, Vicigers don't need to worry because its use is maximized until Kuki Shinobu's remaining HP is 20%, so Kuki Shinobu will not die.
This Elemental Skill can also be used when Kuki Shinobu off field, so you can replace it with your DPS.
The existence of this Elemental Skill makes Kuki Shinobu Genshin Impact very suitable for you to enter into a team that uses elemental reactions with Electro such as Super-Conduct, Electrocharged, and so on.
Therefore, Kuki Shinobu will be very good if you pair it with, for example, the Taser Team with DPS Kamisato Ayato or Childe on the Taser Team combination.
As is known, the Taser Team usually consists of Fischl and Beidou as support. But the weakness of this team is the difficulty of entering healer for this team.
With Kuki Shinobu, you will still be able to use the Taser Team and also get characters to heal.
The recovery power of Kuki Shinobu's Elemental Skill will also increase when you get passive skills that is Heart's Repose and Break Free.
Heart's Repose is passive skills Shinobu Cookies which will provide additional HP recovery of 75% Elemental Mastery and DMG 25% Elemental Mastery Shinobu.
Whereas, skills passive Break Free will make HP recovery power increase if Kuki Shinobu's HP is below 50% total HP.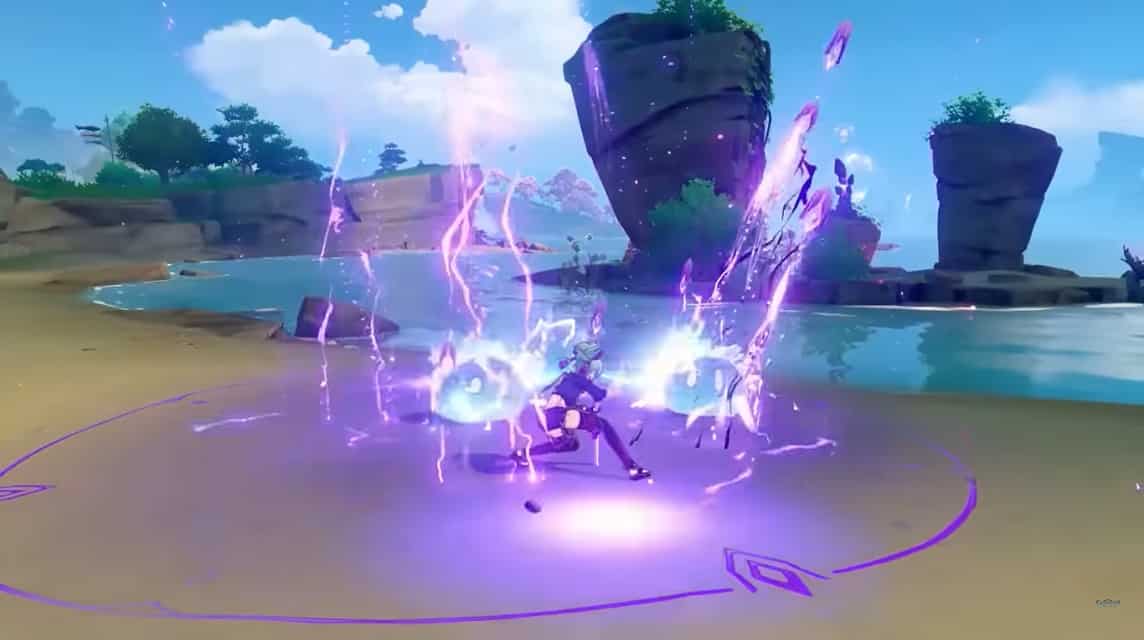 Kuki Shinobu's Elemental Burst is Gyoei Narukami Kariyama Rite, Shinobu will create fields that give consecutive Electro in wide AoE for a certain duration.
The AoE Electro DMG given will depend on Shinob's maximum HP with a longer duration if Shinobu's HP is below 50%.
For talent You can prioritize Shinobu Cookies to maximize Elemental Skill and Elemental Burst to optimize the power of Kuki Shinobu.
Also Read: Tips for Playing Ayato Genshin Impact, Do This for Optimal Damage!
Artifacts Suitable for Build Shinobu Genshin Impact Cookies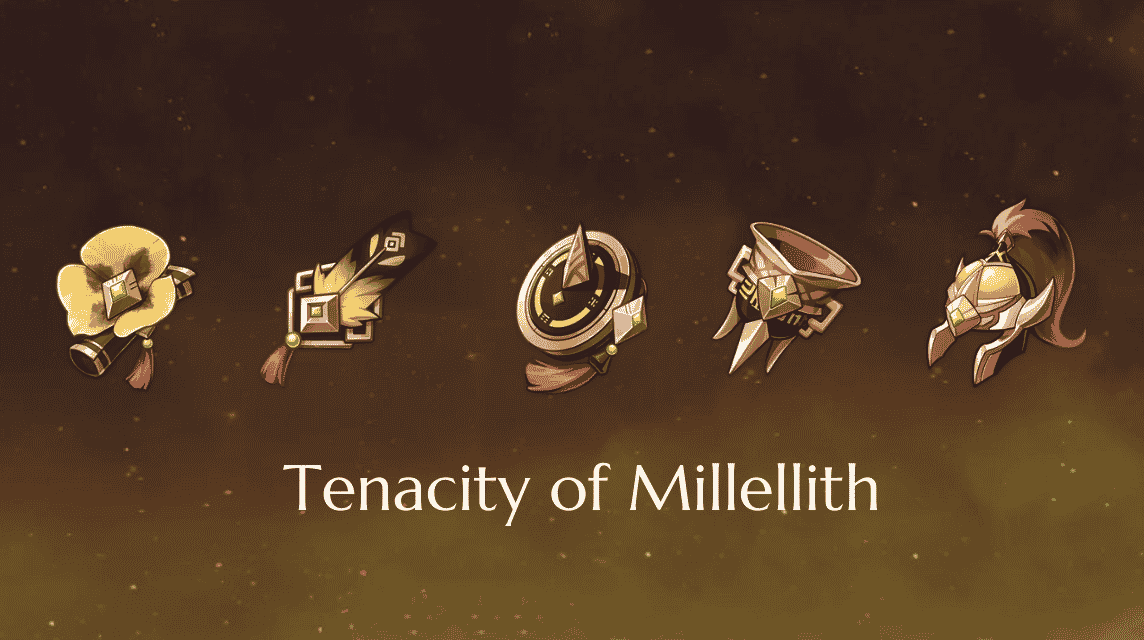 Scroll to continue reading
Scroll to continue reading
Scroll to continue reading
Scroll to continue reading
stat what you should prioritize for Kuki Shinobu Genshin Impact are HP or HP%, Crit Rate/ Crit DMG, and Elemental Mastery.
Energy Recharge is needed in order to collect energy faster to use Elemental Burst.
The artifact options for Kuki Shinobu Genshin Impact are numerous. You can customize which artifact has stat the best.
Tenacity of Millelith is artifact set most recommended for build Kuki Shinobu Genshin Impact.
4 sets Tenacity of Millelith will increase ATK all team members 20%,. strength shield increase 30% for 3 seconds besides increasing Kuki Shinobu's HP from using her 2 sets of artifacts.
You can also use the Noblesse Oblige artifact set either in combination with the Tenacity of Millellith.
If the character uses 2 sets This Noblesse Oblige will provide additional Elemental Burst DMG +20%.
4 sets Noblesse Oblige will increase the ATK of all characters on your team by 20% for 12 seconds after the user of this Genshin Impact artifact set uses Elemental Burst.
Alternatively, you can use 4 sets of Emblem of Severed Fate.
This artifact is indeed predicted to be one of the artifacts for support best other than Noblesse Oblige.
4 sets This Emblem of Severed Fate will have a m effectIncreases Elemental Burst DMG from 25% large character Energy Recharge stat. 
So that, build Kuki Shinobu Genshin Impact will get a maximum of 75% bonus DMG. 
Weapon Recommendations for Build Kuki Shinobu Genshin Impact
Recommended 5-star weapon for Kuki Shinobu Genshin Impact are Mistsplitter Reforge, Primordial Jade Cutter, Haran Geppaku Futsu, and Skyward Blade.
Mistsplitter Reforge, Primordial Jade Cutter, and Haran Geppaku Futsu are known to have stat Superior Crit Rate/ DMG making it suitable for build any character including Kuki Shinobu build.
You can maximize Kuki Shinobu's Energy Recharge from Skyward Blade so that Kuki Shinobu build You can quickly always use Elemental Burst and Elemental Skills to support damage your DPS.
4 star weapon suitable for build Kuki Shinobu Genshin Impact You can use Festering Desire (although this weapon is obtained from events 1.4 ago), Favonius Sword, The Alley Flash, The Blacksword, and Blackcliff Longsword.