Apa yang menarik menurut kalian dari sebuah smartphone seri Zenfone baru-baru ini? Ya benar! HP ini tidak memiliki kamera depan/selfie, namun berbeda dengan seri selanjutnya, yaitu Asus Zenfone 8. Apa ya yang berbeda?
Sebelum kita membaha apa yang berbeda pada Asus Zenfone 8, kita akan sedikit bernostalgia mengenang desain kamera Zenfone 6 dan Zenfone 7 series.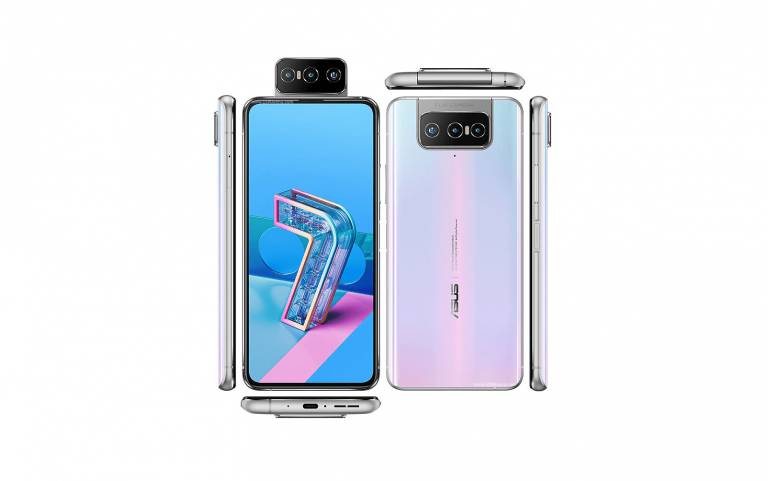 Seluruh seri Zenfone tersebut tidak memiliki kamera depan, dan Asus membanggakan kamera belakang yang dapat membalik ke atas untuk menghadap ke depan agar dapat digunakan untuk selfie.
Buat kalian yang belum tahu, mungkin kalian dapat melihat dengan jelas desainnya pada gambar header artikel ini.
Also read: iPhone 13 Series Rumors Launch Later This Year
Asus Zenfone 8 tampil beda
Lalu apa sebenarnya yang berbeda dari seri Zenfone 8? Seri Zenfone dari Asus yang akan datang, tampaknya tidak lagi menggunakan fitur flip kamera untuk selfie.
Kita tahu ini karena, di Twitter, Asus memposting bocoran tentang ponsel tersebut, dengan potongan gambar dan video yang jelas-jelas menginformasikan bahwa HP ini nantinya akan memiliki kamera selfie di dalam layar, seperti smartphone pada umumnya.
Is it just us or are there a lot of 'o's in 'smooth'? How many, exactly? 😉
Know more:https://t.co/ig6Hay5mlo#Zenfone8 #BigonPerformanceCompactinSize

— ASUS (@ASUS) April 27, 2021
Scroll to continue reading
Scroll to continue reading
Scroll to continue reading
Scroll to continue reading
Dalam video tersebut, kita dapat melihat versi kartun ponsel dengan cut-out untuk kamera depan di kiri atas layar. Maka dengan itu, kamera flip-up yang biasa digunakan Asus, mulai dari Zenfone 6 series rasanya akan menjadi mubazir bila tetap diterapkan, jadi tampaknya hampir dipastikan fitur tersebut akan dihilangkan.
Video teaser yang Asus unggah sebenarnya dimaksudkan untuk memamerkan tampilan ponsel 120Hz, ada 120 huruf 'o' dalam kata 'smooth' di layar, kalian pasti tidak sadar kan? Lagian siapa sih yang akan menghitung jumlah huruf di dalam iklan? Tapi yang pasti HP ini akan dibekali dengan teknologi refresh rate yang tinggi.
The New Asus Zenfone 8
Asus Zenfone 8 telah dikonfirmasi untuk diluncurkan pada 12 Mei, jadi ada sedikit waktu lagi bagi Asus untuk memberikan lebih banyak bocoran fitur dari smartphone tersebut, dan mungkin secara tidak sengaja malah mengungkapkan lebih banyak fitur yang hilang.
Kita juga telah mendengar desas-desus bahwa akan ada seri Zenfone 8 Mini, yang kemungkinan akan menjadi versi kompak dari model standar, HP ini cocok untuk kalian yang menyukai ponsel kecil.
Zenfone generasi sebelumnya juga sudah memiliki model 'Pro', jadi kita bisa melihat salah satu dari seri Zenfone 8 juga akan memiliki versi Pro.
Namun, satu-satunya ponsel yang dikonfirmasi oleh Asus hingga saat ini adalah Zenfone 8 itu sendiri. Jika kedepannya ada hal baru yang dipamerkan oleh Asus, kita janji akan segera memberikan informasi itu kepada kalian secepatnya Vicigers!
Don't miss it to always get the latest and complete news updates about games. Starting from new game reviews, tips and tricks and so on. Just follow the account Instagram VGamers and Channels YouTube yes. Come on! Join the community on Discord VCGamers, the largest gamer community in Indonesia discord.gg/EDWvQ9jQEp