Hello Vicigers, have you played Arataki Drumalong Festival?
Maybe you're wondering if it's possible for rhythm games in games Genshin Impact? The answer is of course you can!
Rhythm games or games which includes part games music like Osu! Where you have to follow the tempo or dynamics of the music.
As is well known, the BGMs in Genshin Impact are all very impressive.
HoYo-Mix's music is really a shame, isn't it just a BGM? 
That's why miHoYo presents events rhythm game The new name is The Almighty Arataki Great and Glorious Drumalong Festival or abbreviated as Arataki Drumalong Festival.
No need to worry about running out of Genesis Crystal Genshin Impact because in VCGamers you can do Top Up Genshin Impact easily and quickly.
You will get various rewards besides playing various music with cool rhythms in events this.
VCGamers this time will tell various guidelines and procedures from the Arataki Drumalong Festival so that Vicigers can get various rewards and of course have fun events this.
Arataki Drumalong Festival Guide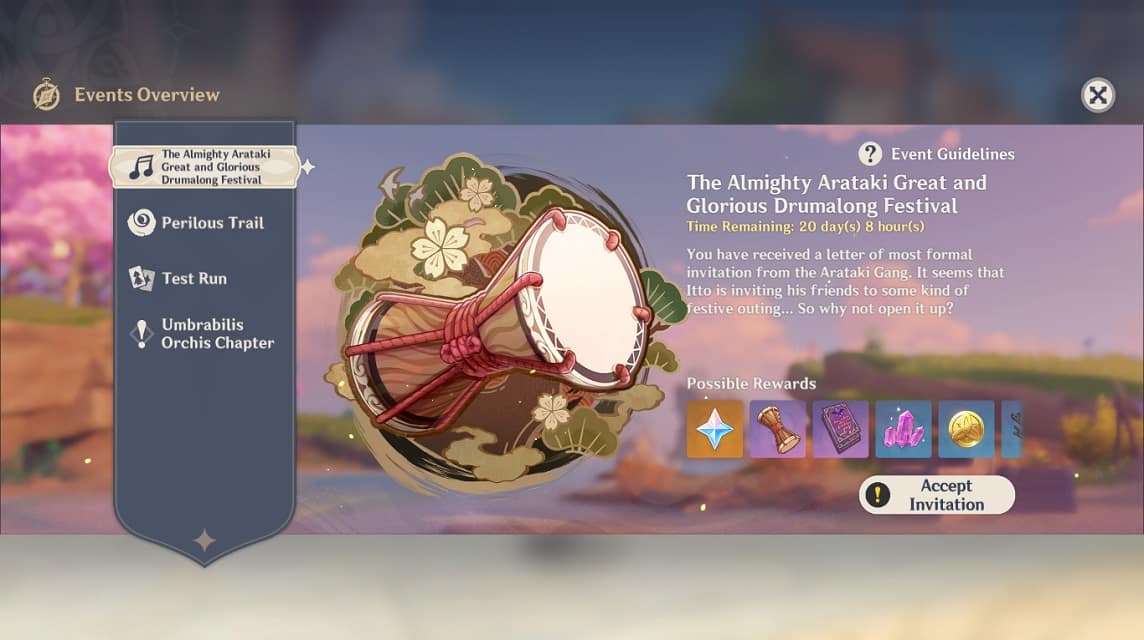 BGM is one of the attractions of Genshin Impact as a games RPG that is popular to date.
In fact, miHoYo several times held special concerts featuring various OSTs or songs from Genshin Impact in collaboration with popular orchestra groups.
These songs are also performed in games that is Rhythm games like this Arataki Drumalong Festival. 
Rhythm games or games The rhythm of the music has actually been presented by Genshin Impact several times for the players.
The beginning of being introduced was on mini games included in the Windblume Festival in patches 1.4 namely Invitation of Windblume – Ballad of breeze.
Furthermore, Genshin Impact also held events Rhythm games Tuned to The World's Song on patches 2.2 ago.
Finally, on patches 2.7 Genshin Impact is holding The Almighty Arataki Great and Glorious Drumalong Festival or Arataki Drumalong Festival to replace events Perilous Trail.
As a player games Rhythm games as Guitar Hero, Ensemble Stars, and Osu! The author is very enthusiastic about events this.
Moreover, Arataki Drumalong Festival offers something new, namely that you can set your own Beatmap.
Also Read: Genshin Impact 2.7 Update! Meet Yelan, Kuki Shinobu and New Events
Requirements for Participation in Arataki Drumalong Festival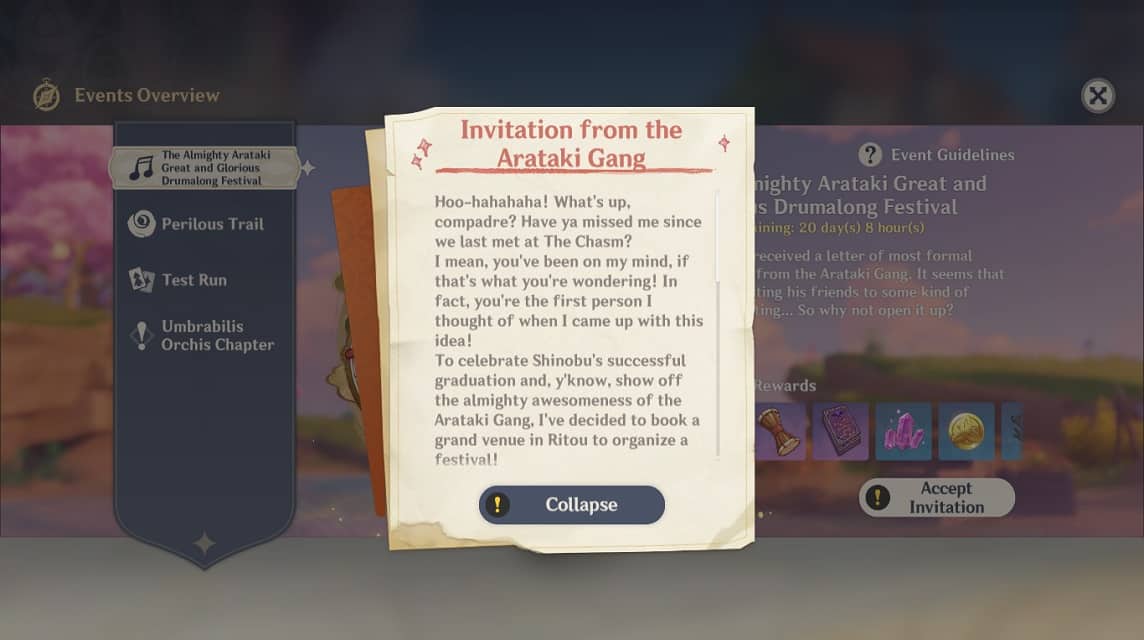 This event will be held from June 13, 2022 to July 4, 2022. Vicigers still have a chance to work on quest this.
Conditions you must meet to follow events it's quite a bit where you should at least reach Adventure Rank (AR) 30.
Then, you should also have done quest "Ritou Escape Plan" which is part of the Archon Quest: "Chapter II: Act I – The Immovable God and the Eternal Euthymia".
How to Open the Arataki Drumalong Festival Event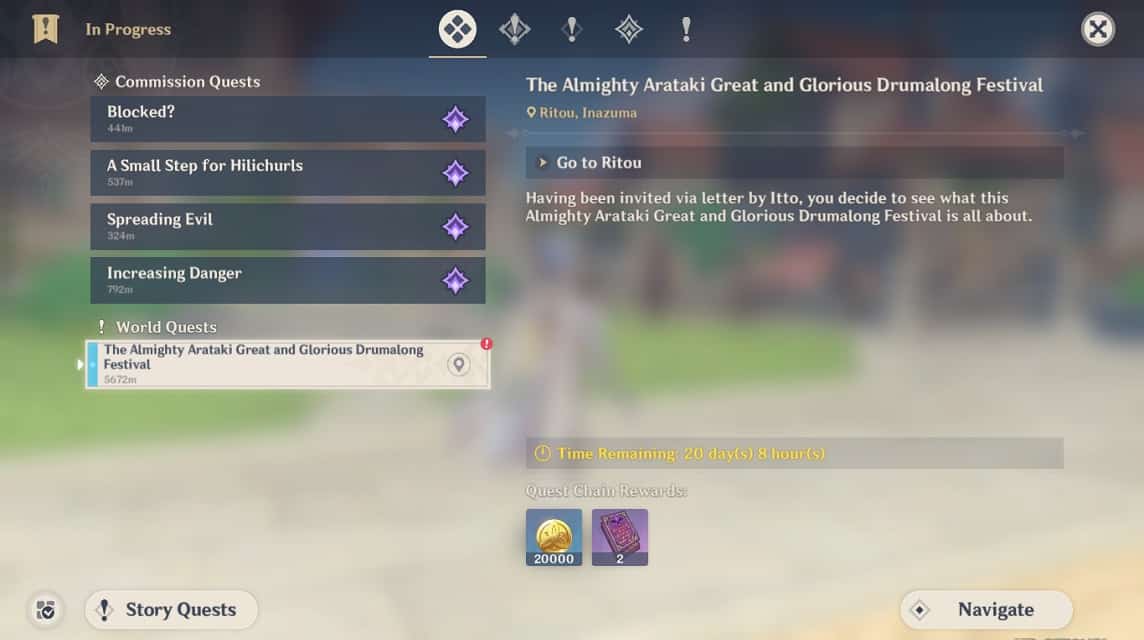 Quests for events it will automatically open. The trick is that you first go to the Events page in the menu, then select The Almighty Arataki Great and Glorious Drumalong Festival option.
You select "Accept Invitation" or "Accept Invitation" and later there will be quest related events which will direct you to open events.
You will first be asked to go to Ritou and finally to Amakane Island to start events this.
Also Read: Listen! Genshin Impact 3.0 Latest Leaks!
How to Play Arataki Drumalong Festival Event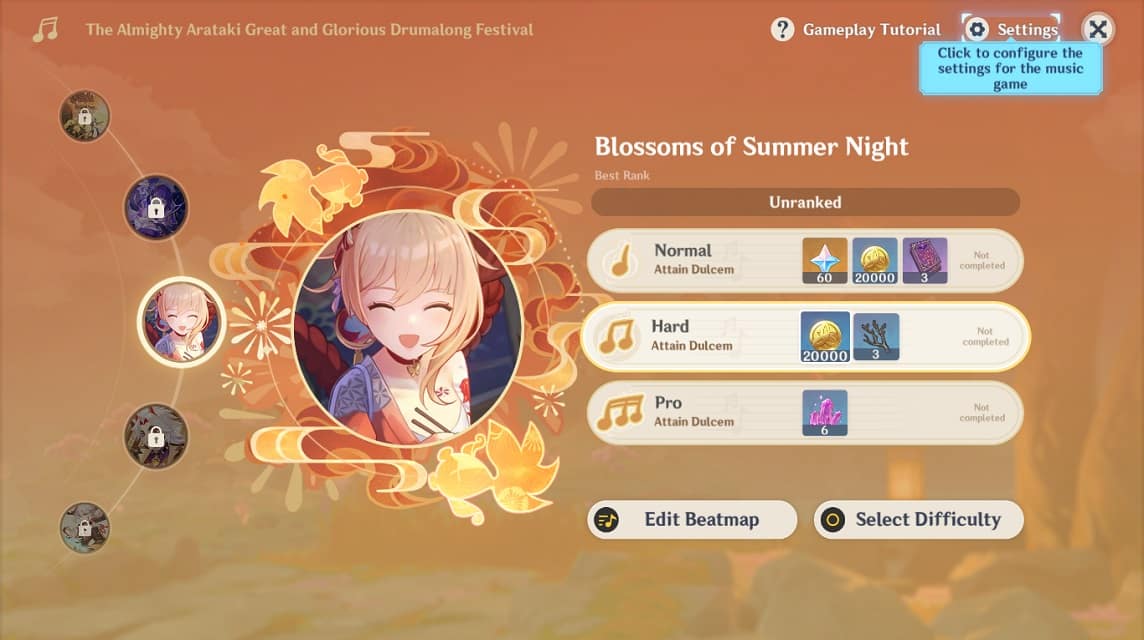 Scroll to continue reading
Scroll to continue reading
Scroll to continue reading
Scroll to continue reading
After you successfully complete quest, you will be asked to play various ost songs.
This ost is the songs used for background music character demo videos or use on big bosses. Various OST songs that you can play are:
You can choose the difficulty level from Normal, Hard, and Pro where you have to work in order to unlock other difficulty levels.
The better you play and nothing note that is missed, you will get ranks from low to high, namely Euphonia, Dulcem, and Descantus.
At least you have to get rank Dulcem to get rewards from events this in every difficulty level.
After you complete this difficulty level you will get various rewards such as Primogems, ascension materials, and many more. 
Total rewards what you can get what you can get are:
420 Primogems

280,000 Mora

18 Hero's Wit

8 Adventurer's Experience

Arataki's Great and Glorious Drum Gadget

42 Mystic Enhancement Ore

Weapon ascension materials: Mask of the Tiger's Bite, Jeweled Branch of a Distant Sea, and Narukami's Joy x6. 
Edit Beatmap, Settings, and Find Compositions
The best of events According to the author, the Arataki Drumalong Festival is the many features that will make it easier and make it more interesting events this is compared events Rhythm games The pre-existing Genshin Impact.
Menu Settings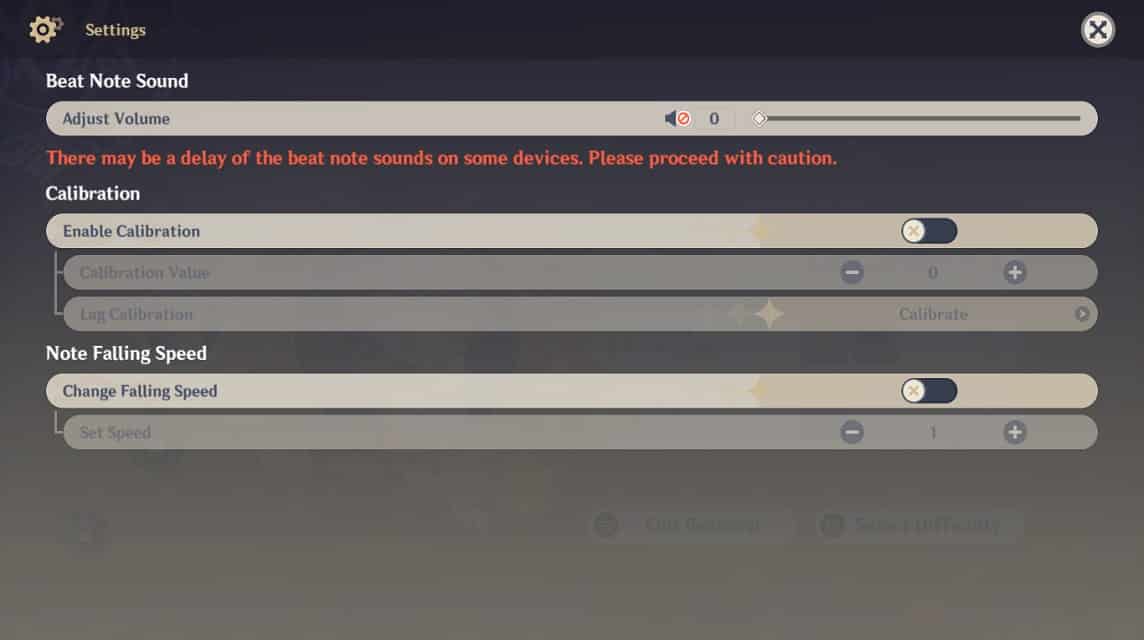 First is that you can customize sounds and taps in the menu Settings.
Often the device we use is slow. This of course becomes a barrier to getting a good score in Rhythm games.
You can now adjust Beat Note Sound, Calibration, and Note Falling Speed from the menu Settings so you can adjust it to the speed of the device.
How to access the Settings menu is also easy, you just enter the game and just click the top right that says Settings or Settings.
Edit Beatmap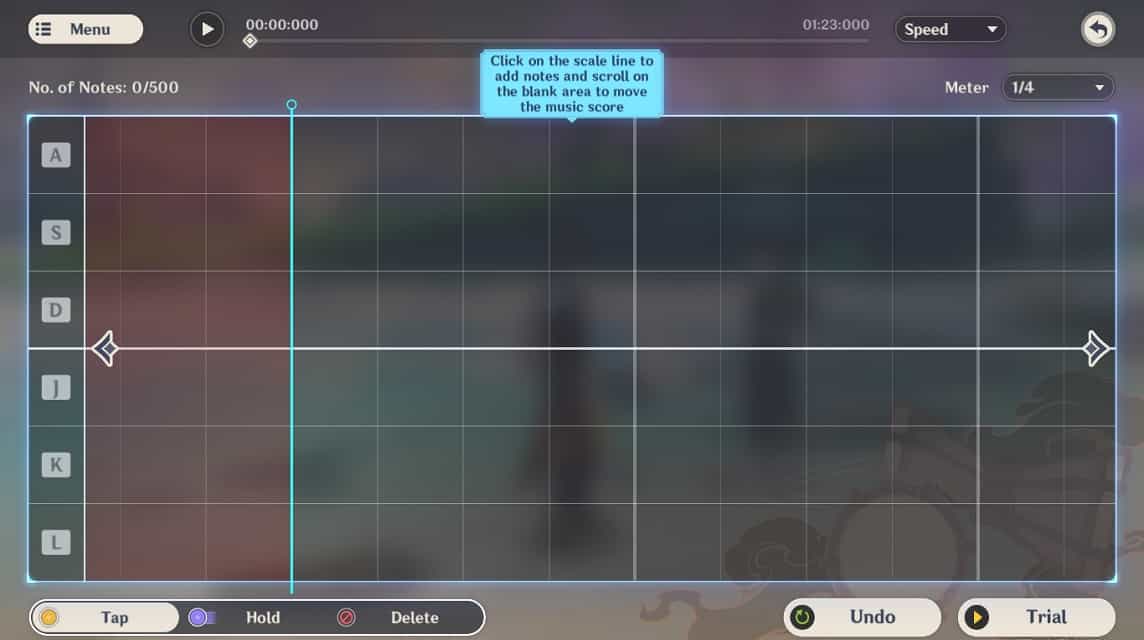 The next thing you can set is the Beatmap in the menu Edit Beatmap.
Here you will be given the freedom to edit the notes according to the song and can make it as difficult as you want to do.
There are 2 menus for this Beatmap Edit, namely as usual which has a similar UI or appearance when you play normally and Advanced Settings.
Here you can make a custom beat that you adjust for example the Tap and Hold sections.
After that, you can try the Beatmap that you created with the Trial menu so you can get beat that fits perfectly and perfectly.
Also Read: 5 Challenging Genshin Impact Drumalong Beatmaps
Find Compositions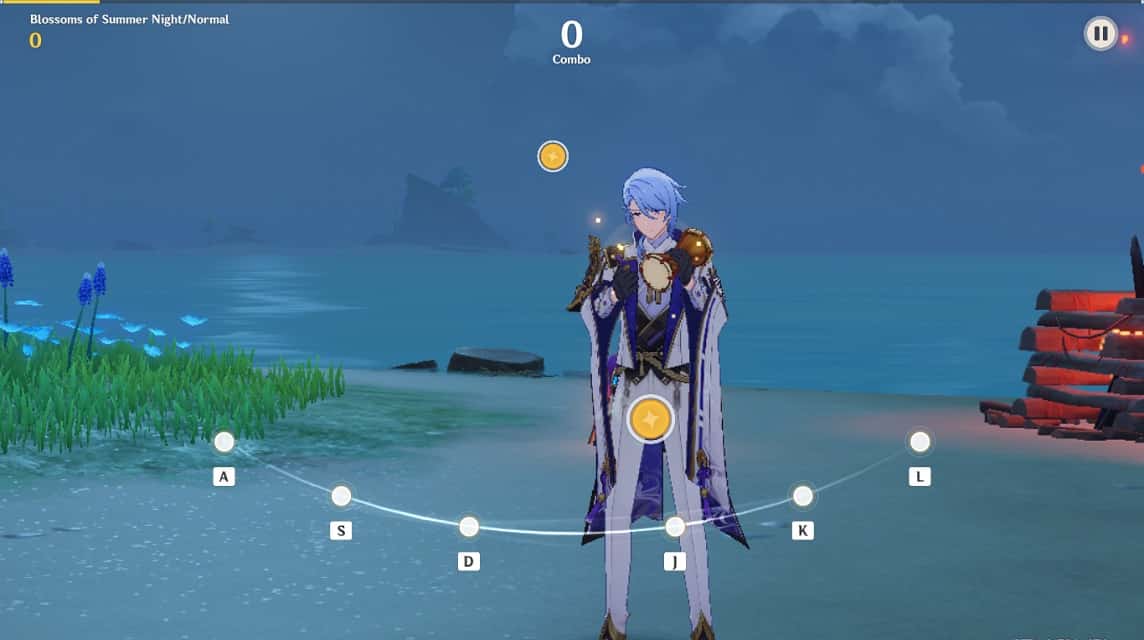 The beatmap that you have created can you share to fellow Genshin Impact players.
You just press the Menu option at the top right, and select save to get the Sharing code. or Sharing Code.
But before you share, you have to try the Beatmap that you made yourself to get a minimum Discantus level to get the Sharing Code.
The Sharing Code that you and other players have shared so Vicigers can play and try Beatmaps with each other.
You can also find Sharing Codes on Twitter because many players also share Sharing Codes on Twitter accounts.
There are also players who make Beatmaps which are very difficult and make fingers curl. Vicigers who have made Beatmaps are also very good for share Sharing Code beatmap which has been made in the comments column, yes!
Here are some Beatmaps that you can try to play from some Genshin Impact players on the Asian server which are usually played by Indonesian Genshin Impact players:
Blossoms of Summer Night (ost Yoimiya)
| | |
| --- | --- |
| Player Username | Code |
| Fylenie | 282579587329390 |
| Peppera | 281480075690970 |
| Ravenyrr | 281480102410612 |
| StaffOfThoma | 281480073967800 |
| Inzi | 281480089761797 |
Time to Shine (ost Arataki Itto)
| | |
| --- | --- |
| Player Username | Code |
| Halcyon_Sky06 | 562955055184893 |
| Nekomacbeth | 562955048683417 |
| Lumine | 562955070396366 |
Drifter's Destiny (ost Kaedehara Kazuha)
| | |
| --- | --- |
| Player Username | Code |
| StaffOfThoma | 844430027389112 |
| Creampuff | 844430053247189 |
| C | 562955061998783 |
Devotion of the Keeper (ost Thoma)
| | |
| --- | --- |
| Player Username | Code |
| Walnuts | 1125905036192432 |
| Avarice | 1125905037664012 |
| Tsuki | 1125905042552738 |