Who doesn't get annoyed when their laptop's wifi breaks or their signal reception becomes weak after several years of use? For those of you who don't know the cheap solution, maybe you have brought your laptop that is not covered by the warranty to the service center. The cost? Enough to make you not snack for a few days.
There are many causes for your laptop's built-in wifi hardware to become weak or damaged. It could be that the hardware is really old, or it could be your fault in using it every day. For example, the wifi card is exposed to liquid or something like that which can damage the wifi card that came with your laptop.
We don't recommend changing the wifi card if your laptop is out of warranty. The problem is that the costs incurred will definitely be more expensive than you buying an external wifi dongle.
But before deciding if what is damaged is your hardware, not the driver or software. We recommend that you update your laptop's default driver to the most updated version. However, if it turns out that your laptop's wifi hardware is not read in the device manager, you might be able to open your laptop's case and clean the wifi card.
But, if you don't have expertise in disassembling laptops, it's better for you to ask someone or your subscription service worker to help check. If the wifi card has been cleaned and reinstalled and your laptop wifi doesn't show any progress, it's time to judge if your laptop wifi is really broken!
There are several solutions to ensure your laptop can still be connected to the internet network. Here are some solutions.
Use LAN RJ45 to connect to the internet or network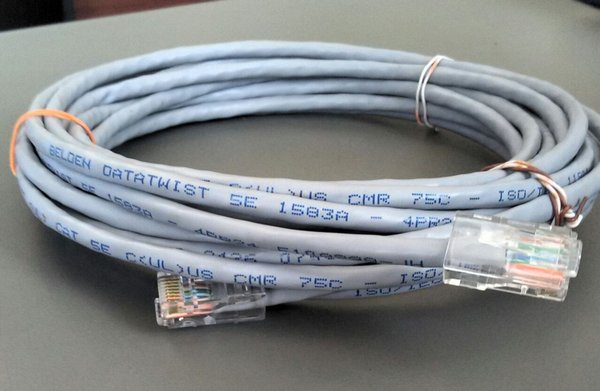 If this is still possible, you can try this method to stay connected to the internet or your network. But if your laptop doesn't have an RJ45 port, you shouldn't bother buying a USB to RJ45 converter, because it seems more practical if you buy a wifi dongle right away to replace your broken laptop wifi.
You can buy a UTP cable, or what is commonly called a LAN cable, at your favorite marketplace or e-commerce at a relatively cheap price. There are several categories that you must choose when you want to buy a LAN cable, which is commonly used today, namely cat 5/5e/6/6a. The price per meter is safe, how come it doesn't break your pocket, only 5 thousand-tens of thousands per meter, depending on the brand and model of the cable. Don't forget to buy a package with the RJ45 jack head.
Use the Wifi Dongle to replace your damaged default laptop Wifi

Lots of brands/series of wifi dongle on the market. There is a wifi dongle without a brand that costs only 20,000-30,000 cheap. There are also wifi dongles from well-known brands such as TP-Link, Netgear, Tenda, Totolink, Prolink, etc.
If you use the internet below 50Mbps, you can use a 2.4GHz 150Mbps wifi dongle at a more affordable price. However, if at home or at work you use an internet speed of more than 50Mbps, we recommend buying a 2.4GHz 300Mbps wifi dongle or buying a 2.4GHz and 5GHz dual band wifi dongle to support maximum speed.
As for what brands we recommend, it depends on your needs and your wallet. If you have a budget, go ahead and buy a dual band Netgear wifi dongle. Or you can buy dual band Prolink at a more affordable price, if the internet speed you want to use is more than 50Mbps.
If you are still using Indihome 10-20Mbps, feel free to buy a wifi dongle from the brands Totolink, tplink, or Tenda 150Mbps for only 50,000.
Those are about two ways so that you can connect to the internet even though your default laptop wifi is broken Vicigers. So do you choose to use a LAN cable or use a wifi dongle? Answer in the comments column yes.
Don't miss it to always get the latest and complete news updates about games. Starting from new game reviews, tips and tricks and so on. Just follow the account Instagram VGamers and Channels YouTube yes. Come on! Join the community on Discord VCGamers, the largest gamer community in Indonesia discord.gg/EDWvQ9jQEp