Hello Vicigers! This time VCGamers will be back again discussing the Tier List Genshin Impact as of June 2022.
In recent times, Genshin Impact has not released a new character. 
However, update patches 2.7 Yelan and Kuki Shinobu are released, adding to the lineup of characters you can play.
Yelan is a 5 star character Hydro bow which was released in the first part updates 2.7.
While Kuki Shinobu is a 4 star Electro sword recently released in rerun banner  Arataki Itto which was just released yesterday.
No need to worry about running out of Genesis Crystal Genshin Impact because in VCGamers you can do Top Up Genshin Impact easily and quickly.
So, Vicigers who want Shinobu can still get it in Gacha Banner Genshin Impact from now until update patches 2.7 ends.
The addition of these 2 characters certainly changes the Tier List of Genshin Impact where in terms of strength and ability, each has its own advantages and disadvantages.
The author will also discuss role from Yelan and Kuki Shinobu so that you have a little idea of the function of these two characters.
Read on for this article, Vicigers, to find out the latest Genshin Impact Tier List!
Also Read: Genshin Impact Tier List April 2022
A little information about Yelan's role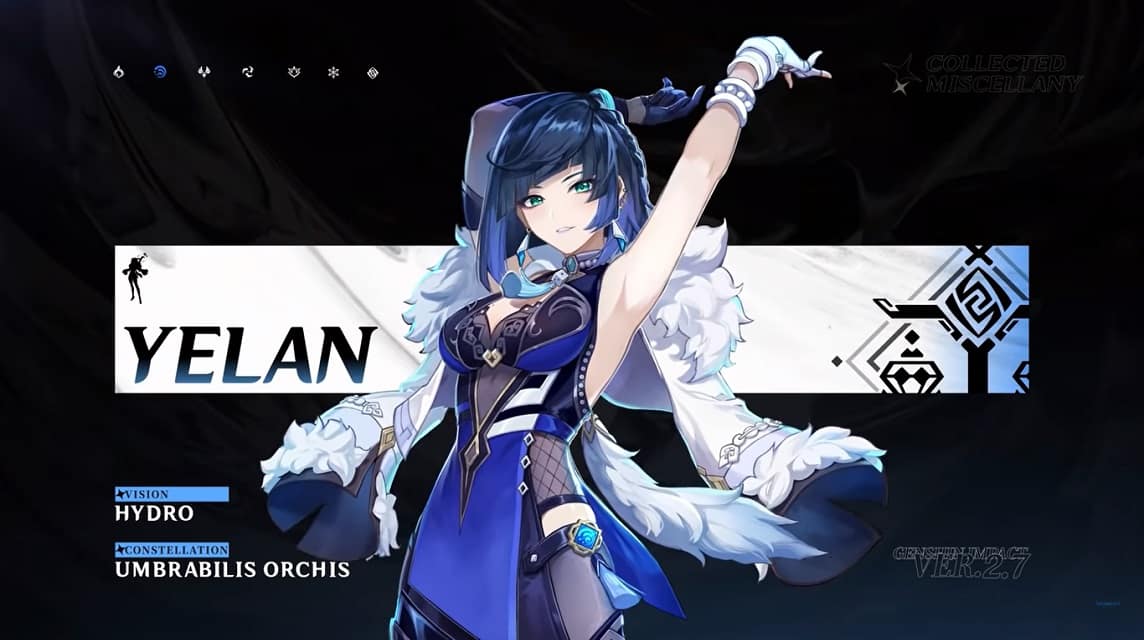 Yelan is the newest 5 star in Genshin Impact released on patches 2.7.
Yelan's strength lies in her Elemental Burst which can give Hydro DMG significantly off field.
This Yelan skill is very similar to Xingqiu so Yelan is very good when you combine it with party relying on elemental reactions to provide damage.
Yelan is very suitable to be used as a Sub DPS or Burst DPS position in your team. 
The position of DPS also actually can. However, you will find it difficult to find support or buffer for Yelan because the mechanics are so unique.
As is known, all of Yelan's attacks are calculated based on HP. Until now there are no characters support which can increase HP.
buffer like Kujou Sara, Bennett, and also Yunjin can only increase ATK DMG.
It will not be able to affect damage given by Yelan.
Damage Yelan will depend more on the given HP than stat what artifact and artifact set to use for example Tenacity of Millellith which can increase the HP bonus.
Also Read: Build Yelan Genshin Impact, Xingqiu's Newest Sub DPS Hydro Twin!
A little information about the role of Kuki Shinobu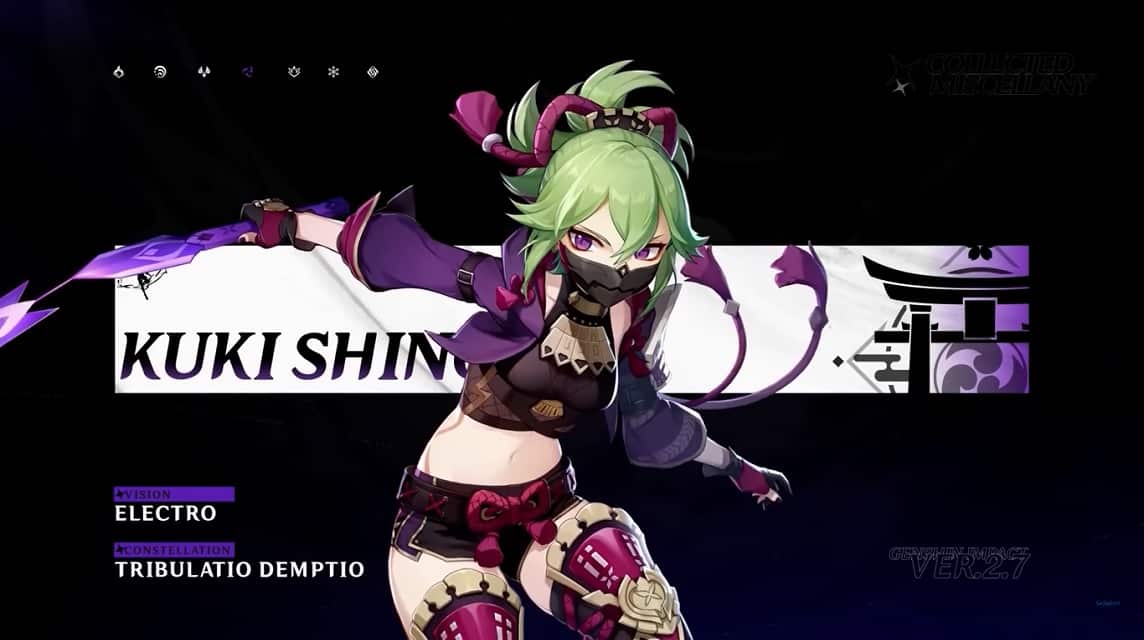 Scroll to continue reading
Scroll to continue reading
Scroll to continue reading
Scroll to continue reading
Kuki Shinobu is a new character who will be side by side in tier list Genshin Impact this June.
This character who is the deputy deputy of the Arataki Gang is introduced as a character healer with the first Electro element out of all the characters that have been released by Genshin Impact.
If asked if Kuki Shinobu Genshin Impact can you build to become a DPS or not, the author's own experience is actually a bit difficult to do that.
Shinobu's cookies don't have base attack large so that it is difficult for you to build this character as DPS with damage the big one.
When compared to other characters, damage given by Kuki Shinobu will feel inferior compared to DPS characters.
Not all characters in Genshin Impact have a role to be used as DPS. Something works to be support, healer, as well as DPS.
However, you can still build Kuki Shinobu becomes DPS when you use an artifact with stat ATK for the Sands of Eon slot and adds its Crit Rate and Crit DMG.
Tier List Genshin Impact June 2022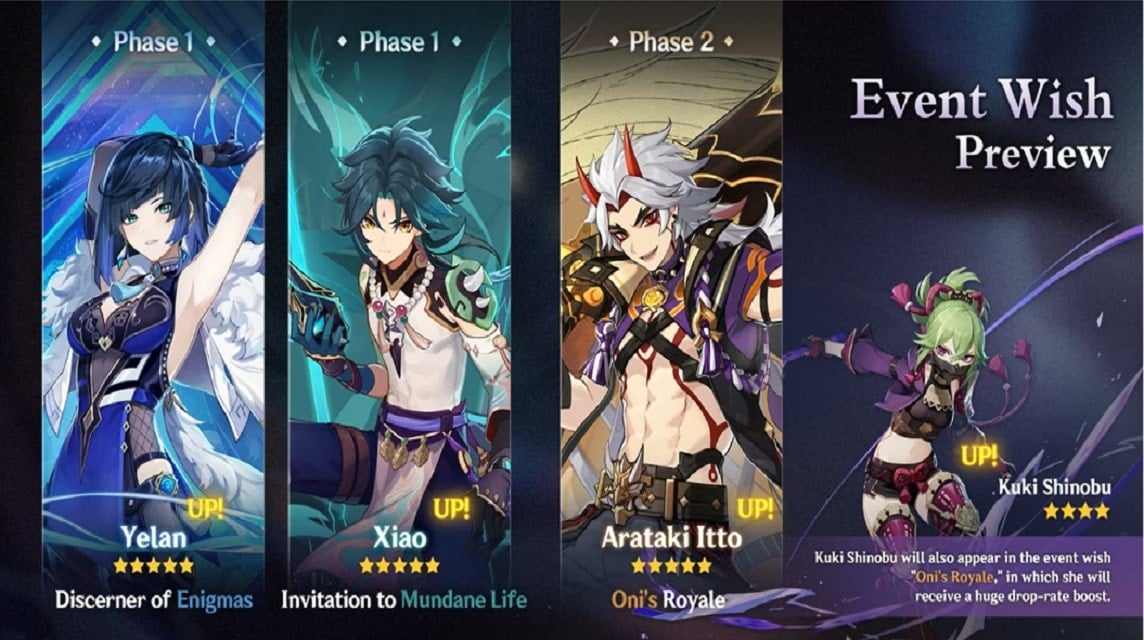 Genshin Impact now has a total of 47 characters that will be registered on the Genshin Impact Tier List this April 2022.
The total of 5-star characters has now increased to 25 characters and 24 4-star characters.
The Genshin Impact tier list category will be divided into categories, namely as a whole (overall tier list) , best DPS, best Sub-DPS, Support, and Healer.
The Tier List Genshin Impact April 2022 is also compiled based on the basic abilities of the characters, namely the constellation 0 which is adjusted to the ability of F2P to get the constellation (constellation) quite difficult.
Tier List Genshin Impact this is not to say the character is ugly or unusable.
Existence tier list This is to show the strength of the character based on the 0 constellation which will make it easier for you to determine which character is better for you build or you can get it through the Gacha Genshin Impact system.
All characters of course you can build as DPS if indeed Vicigers want to make the character as DPS.
Do not rule out even Barbara or Sangonomiya Kokomi for you to make as DPS.
The author strongly recommends that Vicigers do not get too chased damage the meta.
Everything comes back to your own decision as long as you keep playing with fun.
Don't let you feel discouraged or stressed because damage your character is not big or anything.
Tier List Genshin Impact Overall (Overall Power)
| | |
| --- | --- |
| Tier | Character |
| SS Tier | Hu Tao, Ganyu, Xiao, Eula, Zhongli, Bennett, Venti, Kaedehara Kazuha, Arataki Itto |
| S Tier | Kamisato Ayato, Childe, Diluc, Klee, Raiden Shogun, Jean, Yae Miko, Albedo, Fischl, Mona, Kamisato Ayaka, Yelan (new entry) |
| A Tier | Yunjin, MC Electro, Xiangling, Ningguang, Sucrose, Xingqiu, Shenhe, Yoimiya, Sangonomiya Kokomi, Keqing, Sucrose, Yanfei, Qiqi, Kuki Shinobu (new entry) |
| B Tier | MC Geo, Rosaria, Chongyun, Kaeya, Noelle, Razor, Diona, Kujou Sara, Sayu, Beidou, Barbara |
| C Tier | MC Anemo, Lisa, Xinyan, Aloy, Gorou, Amber |
The Best DPS Genshin Impact Tier List
| | |
| --- | --- |
| Tier | Character |
| SS Tier | Hu Tao, Ganyu, Xiao, Eula, Arataki Itto, Kamisato Ayato, Kamisato Ayaka, Childe, Diluc |
| S Tier | Klee, Raiden Shogun, Yae Miko, Fischl, Ningguang, Yelan |
| A Tier | MC Electro, Yoimiya, Keqing, Yanfei, Kaeya, Beidou |
| B Tier | MC Geo MC Electro Chongyun Kaeya Razor Beidou |
| C Tier | MC Anemo, Lisa, Xinyan, Aloy |
Best Tier List Genshin Impact Sub DPS
| | |
| --- | --- |
| Tier | Character |
| SS Tier | Ganyu, Zhongli, Kamisato Ayato, Kaedehara Kazuha, Yelan |
| S Tier | Raiden Shogun, Yae Miko, Fischl |
| A Tier | MC Electro Xiangling Ningguang Shenhe Rosaria  |
| B Tier | MC Geo, Rosaria, Chongyun, Kaeya, Beidou  |
| C Tier | Lisa, Xinyan, Amber |
Best Tier List Genshin Impact Support
| | |
| --- | --- |
| Tier | Character |
| SS Tier | Zhongli, Bennett, Venti, Kaedehara Kazuha, Raiden Shogun, Yelan |
| S Tier | Jean, Yae Miko, Albedo, Mona, Xingqiu, Sucrose |
| A Tier | Yunjin, Sangonomiya Kokomi, Qiqi, Kuki Shinobu |
| B Tier | Noelle, Diona, Kujou Sara, Sayu, Beidou, Barbara |
| C Tier | Gorou |
Best Tier List Genshin Impact Healer
| | |
| --- | --- |
| Tier | Character |
| SS Tier | Sangonomiya Kokomi, Bennett, Jean, Diona |
| S Tier | Qiqi, Kuki Shinobu, Sayu |
| A Tier | Noelle, Barbara |
| B Tier | – |
| C Tier | – |