Livestream Special Program Genshin Impact for updates 3.3 coming. Apart from releasing new characters like Wanderer and Faruzan, various events New will also be released on updates this.
Card game permanent event that is on special program updates Previously it was reported that the Genius Invocation TCG would be released on updates 3.3 coming.
What other exciting things will be released by Hoyoverse on updates future? Read further recapitulation of the Genshin Impact 3.3 Special Program by VCGamers.
Genshin Impact Special Program 3.3
Archon Guest Interlude Chapter: Inversion of Genesis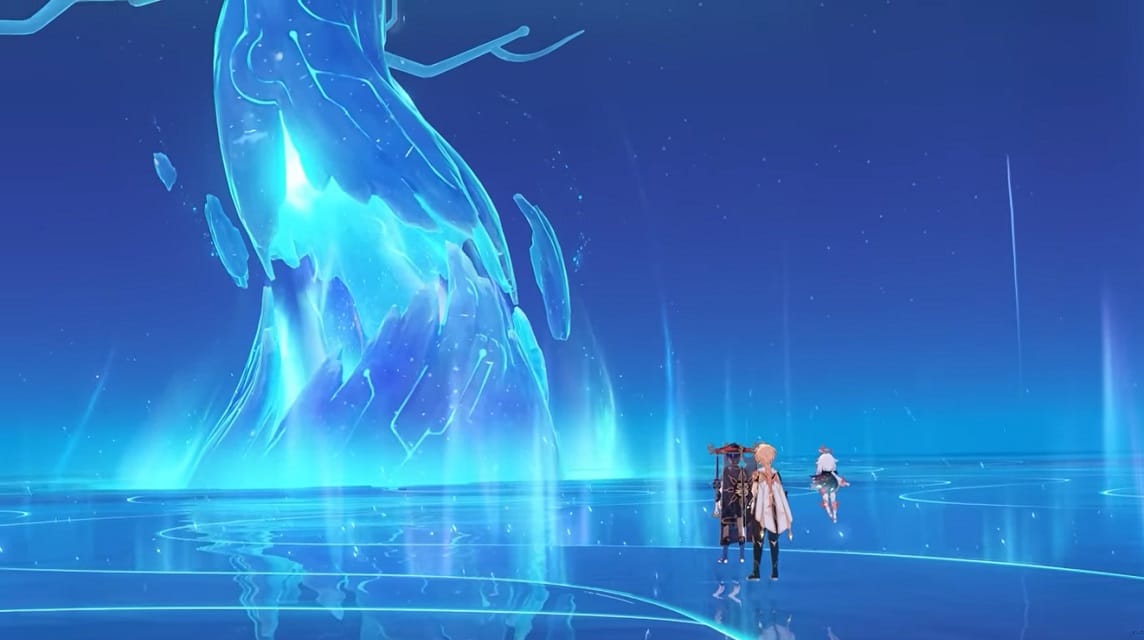 Update 3.3, which will be released on December 7, 2022, will feature the continuation of the next Archon Sumeru story entitled Archon Guest Interlude Chapter: Inversion of Genesis.
In the previous Archon quest you may remember that Scaramouche (otherwise known as the Wanderer) is currently hidden by Nahida having previously been defeated.
Nahida will ask you to keep an eye on Scaramouche to find data on the Irminsul tree. Besides that, the mysteries in Tatarasuna, Inazuma will also be explained in this Archon Quest.
Also read; Build Nahida Genshin Impact: Skill, Gear, and Team Comps
New Banner Characters: Scaramouche and Faruzan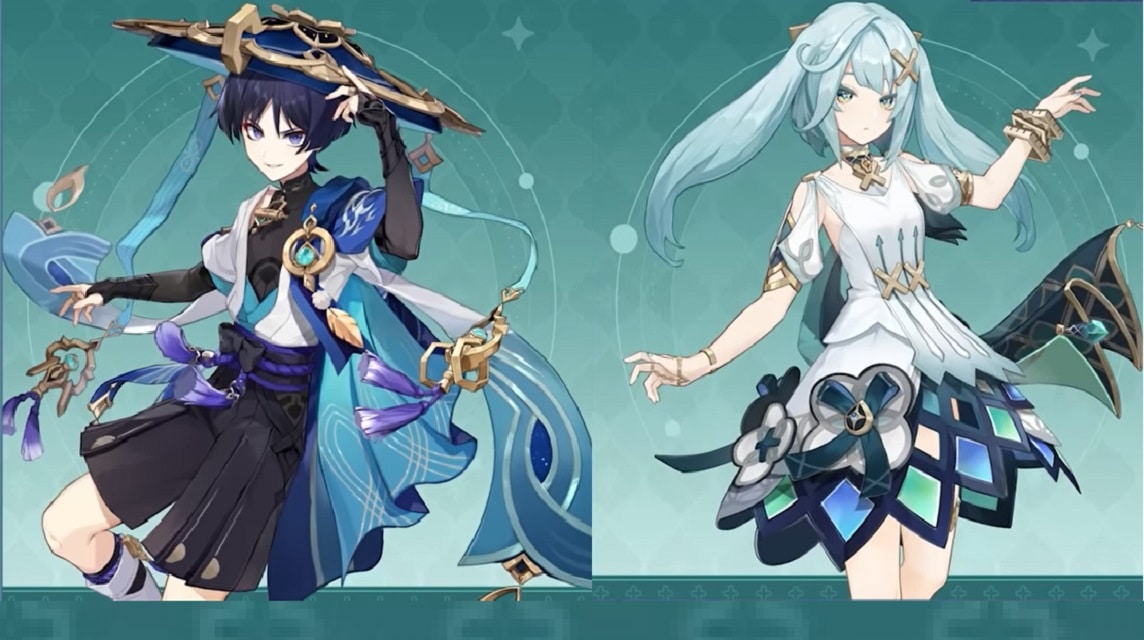 This is what Genshin Impact players have been waiting for for sure banners for character on updates the! On updates 3.3 it will be there banners new characters and rerun banner some other cool characters.
The long-awaited Wanderer, or perhaps better known as Scaramouche, is finally out. Wanderer will be the next 5 star character you can get.
This character will use a Catalyst weapon with Anemo elements. This character mechanic is very interesting because you can fly or hovering at a certain height. Very good is not it for exploration?
Wanderer's ability to hovering not use energy like running or climbing but will use Kuugoryoku Points.
Apart from Wanderer, the 4 star character Faruzan will also be released along with Wanderer. Faruzan will be a character support which is great for Wanderer.
Characters using weapons bow and this Anemo element will be able to lower Anemo RES and give Anemo DMG to characters that are in party.
Apart from the new character, Arataki Itto's character will also get one rerun in the first part updates 3.3. 
You will also have the chance to win Kamisato Ayato and Raiden Shogun on rerun banner The second part updates. 
New Artifact Set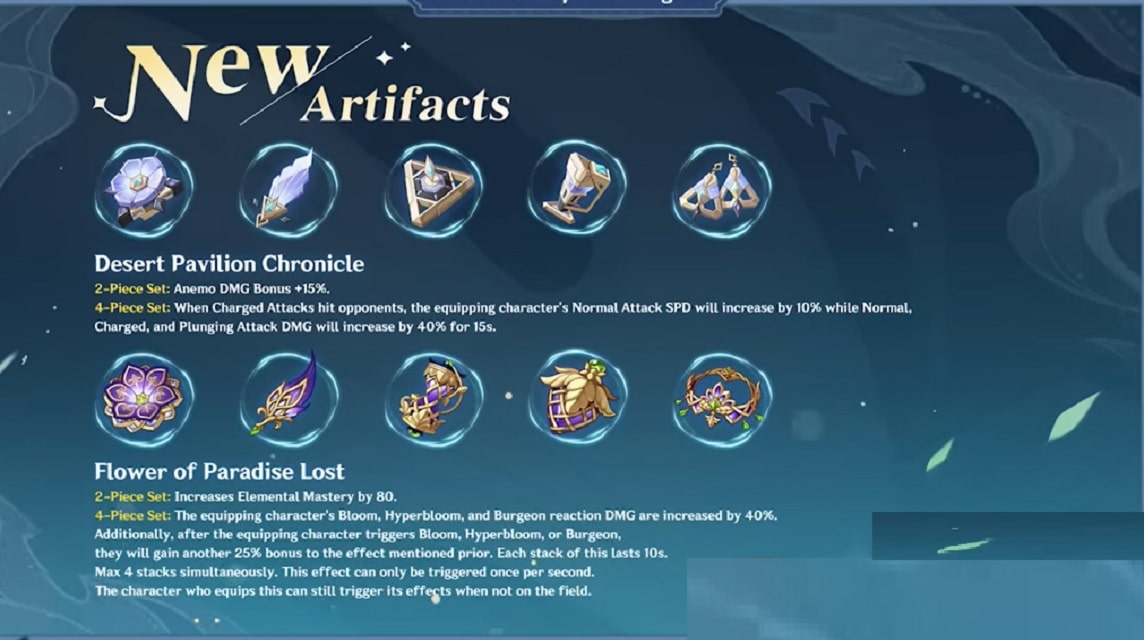 In addition to the new characters, on updates this will also Genshin Impact will present domains for new artifact sets. 
According to some leaks, the domain will be located in the Desert section of Sumeru. However, details on where the domain is located will follow updates release.
This domain will contain 2 sets of artifacts which, judging from the bonuses given, there is one set that will suit Wanderer perfectly.
The first set, Desert Pavilion Chronicle, will provide additional Anemo DMG Bonus +15% for 2-PC use and provide Attack SPD when 4-PC use.
This Flower of Paradise Lost can be considered quite unique and seems to be suitable for the characters Dendro, Hydro, Electro, and Pyro. 
This set will increase Elemental Mastery on 2-PC use and add DMG from elemental reactions Bloom, Hyperbloom, and Burgeon on 4-PC use.
VCGamers saw this set as a perfect match for party Burgers like Burgeon Thoma. 
Also Read: Thoma's Burgeon Builds: Rotations, Team Comps, Weapons, and Artifacts
Event Genshin Impact 3.3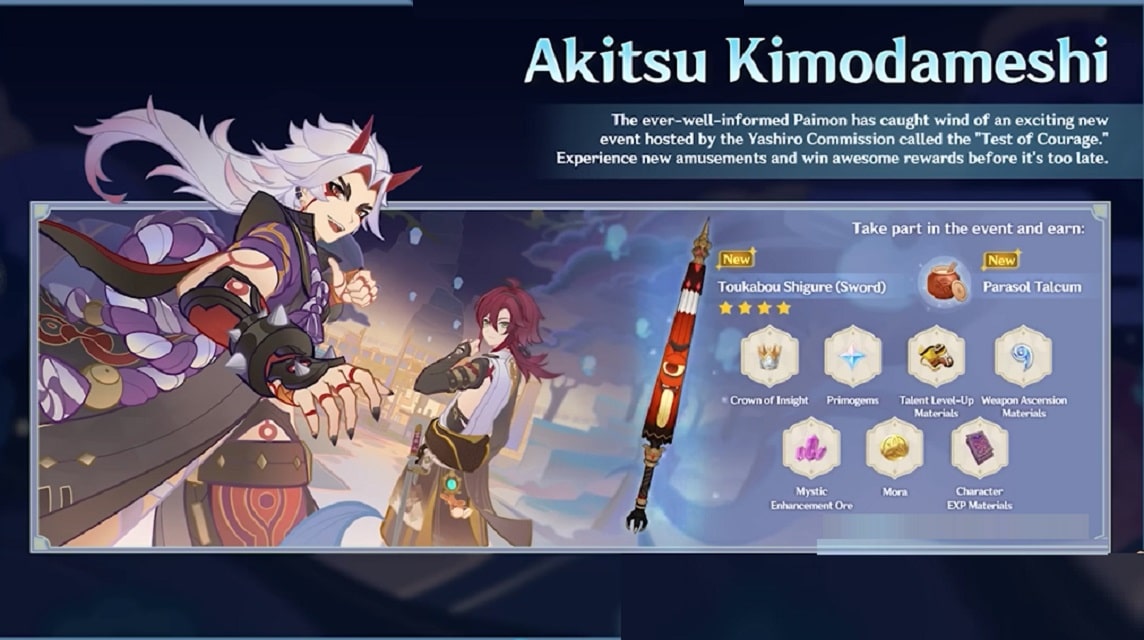 Updates 3.3 will present you a variety events new and interesting rerun event which of course is a favorite of players like Windtrace.
The first event is Akitsu Kimodameshi where you will take part in a guts test challenge held at Inazuma by Yashiro Commission. This event will provide prizes weapons special is Toukabou Shigure's sword.
Across the Wilderness will be events only next after Akitsu Kimodameshi. On events In this case, you will be challenged to catch balloons in various places.
Other than that, don't miss out rerun Windtrace and Misty Dungeon which present various new concepts that are no less exciting.
Card Game Genius Invocation TCG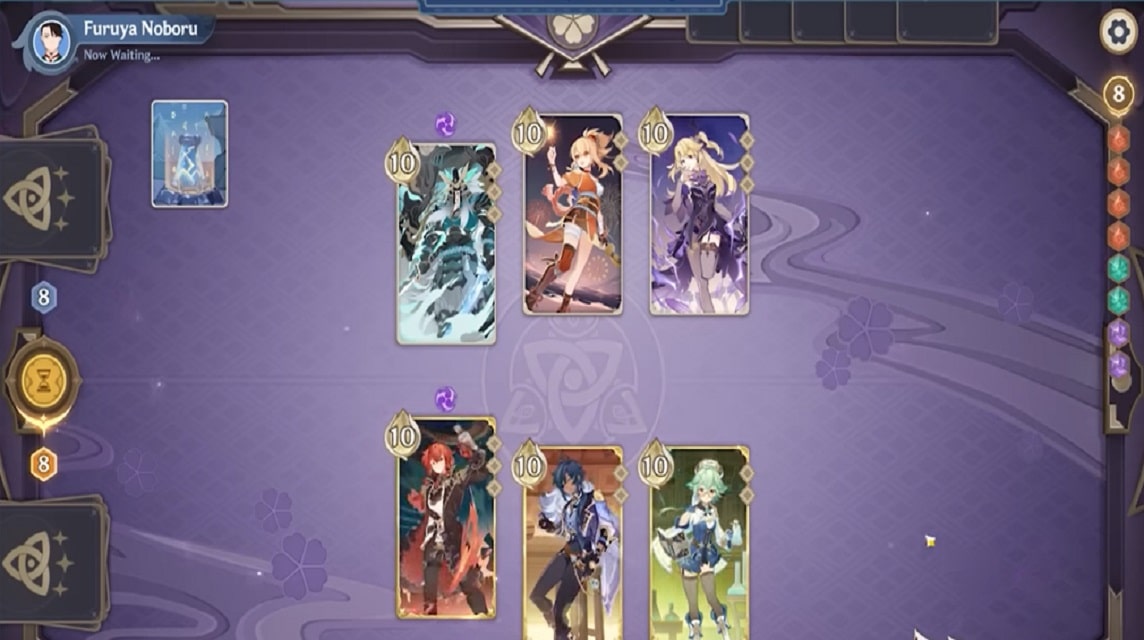 On updates the upcoming Genshin Impact also features games permanent that you can play. 
Card game Genius Invocation TCG will invite you to play a card game, namely fighting cards based on the strength of the serial cards.
The cards that will be used are 4 different cards, namely: character cards, equipment cards, support cards, and event card.
The system is how to play your Genius Invocation TCG, you will attack using character card where new cards will be able to attack with Elemental Dice. 
This character card can use skills like the character on games namely Normal Attack, Elemental Skill, and Elemental Burst.
Card attacks will also be able to carry out elemental reactions which of course increase damage given to the enemy card.
Other cards like equipment cards, support cards, and event card function to provide support in the form of buff, stregthen, effect, and others.