Currently, there are many FAMAS weapon skins that you can get. Well, this time VCGamers wants to tell you how to get the FAMAS Legendary Demonic FF weapon skin.
There are currently two Faded Wheel events running at Free Fire MAX. Both offer attractive in-game accessories that players can purchase by spending diamonds (premium in-game currency).
The Faded Wheel is a recurring event in the battle royale games section of the Luck Royale section. However, today marks the last day mobile gamers can claim the FAMAS Demonic Grin Weapon Skin via spinning the wheel on the Faded Wheel.
Make your character even cooler with top up Free Fire (FF) you at VCGamers. Want to pay with Qris, ATM, even at minimarkets? Can!
Get FAMAS Weapon Skin on Faded Wheel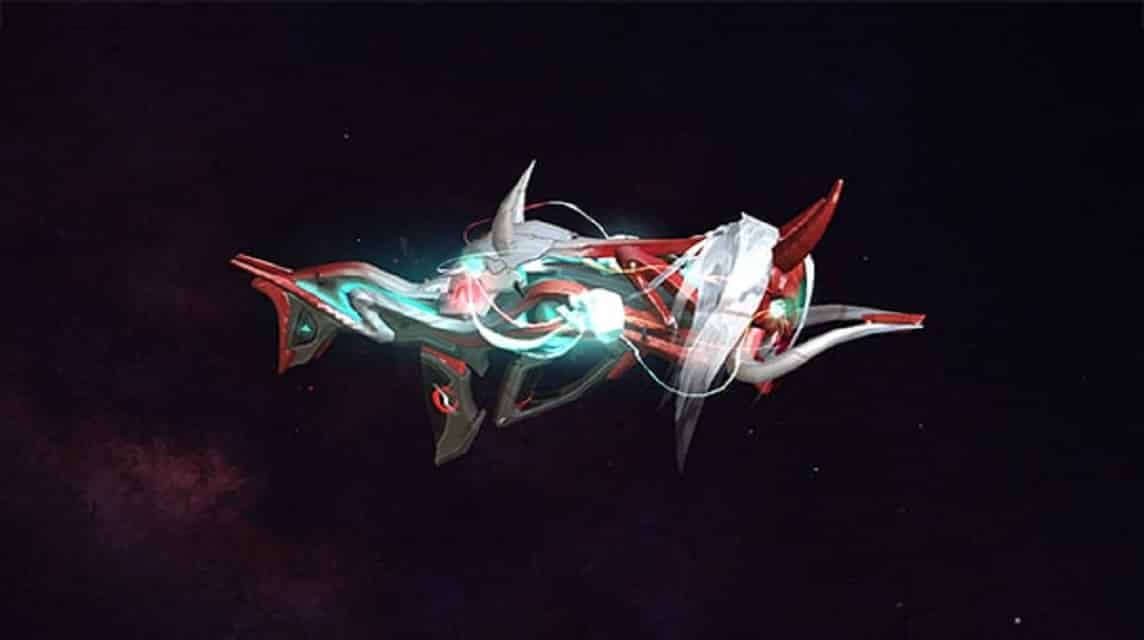 The Faded Wheel will end on June 22, 2022 at Free Fire MAX. As usual, the event has ten items, of which the user must remove two.
In addition to the FAMAS Demonic Grin Weapon Skin, two other loot crates will offer a weapon skin for the M4A1 and another from the Vandal Revolt weapon set. The full prize pool is given below:
Carved Horns

Cube Fragments

Diamond Royale Voucher (expires on 30 June 2022)

Jester's Trick

Skyboard Swagger Sauce

Demonic Grin Parachute

Demonic Grin FAMAS token

Demonic Grin FAMAS
Players have to make a total of eight spins if they want to get all the prizes. With each spin, the diamond price will increase gradually. The distribution of costs is given below:
The first round is worth nine diamonds, 

the second round is worth 19 diamonds, 

the third round is worth 39 diamonds

the fourth round is worth 69 diamonds

fifth round is worth 99 diamonds

the sixth round is worth 149 diamonds

the seventh round is worth 199 diamonds

the 8th round is worth 499 diamonds.
The FAMAS Demonic Grin weapon skin is one of the most wanted Evo weapon skins in Free Fire MAX. It can be upgraded to the seventh level by using its token.
At its last level, the FAMAS Weapon Skin can increase damage (doubled) and increase fire speed (single boost). To match it, the weapon reload speed is reduced.
Well, below is how to get FAMAS weapon skins at the June 2022 Fadeed Wheel event;
Mobile gamers should open Free Fire MAX and tap on the Luck Royale option.

You must select the second Faded Wheel option in the list.

Players must remove two items from the list and confirm their decision.

Eventually, they will be able to spin the wheel and claim the prize.
Demonic Grin Famas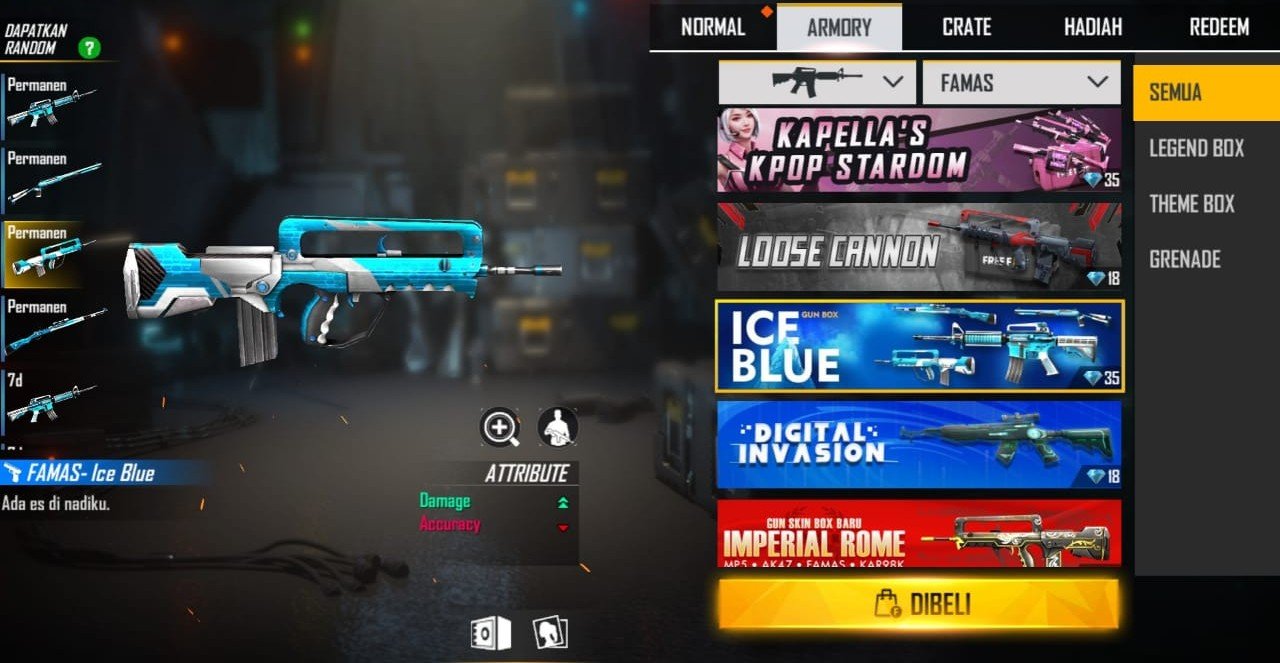 Scroll to continue reading
Scroll to continue reading
Scroll to continue reading
Scroll to continue reading
Free Fire MAX's newest Evo gun skin, Famas – Demonic Grin, is now available on Faded Wheel on the Indian server. The eighth Evo weapon skin, similar to many others released previously, comes with special emotes and unique abilities.
Evo weapon skins are in high demand in battle royale games, and their popularity is generally unmatched in this category due to their ability to upgrade. Gamers have to use unique tokens to level up and get some advantages in each level.
Since this skin has been introduced to Faded Wheel, easier to obtain because a certain number of items are guaranteed after a certain spin.
The Faded Wheel featuring the new Evo weapon skin was added to Free Fire MAX on June 1, 2022 and will be accessible for a few weeks before its disbandment on June 22, 2022. Users must first select and remove two items from the prize pool before making a spin.
Unlike other lucky nobles, items are not repeated. Once obtained, they are removed from the pool, increasing the chances of obtaining a weapon chest. The prize pool is as follows:
Famas – Demonic Grin

Cube Fragments

M4A1 – Pink Laminate Weapon Loot Crate

Demonic Grin FAMAS Token Box (Blue)

Skyboard Swagger Sauce

Demonic Grin Parachute

Diamond Royale Voucher (Expiry date: 30 June 2022)

Vandal Revolt Weapon Loot Crate

Jester's Trick backpack

Carved Horns
As the acquired items are removed from the prize pool, the round rewards will also increase and are as follows:
First round: 9 diamonds

Second round: 19 diamonds

Third round: 39 diamonds

4th round: 69 diamonds

5th round: 99 diamonds

6th round: 149 diamonds

7th round: 199 diamonds

8th round: 499 diamonds
Read also: Complete Info and Details of FAMAS Free Fire Weapons You Need to Know
So, the total cost of possessing Famas – Demonic Grin along with the other seven items was 1,082 diamonds.
The steps to access events and spin are as follows:
First, the user must select the Faded Wheel after unlocking the section Lucky Royale on Free Fire MAX.

Next, gamers must remove two items from the prize pool and then use the diamonds to make a spin.

Players must continue to spend diamonds until they receive weapon skins.
With Famas Demonic Grin being one of Evo's weapon skins, it already has its own value. However, only players who had several thousand diamonds had to get them through the Faded Wheel. This is because having an Evo weapon skin is cheaper than upgrading it to the maximum level.
In order to engage more fans in the game, game developers are always presenting new lucky royale events. One of the most popular data miners, Aorus69 has shared a leak regarding the upcoming faded wheel event.
Read also: How to get Gloo Wall Brassy Core and Famas Vampire FF
The event has already started and will continue to be available for at least a week. So, you will have enough chances to claim the prize successfully. However, all users must rely on luck to claim the prize successfully.