Hello Vicigers! Free Fire is a battle royale mobile game which is very popular and famous for its unique characters. The characters in Free Fire can be selected and played according to the player's desire to be able to win the match, for example pet Robo.
There are lots of alternative character choices that can be used in Free Fire matches. As a player, you can also pair items suitable to complete skills the character you use in the match.
Of course, you can't just choose any character and items if you want to win the match, you need to know the strengths and weaknesses of the characters and items that you pair to be able to fight the enemy.
Make your character even cooler with top up Free Fire (FF) you at VCGamers. Want to pay with Qris, ATM, even at minimarkets? Can!
Overview of Pet Robo
One of the newest characters in Free Fire is the Robo character, which later became much discussed by the players because of his character which has several unique features and advantages.
This pet is one of the Free Fire characters in the form of a robot in the shape of a moon and has holographic eyes. In addition, this Pet also has pointed ears like other animals in general.
This pet is equipped with wheels instead of legs to help it walk to and fro. Pet Robo also has skin extraordinary and no less cool with other Pets.
The skin owned by this Pet Robo is pharaoh's robo skin which can be obtained if the player manages to level up Free Fire up to level 6. The way to be able to level up and get the skin is to play games until it reaches the maximum level of the pet.
Pet Robo paired with Pharaoh's skins It has a very elegant visual appearance. Its appearance resembles that of ancient royalty with colors that look like the crowns worn by ancient Egyptian royalty. The color in question is a combination of yellowish brown.
Pet Robo himself has a background that is told is a home robot who is friendly to serve his master's guests. But unfortunately during a battle, Pet Robo gets lost and is modified into a combat robot so that he can be better prepared to protect his master from danger in battle.
Based on the background story, Pet Robo is known as a pet robot that has a special ability to protect its master. This pet also has the ability to add a shield to strengthen gloowall.
Only Until December!
Gloo Wall is one of the items Free Fire which is very important used in the game. Lots of Free Fire players are fighting over Gloo Wall with other friends to make items It is very popular among players.
Items Gloo Wall has the function of providing direct protection for the characters used by players in the game. That reason is what makes items Gloo Wall is busy being contested for use by players.
Players really need items Gloo Wall for his survival during the match. Items this will work more optimally if it is paired with Pets in Free Fire such as Pet Robo.
Pet Robo can strengthen items Gloo Wall because the Pet has skills capable of providing additional health points as much as 60 points on shield or protector, namely Gloo Wall while still at level 1.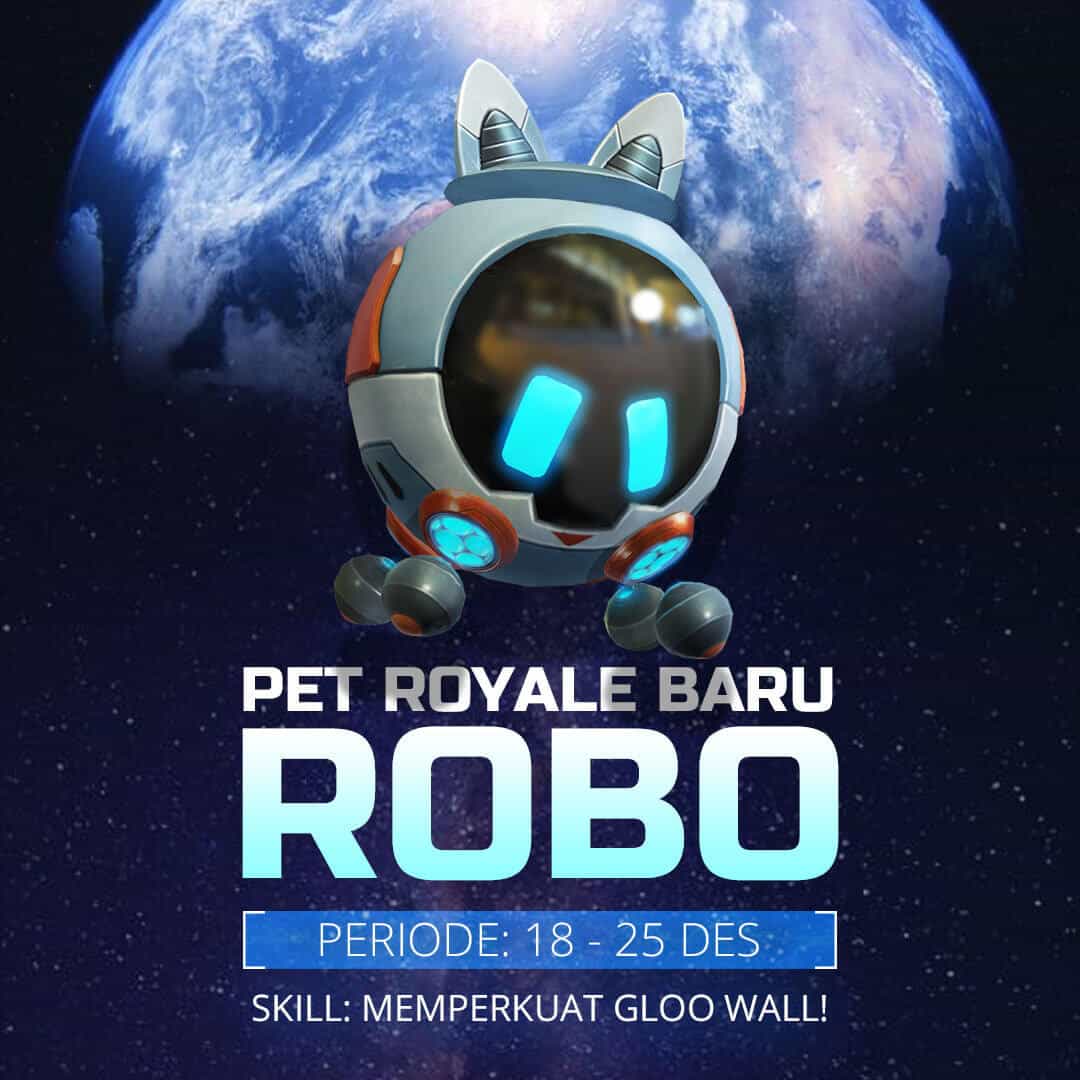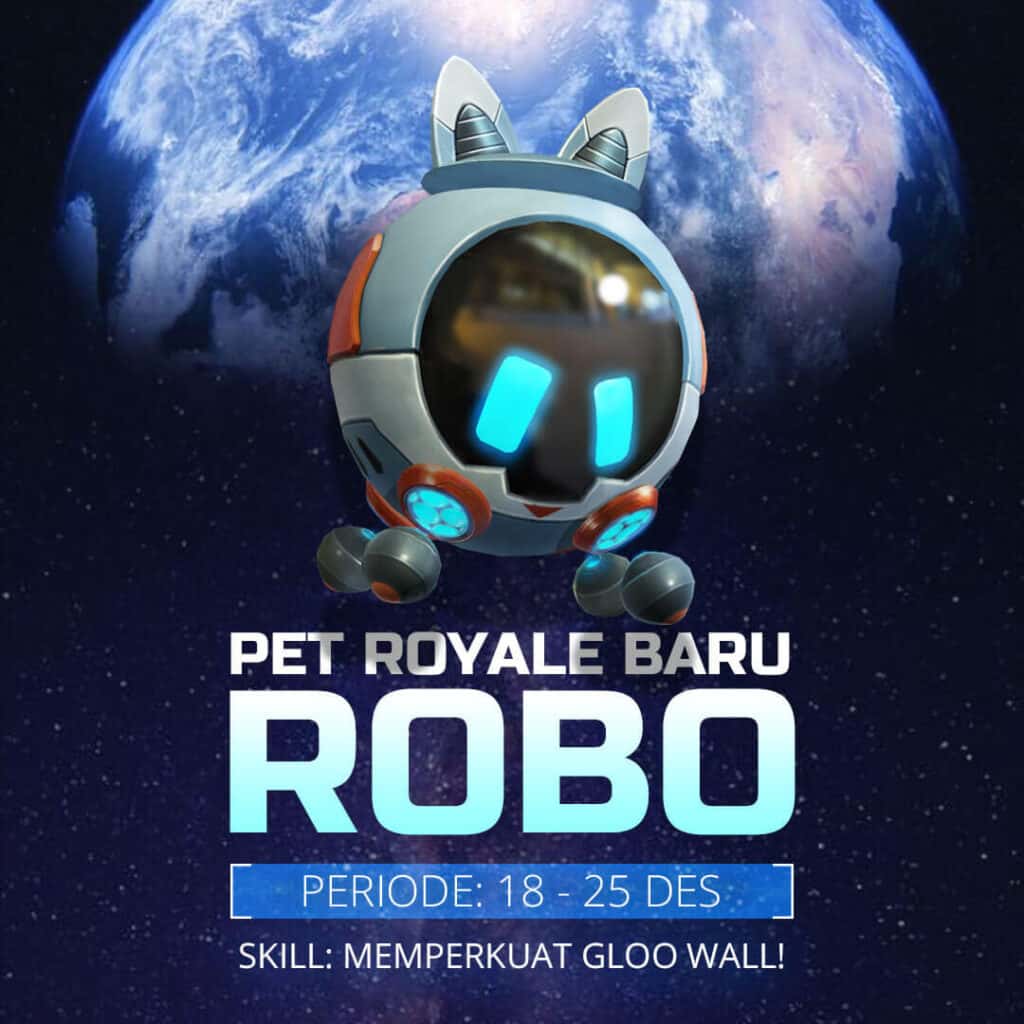 Scroll to continue reading
Scroll to continue reading
Scroll to continue reading
Scroll to continue reading
If you put Gloo Wall on Pet Robo, you will have a stronger defense in the match. Gloo Wall that you install will make you more difficult to be destroyed by the enemy.
Your enemy needs extra effort or more effort to destroy items Gloo Wall paired with skills Pet Robo, especially if the enemy's position is very far from where you are moving.
Pet Robo's extraordinary ability can make items Gloo Wall gets additional protection in the form of extra durability when played. This allows you to have additional time to think about an attack strategy on the enemy.
This Pet Robo has been launched by Free Fire since last December. You can get this pet in the pet panel in Free Fire.
Don't forget to pair items Gloo Wall when using Robo to get extra protection and win the match. Good luck!
Read also: Mr Waggor's Pet Can Make a Gloo Wall? Here's the explanation!