Just last Tuesday, March 30, 2021, Xiaomi introduced its two winning series, namely Redmi Note 10 and Redmi Note 10 Pro, which were promoted by them with the hashtag #JawaranyaAMOLED.
Read also: Redmi Note 10 By Xiaomi Ready to Launch Officially at the End of March
Yes, it's true, this cellphone is the first Redmi and Redmi Note series to use this AMOLED screen from Samsung.
First of all, let's discuss the Redmi Note 10 series, what are the main attractions for buying this device, let's see.
6 Things You Must Know From Redmi Note 10!
6.43 inch FullHD AMOLED Panel Screen
Rich, this HP will be a benchmark for HP from competitors who will be issued after this.
If competitors are quickly satisfied with their IPS screens, then at the beginning of 2021 they will surely feel defeat. Because there will be many potential buyers of the Redmi Note 10 in April.
Who is not interested in this AMOLED screen made by Samsung in the Redmi Note series? Then this screen is also supported with a maximum brightness level of 1100nits. This is truly a remarkable breakthrough from Xiaomi.
Xiaomi seems to be doing a good research on what is needed to increase their sales, especially during this pandemic. So, good luck Xiaomi!
The First Newest 6 Series Processor in Indonesia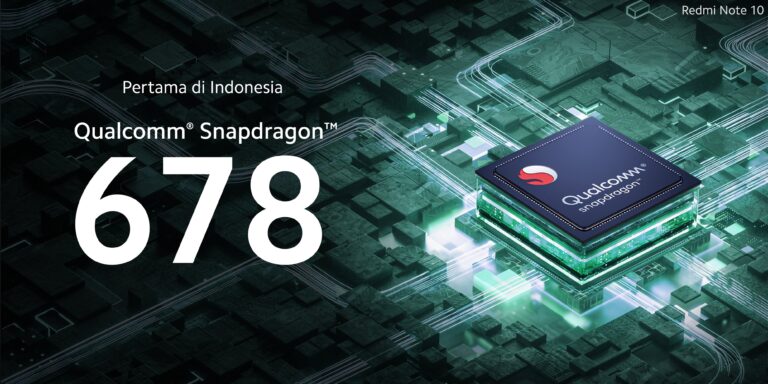 Scroll to continue reading
Scroll to continue reading
Scroll to continue reading
Scroll to continue reading
Always keeping up with the first word on some of its devices lately, we think Xiaomi has indeed researched this in such a way.
They know that it will be the first, for example in bringing Qualcomm's latest 6 series processor to Indonesia, namely Snapdragon 678.
The Snapdragon 6 series from Qualcomm is the most powerful today, embedded in the innards of the Redmi Note 10.
Big Battery with Fast Charging
Although this seems to have become the trade mark of the Redmi Note, we still appreciate it, because Xiaomi still brings these specifications into the Redmi Note 10.
Equipped with a 5000mAh battery and fast charging up to 33 Watts (a 33 Watt charger is included in the box) makes Redmi Note 10 more resilient in accompanying your daily life.
Equipped with Splash Proof Certification and Dual Speaker
IP53 splash proof certification has been achieved by this device. It's not really a great thing, because it's not a water proof certification.
But it feels like for a mid-range cellphone class, this certification is enough to provide a sense of security, if you're using your cellphone in an outdoor area in drizzling conditions. If you want to try this cellphone in heavy rain, yes, please, but at your own risk, yes.
Dual speakers seem to be mandatory lately for mid-range Xiaomi devices, such as the Poco X3 NFC, Poco M3, and Redmi 9T. Hopefully this is imitated by all brands so that it becomes the new standard for 2021 HP output.
4 Main Cameras with Premium Design
You will get a 48MP main camera, 118-degree ultra-wide lens, depth sensor, and macro lens if you plan to buy a Redmi Note 10 later. The multi-layer camera design setup on this cellphone makes Redmi Note 10 look more premium than its siblings.
The main camera of this cellphone is also equipped with features like night mode, slow motion video, time lapse, etc. This cellphone also doesn't forget to embed a 13MP resolution camera for selfies.
Only 1 4/64GB variant available
Because Xiaomi has also brought the official Redmi Note 10 Pro to Indonesia. It seems that if Xiaomi only includes 1 variant for the Redmi Note 10 it will look reasonable. Of course, to be a gulf between the price of the Redmi Note 10 and Pro.
But don't worry, this HP microSD slot can accommodate up to 512GB of storage capacity.
Redmi Note 10 4/64GB variant with UFS 2.2 technology will be sold at an introductory price of IDR 2,399,000 which will be available on March 6, 2021 at 1 pm.
You can buy it either online at Lazada, Akulaku, and Mi.com, or offline at Mi Store, Erafone, or Mi Partners throughout Indonesia.
We will discuss the Redmi Note 10 Pro series in the next article, stay tuned, Vicigers!
Don't miss it to always get the latest and complete news updates about games. Starting from new game reviews, tips and tricks and so on. Just follow the account Instagram VCGamers and Channel YouTube yes. Come on! Join the community on Discord VCGamers, the largest gamers community in Indonesia discord.gg/EDWvQ9jQEp