Siapa yang kemarin siang (23/3) nonton live streaming peluncuran Realme C25 dan C21? Kalau kamu belum sempat menonton live streaming peluncurannya. Baca terus artikel ini sampai habis, karena kita akan bahas info-info menarik terkait Realme C25, melanjutkan artikel ini.
Meluncur perdana di dunia, eksklusif pertama di Indonesia
Kita patut berbangga nih, karena Realme C25 eksklusif diluncurkan perdana dan pertama di Indonesia serta di dunia. Menjadi negara yang pertama kali mencicipi sebuah smartphone anyar merupakan keuntungan tersendiri bagi masyarakat Indonesia.
Reviewer gadget bisa dengan leluasa me-review atau unboxing Realme C25 pertama kali sebelum reviewer luar negeri melakukannya. Konsumen dalam negeri juga diuntungkan nih, karena mereka akan menjadi orang pertama yang memakai produk ini di Indonesia dan juga secara global, ini merupakan pengalaman yang langka loh.
Setup kamera utama 48MP triple kamera + kamera selfie 8MP

Secara umum, kamera pada HP Realme memang tidak dapat diremehkan kualitasnya. Terbukti dari seri-seri pendahulunya, yang sebagian besar penggunanya menyatakan puas akan kualitas kamera dari device Realme mereka.
Pada Realme C25, kita akan disuguhkan triple kamera 48MP, satu kamera B&W, serta satu kamera makro. Kamera utama 48MP ini mendukung 4x zoom dan PDAF autofokus yang cepat, serta mendukung resolusi hingga 6000 x 8000 ultraHD. Tidak lupa setup kamera ini mendukung super nightscape yang akan membantu menangkap cahaya yang cukup saat kondisi gelap.
Realme C25 juga dilengkapi dengan 8MP kamera selfie dengan fitur AI beauty, HDR, portrait mode, serta mendukung perekaman hingga FullHD 1080p.
Realme C25 bersertifikasi TÜV Rheinland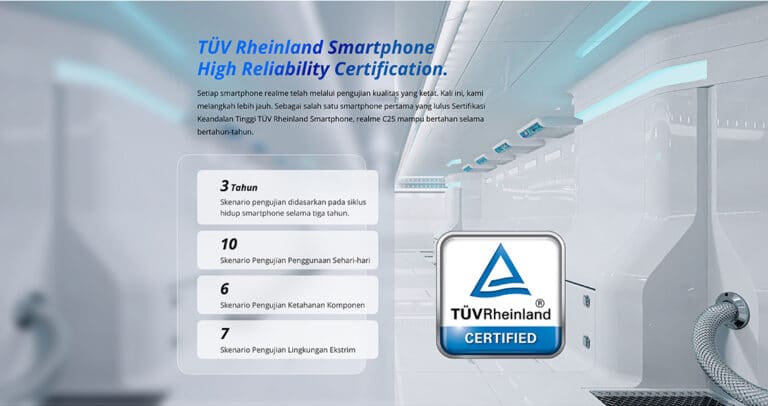 Vicigers ada yang tahu artinya? Singkatnya Realme C25 sudah mempunyai tingkat ketahanan terbaik, karena telah diuji secara maksimal di berbagai kondisi, hingga kondisi dan kemungkinan ekstrim sekalipun oleh lembaga perihal kualitas internasional TÜV Rheinland.
Realme C25 merupakan smartphone entry-level pertama yang memiliki sertifikasi ini.
Baterai besar mendukung pengisian daya cepat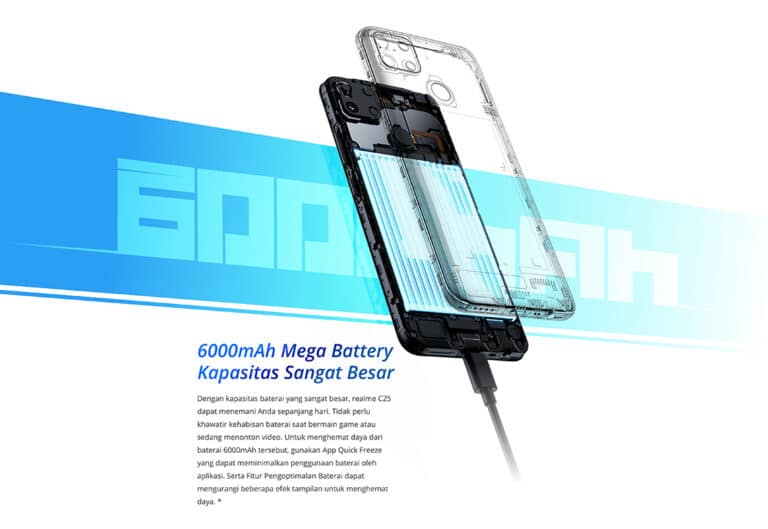 Scroll to continue reading
Scroll to continue reading
Scroll to continue reading
Scroll to continue reading
Sudah bukan rahasia, kalau baterai yang dibenamkan pada Realme C25 berkapasitas 6.000mAh. Baterai ini diklaim dapat bertahan untuk telepon selama 43 jam, 10 ronde bermain mobile legend, 25 jam menonton video, serta 115 jam mendengarkan lagu pada aplikasi spotify.
Device ini juga mendukung pengisian daya cepat 18 Watt loh, dilengkapi dengan port type-c dan dukungan fitur USB OTG, menjadikan device ini dapat langsung mencolokkan berbagai macam perangkat, seperti flashdisk, mouse, keyboard, dll.
This device also has many interesting features embedded in it. Like the App Quick Freeze feature, which will freeze unused applications so that they will only run in the background. Then there is the Screen Battery Optimization feature to save battery power, and the most important thing is the Smart Night Charge Guardian feature which will protect your battery from being overcharged, very useful for those who like to leave their cellphones asleep when they are charging.
Powerful processor and GPU, as well as large internal memory and RAM capacity
In its highlight, this device is introduced to use a processor made by Mediatek, namely the Helio G75. 12nm processor equipped with Mali G52 GPU. Support for LPDDR4x high speed dual channel RAM on this device, is something that can support its overall performance. Unfortunately the internal storage on this device is still using eMMC 5.1, not yet using the latest UFS technology.
There are two variants of the Realme C25, the first is 4/64GB and the second is 4/128GB. Don't forget that these two variants can also expand their memory capacity by adding a microSD that supports up to 256GB. Positively, this device uses a dedicated slot, so there is no need to sacrifice SIM2 to replace its position with a microSD.
Big screen 6.5 inch ratio 20:9
Large screens are indeed a smartphone trend today. Not to be outdone, Realme also presents this device with a 6.5-inch mini drop fullscreen display, with a 20:9 ratio that will spoil the eyes of its users.
Realme UI 2.0 & Android 11

Realme C25 will be an entry-level device from Realme, which is the first time to try Realme UI 2.0 + Android 11. Are you curious about Realme's newest UI? Plus android 11 again.
Other complementary features that are no less important
This device supports dual 4G on the network. There is also a fingerprint sensor on the back, and it also supports facial recognition for faster unlocking.
Wifi on this device already supports dual band with version 802.11 a/b/g/n/ac. Bluetooth 5.0, A2DP, LE and GPS. The sensors on this device are also quite complete, such as accelerometer, proximity, and compass. Only the gyro sensor is absent on this device.
Before discussing the price, we almost forgot to tell you, that the Realme C25 has two color variants, namely Water Blue and Water Grey. Then, for the 4/64GB variant, this device will be sold at an official price of IDR 2,299,000, and will get a discount for the initial sale / flash sale to IDR 2,099,000. Interestingly, this initial sale will also get a bonus quota of 384GB from Smartfren for two years.
Furthermore, the highest 4/128GB variant will be sold at a price of Rp. 2,499,000. These two variants will be sold for the first time on March 27 at Lazada, Akulaku, realme.com, and the Realme Official Store.
How about Vicigers? Interested in buying? Or do you want to wait for Realme 8? Rumors are that Realme 8 will be officially out in Indonesia soon.
Don't miss it to always get the latest and complete news updates about games. Starting from new game reviews, tips and tricks and so on. Just follow the account Instagram VCGamers and Channel YouTube yes. Come on! Join the community on Discord VCGamers, the largest gamers community in Indonesia discord.gg/EDWvQ9jQEp