Sebelumnya mungkin predikat HP 5G termurah di Indonesia dipegang oleh Oppo A74 5G. Namun kini, Realme 8 5G lengserkan para pesaingnya, dan menjadi HP 5G termurah di Indonesia.
Banyak yang tidak sadar, kalau tanggal 16 Juni 2021 kemarin, Realme baru saja meluncurkan produk terbaru mereka yaitu Realme 8 5G.
Tidak hanya Realme 8 5G yang mereka pamerkan, namun kemarin Realme juga memamerkan beberapa produk AIoT mereka, seperti:
Realme Buds Q2
Realme Buds Wireless 2 Neo
Realme Cooling Back Clip
Realme Watch 2
Realme Watch 2 Pro
Realme Mobile Game Finger Sleeves
Also read: Galaxy A32 5G, the cheapest 5G cellphone from Samsung
Realme 8 5G Menyandang Predikat HP 5G Termurah

Langsung melakukan penjualan di hari pertamanya, 16 Juni 2021 jam 7 malam kemarin. Realme 8 5G sebagai HP 5G termurah ini mendapatkan antusias yang tinggi dari para fansnya.
Saat penjualan perdananya HP ini hanya dibanderol dengan harga Rp 2.999.000, dari harga SRP Rp 3.199.000.
Bahkan, banyak yang memamerkan di sosial media, kalau mereka bisa mendapatkaan harga yang lebih murah lagi dengan menggunakan voucher di marketplace yang bekerjasama.
Coba sekarang kita urutkan beberapa HP 5G termurah di Indonesia dengan harga di bawah 4 juta rupiah yang sudah resmi meluncur saat ini. Walaupun urutan pertamanya sudah kita tahu ya.
Scroll to continue reading
Scroll to continue reading
Scroll to continue reading
Scroll to continue reading
Realme 8 5G Rp 2.999.0000
Oppo A74 5G Rp 3.799.000
Samsung A32 5G Rp 3.999.000
Bahkan kamu bisa mendapatkan Oppo A74 5G dibawah harga SRP, seperti yang kami temukan di bawah ini.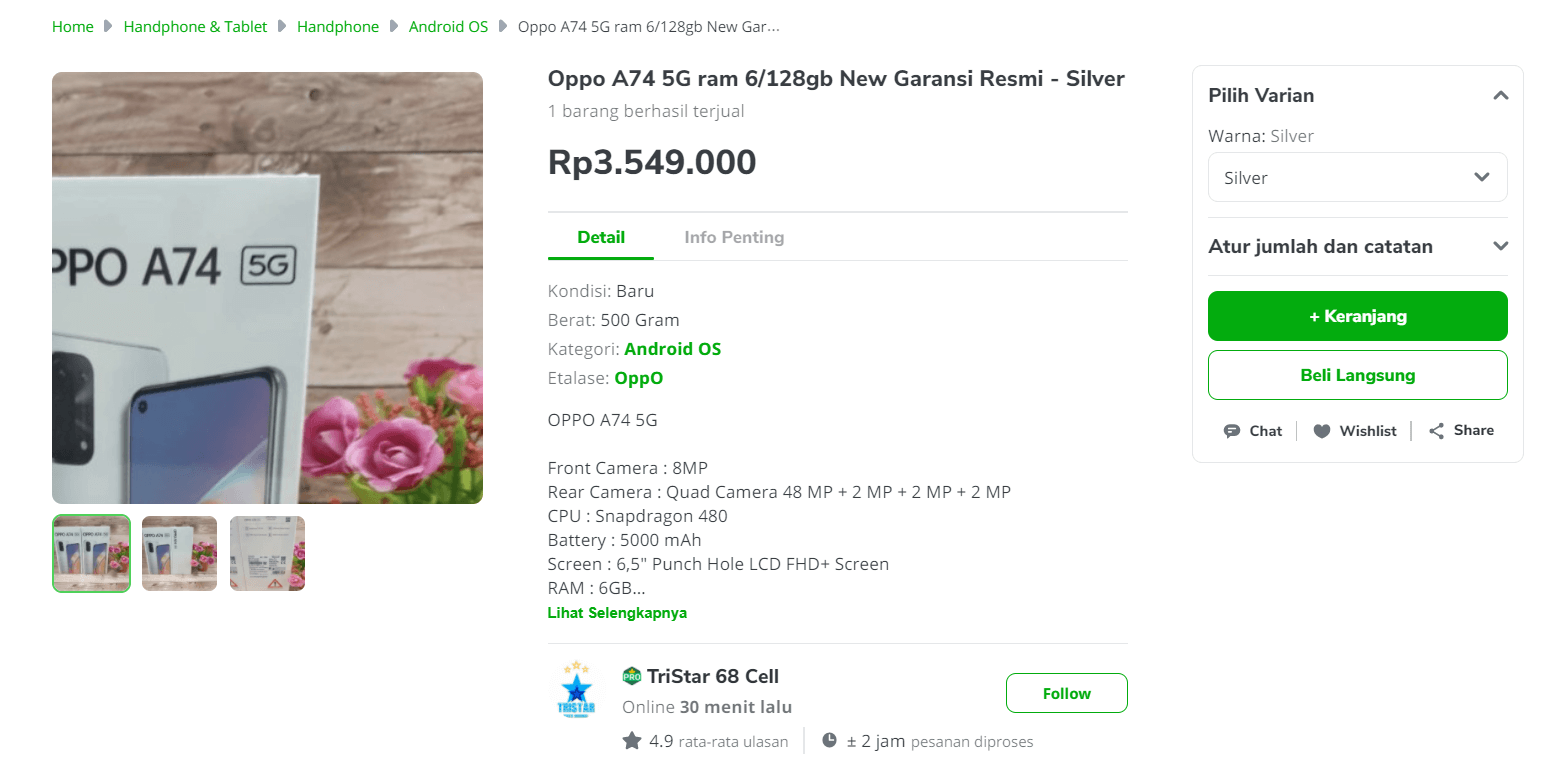 Selain itu, kamu juga dapat menemukan Samsung Galaxy A32 5G dibawah harga SRP, seperti yang kami temukan di bawah ini.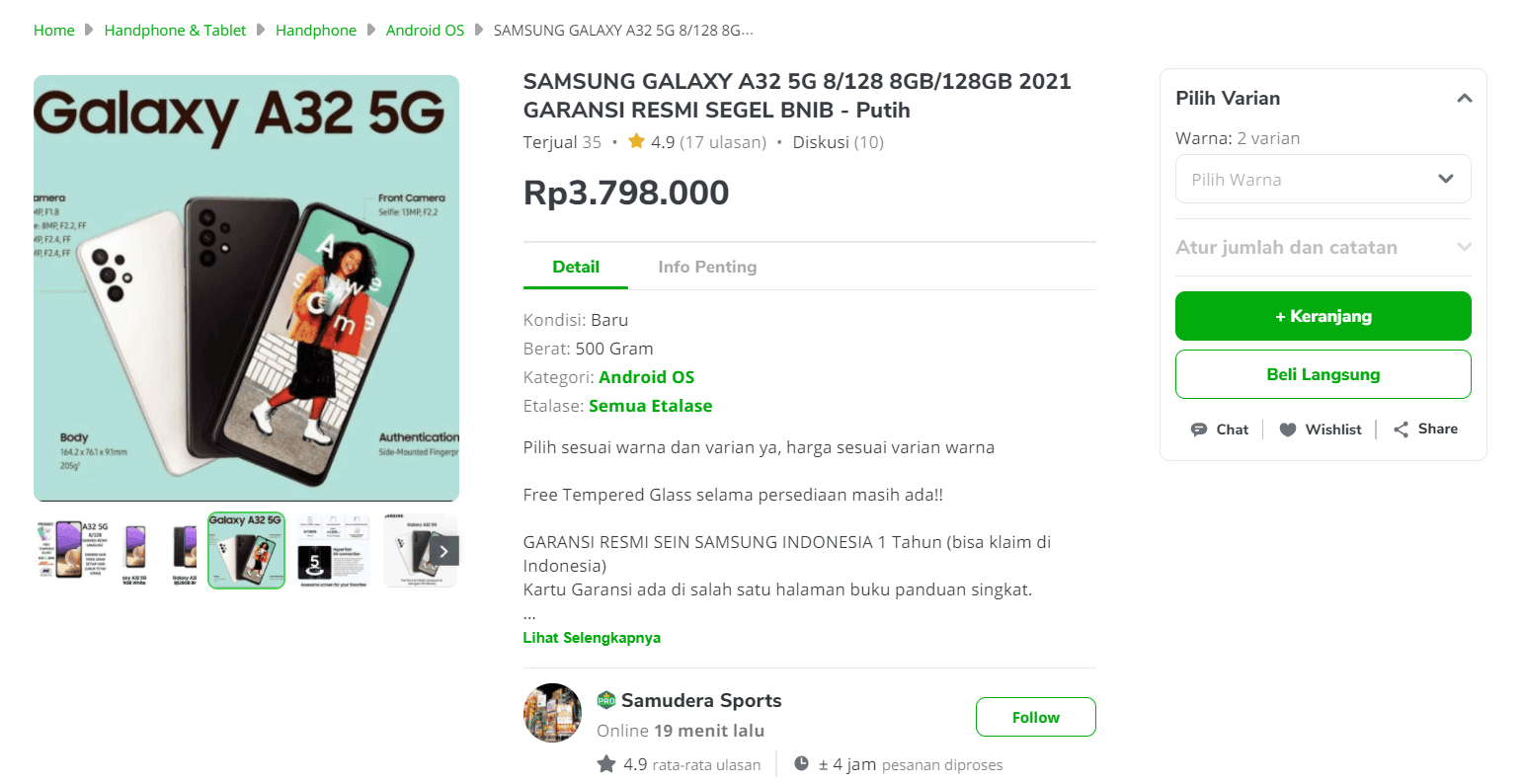 Lumayan kan, kamu bisa membeli HP 5G terbaru dengan selisih 200 ribuan dari harga SRP (Harga Eceran Resmi).
Perbandingan Spesifikasi Singkat 3 HP 5G Termurah di Indonesia
Screen
Processor
GPUs
RAM/
ROM
Camera
Belakang
Kamera Depan
Battery
Realme 8
5G
6.5"
FHD+
Dimensity
700 5G
Mali-G57 MC2
8GB/
128GB
Triple
Camera
16MP
5000mAh
Oppo A74
5G
6.5"
FHD+
Snapdragon
480 5G
Adreno 619
6GB/
128GB
Quad
Camera
16MP
5000mAh
Galaxy A32
5G
6.5"
HD+
Dimensity
720 5G
Mali-G57 MC3
8GB/
128GB
Quad
Camera
13MP
5000mAh
Jadi, dengan budget yang kamu punya, kira-kira lebih worth-it mana ya? Realme 8 5G, Oppo A74 5G, atau Galaxy A32 5G?
Coba tulis pendapat kalian di kolom komentar, kamu termasuk tim Oppo/Realme/Samsung?