Gamers certainly know that Perfect World is an old edition game that carries the MMORPG concept, namely since the 2000s which has been played on PC. Is an Open World game that presents slick 3D visuals plus an extensive map. Not long ago the developer also released a mobile version entitled Perfect World VNG – Fly With Me. Let's see the excitement and sensation of playing it.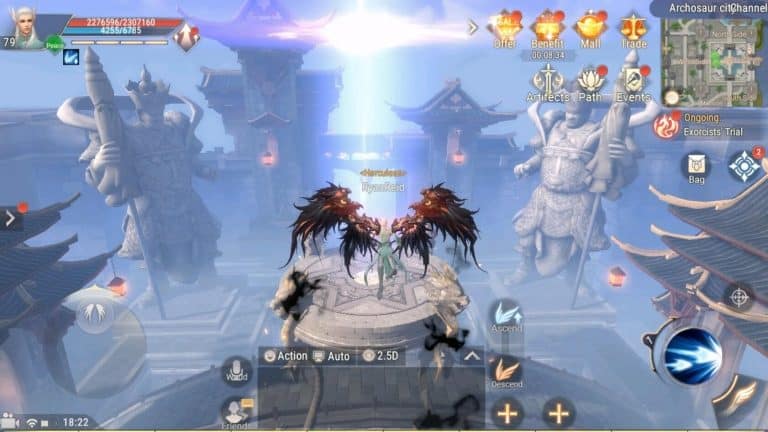 Scroll to continue reading
Scroll to continue reading
Scroll to continue reading
Scroll to continue reading
Awesome Map View
In the PC version, the Perfect World game presents a spectacular map view that can be seen from the depiction of underwater panoramas, forests and urban areas. Everything looks as shown for the PC version. Players can adventure in the elements of land, space and underwater zones. Players can also see urban areas, seabeds full of coral expanses and kingdoms above the clouds. Then players can create custom tones such as colorful, dreamy, realistic, or drama depending on their wishes.
The breadth of the Open World
In addition to an impressive display, Perfect World VNG – Fly With Me presents a very wide and varied map. It can be said that this is the choice of mobile MMORPG games that offer a large open world mode where players don't need to switch portals. The map includes a wide variety of places consisting of land, underwater, and in the sky elements.
Exciting Gameplay
Like other mobile MMORPG games, Perfect World VNG – Fly With Me also has similar elements. It's just that, Perfect World offers a number of features so that the gameplay it offers is even more attractive. For example, when completing a mission, players can move to various locations in various ways, for example by running, riding a horse or lion, and also riding a flying whale. Even players can wear wings to fly around the waters. Also, players will have the ability to swim and dive in the depths of the water.
Perfect World VNG – Fly With Me gameplay requires players to choose three races, namely: Untamed, Winged Elf, and Humans. Winged Elf includes two Classes, namely Archer and Cleric. Untamed has three classes, namely Vulpine, Assassin, and Barbarian. While Humans includes two classes, namely Blade-Master and Wizard. Some Classes do not have a gender lock, so players can choose a male or female character.
The player's mission is to do several quests in order to become the strongest. There are several missions that must be carried out, for example conquering monsters, collecting items as well as answering questions where this can have a different effect on the character from the answers given. However, players cannot change stats manually, because everything works automatically. Increasing HP and MP bars, raising skills and equipment is done manually using various items.
Fight in 3 Worlds
Duels are a major part of MMORPG games, as is Perfect World VNG – Fly With Me. Most of the missions that must be completed are fighting. It's just that, some bugs are still being experienced, for example, the monster's blood doesn't decrease or the cooldown skill stagnates. Then the auto-fight mode looks too passive. But overall, Perfect World is able to present an interesting battle mode, players can fight together in three worlds, namely facing enemies on land, at sea while swimming as well as in space by flying. The skill set that each character has has many slots. That way, of course, it will be fun when activating 5 skills in every battle with really cool effects.
Buy and Sell Market and Auction
Although currently there are many choices for mobile MMORPG games, only a few have adopted the buying and selling market mode as in PC games. Perfect World VNG – Fly With Me carries a very interesting market mode. In these markets players can buy various items needed, or enter auctions with other gamers. Then if you happen to have excess items that other gamers need, players can also offer them in the market in order to earn money. This is a feature that is still rare so that it is an advantage of Perfect World VNG – Fly With Me.
Although it has limitations from the given battle system, it can be improved and developed. Perfect World VNG – Fly With Me is still very interesting as a mobile version of the MMORPG game with the same quality as the PC platform.
The Perfect World VNG – Fly With Me game has also presented various map designs with beautiful visuals. In fact, the map also has a wide area coverage with the aim that players don't get bored quickly. They can travel everywhere to face a variety of battles.
Don't miss it to always get the latest and complete news updates about games. Starting from new game reviews, tips and tricks, how to top up diamonds and so on. Just follow the account Instagram VCGamers and Channels YouTube yes.