Several Windows 10 users are experiencing serious issues after the recent release of the "KB5001330" update, with some reports mentioning that the update itself won't install on some laptops/PCs.
Earlier this week, Microsoft published a list of new April 2021 updates, including Windows 10 KB5001330 for version 20H2/2004, which is a mandatory download meant to patch issues caused by previous updates, including issues that frequently impact printers.
Windows Latest reports in various posts on its own forums and social media sites that this is a hotly debated issue, with many users unable to install the windows update at all.
Comments on this issue are also available on the Windows Insider Feedback Hub, with one user stating:
I keep failing to install KP5001330 with error code 0x800f0984. This has happened on the Surface Studio 2 and Surface Pro 7. This is the second month in a row that Microsoft has been unable to update their Windows on my computer. The installation stopped at 20%, then at 73%, then at 100%, and failed, "
So far, the error messages that have been reported, are these 3 codes:
0x800f081f
0x800f0984
0x800f0922
The latest Windows 10 updates have problems playing games and blue screens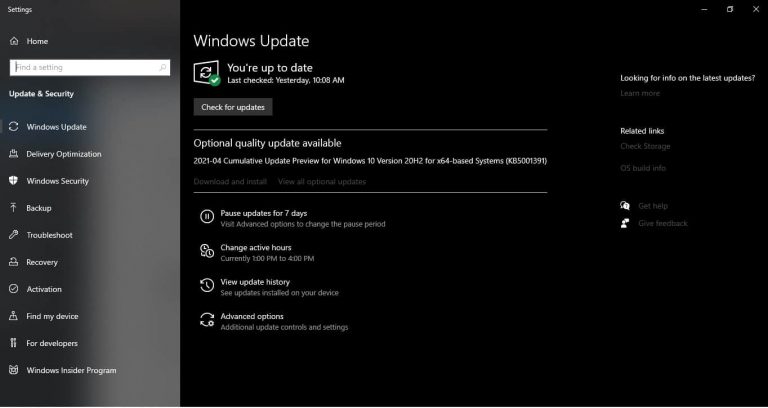 In a thread on Reddit regarding this matter, it was stated that users also reported video games experiencing various problems such as graphics that are not smooth, significant frame rate drops, and even total freezes.
Some users found workarounds that rolling back an update to a previous version would restore their system back to a usable state.
This update also gave me a glaring in-game issue that normally never happens, with or without vsync.
One user's comment also mentioned that uninstalling the latest Windows update also fixed their problem, and many of them have also done a trial error and it turns out that Windows Update is the culprit. We both hope that Microsoft will look into this matter as soon as possible.
Also read: 3 New Windows 10 Features You Must Try
Maybe it's an old bug with a new look
Windows Latest reports that one user claimed "I can no longer log into my computer since the update. It says "the User Profile Service service failed the sign in. User profiles cannot be loaded".
If you are experiencing any of the issues caused by Windows 10 KB5001330, follow the instructions below to uninstall windows update so as to recover your device immediately.
Go to 'Settings';
Click 'Update & Security';
Click 'Windows Update';
Click 'View update history';
Click 'Uninstall updates' then select KB5001330 to uninstall;
Then restart your laptop/PC
Windows 10 updates have become notoriously troublesome in recent months, with major annoying issues being reported by users after almost every release.
Microsoft has yet to provide any official comment on this issue but as the errors found can be easily fixed by rolling back the update. If you want to keep updating, that's up to you.
Don't miss it to always get the latest and complete news updates about games. Starting from new game reviews, tips and tricks and so on. Just follow the account Instagram VGamers and Channels YouTube yes. Come on! Join the community on Discord VCGamers, the largest gamer community in Indonesia discord.gg/EDWvQ9jQEp