Who is that Hero Bane?
Hello Vicigers! Bane? Bane is one hero fighter of course in the game Mobile Legends: Bang Bang. Hero Bane is described as resembling a very frightening pirate captain. Sword hero This bane makes his enemies run away in fear.
Hero Bane one hero who is versatile because he has the same abilities. Even win rate hero This Bane is very high in second place as hero who always win in the match.
Skill Bane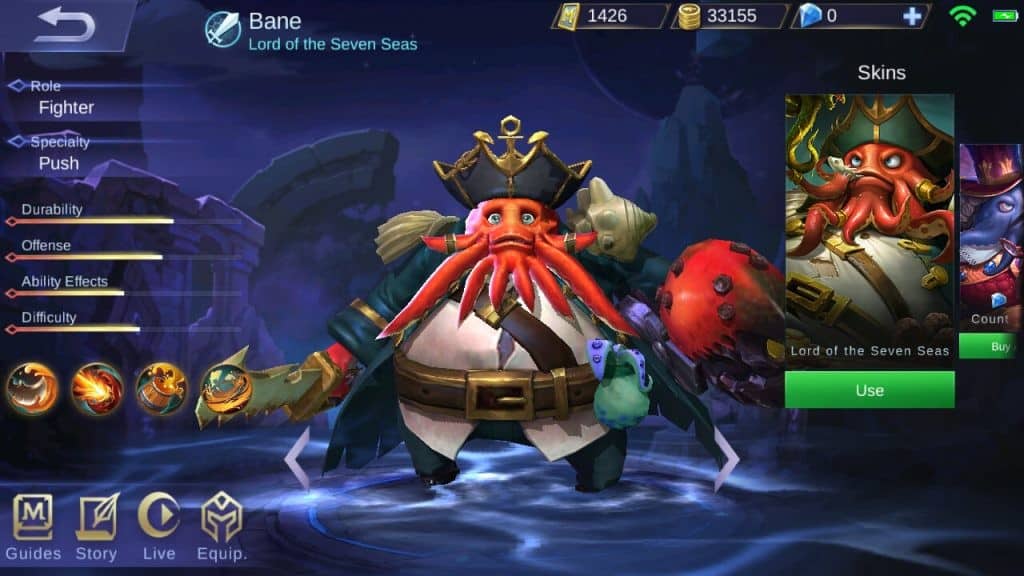 Passive skills which are owned hero This bane is shake bites, where are the weapons hero This bane is planted with tidal energy for ten seconds and basic attack-it will increase to 60-90% and will give splash damage to enemies around him.
Come on, top up your diamond mobile legends at VCGamers. Get lots of interesting promos and also cashback. Top Up Mobile Legends here
If it's about hero enemy then skills will reduce the planting time of no energy as much as 0.5 seconds. Besides passive skill hero This Bane also has active skills i.e. the first one is skills one or crab claw cannon hero Bane will fire cannon to his opponent bounce damage generated is 33%.
Skills two or rum which can give a healing effect and attack the opponent with bursts rum-his. Which regenerates HP and movement the speed increased 30%. If put to good use skills these two can make bane more aggressive and difficult to kill.
The last one is ultimate skill: deadly catch, if used will make hero This one collects sharks to move towards a predetermined target.
If hit by the enemy will be generated damage what is amazing is physical damage, then subtract Movement Speed and Attack Speed on target. Skills it can also provide 25% Damage to the turret.
Revamp hero is something that Moonton often does to produce new energies hero–hero unsold or neglected. Usually after revamping will be better than skills, appearance, and build-his.
What's Changed?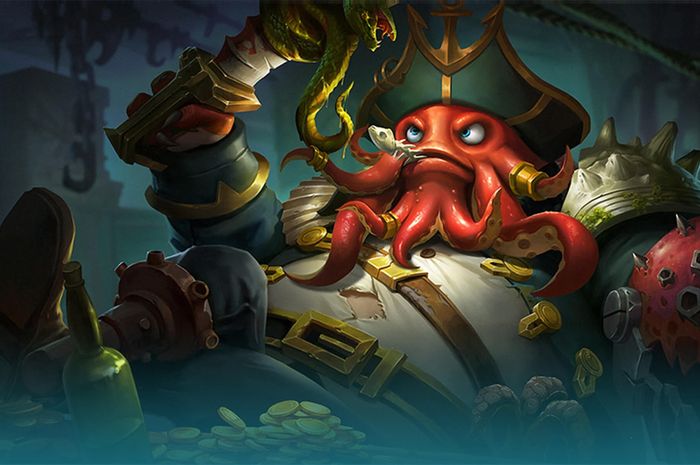 Scroll to continue reading
Scroll to continue reading
Scroll to continue reading
Scroll to continue reading
This bane has been revamped several times, so what has changed? What has changed is his entire appearance.
Originally hero this one is someone who resembles a pirate with a skull face, after revamp hero Bane still has a pirate look but his face has changed to that of an octopus.
In addition, after revamp hero Bane is made more inclined to be hero fighter with physical strength. Hero Bane is playing build damage physical relying skills passive shark bites.
Even after revamping hero it becomes hero the powerful magic, depend on burst high for laning and team fight.
Hero this one must keep the distance from being approached by opponents with high DPS when skills it's in position cooldown.
By playing physical, hero it can attack from afar. Crab claw cannon is skills one hero Bane who benefited from the extra items physical attack damage.
Skills is used as a tool poke moment lanning which can bounce off the unit towards hero so that hero Bane stays safe from enemy attacks.
Passive skills that is shark bite this is changed to stack which can be activated when after hero this one takes out skills-his.
With cooldown skills fast, hero this one can continuously activate passive skills shark bite When team fight so give more burst damage to the opponent instead of playing with build the old type magic.
Another thing that changes when hero this revamp is on skills ultimate which are owned hero this. Now skills ultimate changes, namely sharks that move in one direction and then will attack their opponents into large tentacles and will break through and kill their opponents.
The effect becomes better than the effect skills ultimate by collecting sharks to attack the enemy.
Besides skills ultimatethe one that changed skills one of them has also changed, now hero this one can fire a large cannon towards a predetermined opponent.
With revamp hero this is certainly better in terms of design appearance, skills, and the effects it causes. Hero This Bane, who was originally rarely used, finally shines even more! Good luck!
Also Read: Do you know? Hero Zilong's Name Was Yu Zhao!