Epic Comeback
Epic Comeback is literally the occurrence of an unexpected situation. Meanwhile, according to the big Mobile Legends dictionary, epic comeback is the state of the team that was initially predicted to lose when viewed in terms of points, gold and quantity turret who was far behind, but the unexpected happened.
Thus, the epic comeback moment here occurred because the team that was originally predicted to lose, suddenly turned things around at the last second and finally managed to win.
It takes patience, compactness, map awareness and time awareness to be able to win when your team's position is in a threatened position.
Get a Free ROG Laptop and other attractive prizes just by joining Discord Quest #GamingYourWay at VCGamers. Join Now Here!
Every player Mobile Legends: Bang Bang (MLBB) must have experienced it. No need to be discouraged, because there is still a chance to turn things around and your team can be the winner, just like what happened to the RRQ Hoshi team in MPL ID Season 8 Week 7 then.
RRQ Hoshi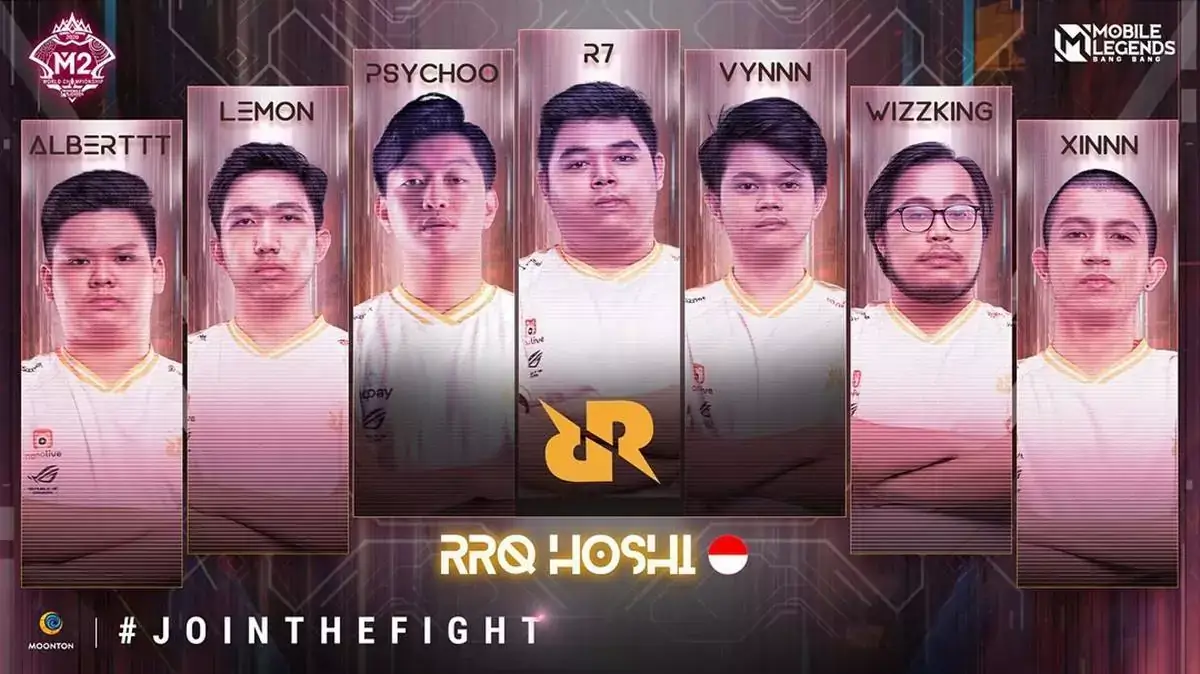 RRQ Hoshi was formed of eight players, named Alberttt, Vynnn, Xinnn, R7, Psichooo, Clayyy, Skylar, and Liam respectively.
As for the moments of ups and downs from the journey experienced by RRQ Hoshi from every MPL ID since Season 1. When MPL ID Season First, NXL managed to beat RRQ Hoshi in the semifinals. Continued on playoffs MPL Season 2, RRQ Hoshi managed to hold the undisputed championship.
On MPL Season 3, EVOS and also RRQ Hoshi, who are used to being the winning team, suddenly had to experience a slump over the defeat that dominated both teams.
The slump continues in MPL Season 4. Where did RRQ Hoshi have to accept defeat in the semifinals and also grand finals.
RRQ had a chance to rise in MPL Season 5. At that time, RRQ managed to tear down EVOS Legends' defense with a score of 3-2.
Falling back into the abyss, at the MPL Season 6. Season this is a nightmare for the RRQ Hoshi team and fans-his. Composition inconsistency roaster major factors and other factors led to this team being massacred by four match successively by Bigetron Alpha, Alter Ego, Onic Esports and Genflix Aerowolf.
Scroll to continue reading
Scroll to continue reading
Scroll to continue reading
Scroll to continue reading
Hot Comeback Epic Moment When RRQ Hoshi Wins
The embers of the epic comeback have been lit, now RRQ is burning to start rising in MPL Season 8. The competition is held for three days. Starting from Friday, September 24, 2021, until Sunday, September 26, 2021. Presenting two crucial matches between four well-known teams.
In the initial match, RRQ Hoshi fought Rebellion Genflix and was closed by a fight between RRQ Hoshi and Alter Ego (AE). RRQ Hoshi was previously in the second tier and Alter Ego excelled to be in the best position.
Battle on match first smelt fierce. In early games, Alter Ego managed to dominate. They managed to summon lord three times, but they still find it difficult to penetrate the defense of RRQ Hoshi.
Standings on the seventh week on the second day. RRQ Hoshi did not give up in his time of crisis to reach his peak. Alter Ego (AE) has been at the top for a long time. However, RRQ Hoshi took advantage of his opportunity to overtake Alter Ego's best position.
At stage late games, All Alter Ego players must die because of the fight in the middle area. RRQ Hoshi didn't want to let go of this opportunity and immediately destroyed base Alter Ego. Yes, RRQ Hoshi managed to win at match first.
It doesn't stop there, the Alter Ego is made powerless at the moment match second because it was dominated by RRQ Hoshi and Alter Ego gracefully had to accept his defeat.
RRQ Hoshi's previous points were 11 points, then skyrocketed to first place with 15 points. The number of points is the highest point earned from the first place in MPL Season 7. This surprising performance has earned RRQ Hoshi the title of king of all kings.
MPL Season 8 Week 7 Day 3 provisional standings. Rebellion Genflix had to accept its defeat in the fight with RRQ Hoshi. RRQ Hoshi's domination still doesn't exist counter-his.
For those of you who want to learn how to get Epic Comeback you can watch exciting moments that RRQ Hoshi has shown in MPL matches Season 8 Weeks 7.
Read also: Baby Tiger EVOS Suddenly Tame?