VCGamers collaborate with Littlehope to hold a Magic Chess Tournament entitled "LHxVCGamers CUP S15 MLBB Magic Chess".
The Magic Chess Tournament had been rolling for quite some time. To be precise, from June 6 to Saturday June 11, 2022.
You can watch the tournament through the channel YouTube LittleHope and watch the excitement of the match in the tournament.
Tonight, the live streaming of matches in the tournament will be held at 20.00 WIB.
Get a Free ROG Laptop and other attractive prizes just by joining Discord Quest #GamingYourWay at VCGamers. Join Now Here!
Moreover, it is well known that Magic Chess is a popular Auto Battler game and can be played by anyone.
As the name suggests, the setting of this game is on a chessboard.
Later, the players had to take turns moving the pieces.
There will be as many as 8 players in each match.
The player who survives until the end of time will emerge as the winner of the game.
In addition, it is also known that Little Hope Cup is the biggest tournament ever held by the Magic Chess community.
The tournament participants even reached thousands of people and the prizes reached up to hundreds of millions of rupiah.
Read also: Let's Top Up Cheap Auto Chess Donuts at VCGamers, Lots of Promos!
LH x VCGamers S15 MLBB Magic Chess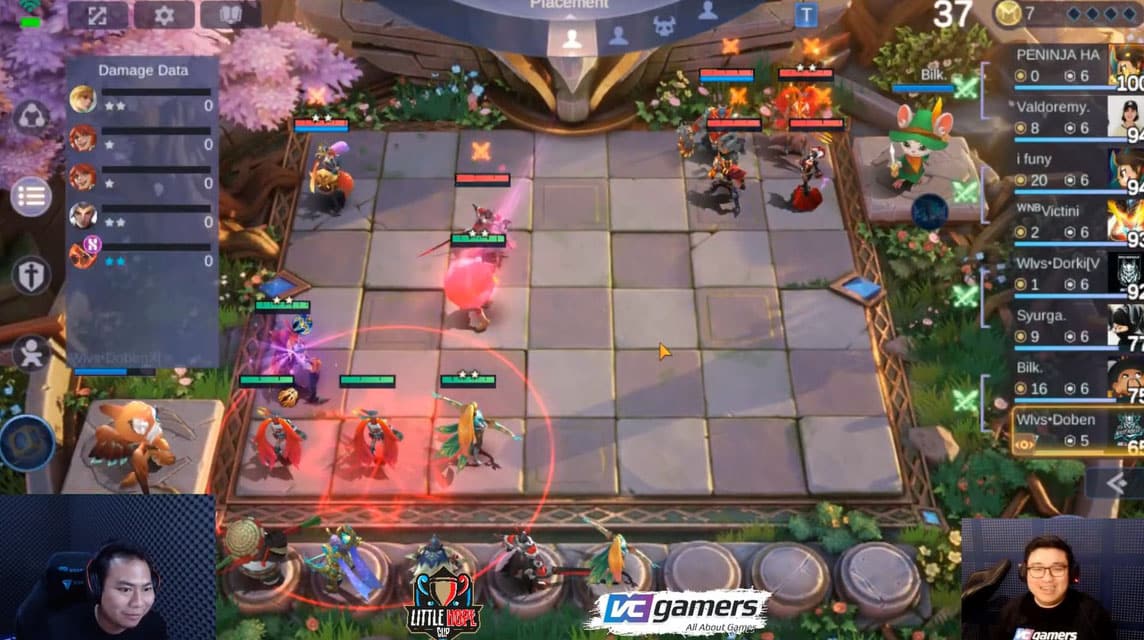 Magic Chess fans are excited to participate in LittleHope CUP.
This can be seen from the LH CUP tournaments in previous seasons.
This time, LH CUP collaborated with VCGamers to hold a tournament titled LHxVCGamers CUP S15 MLBB Magic Chess.
The tournament also provides a prize pool of up to IDR 30,000,000 with 1024 participant slots.
You can watch this tournament via LittleHope's YouTube channel which was just broadcast with a peak viewer reaching 7,000 people within 4 hours on the first day and a total audience of 62,000.
Read also: Cheap! Buy VCGamers Vouchers at DANA Deals Discount 50%
About LittleHope
Littlehope himself is a YouTuber as well as an auto battler game influencer.
Scroll to continue reading
Scroll to continue reading
Scroll to continue reading
Scroll to continue reading
Littlehope is a professional Chess Rush game player from Rex Regum Qeon (RRQ) before focusing on Magic Chess as the main content for Youtube and its live streaming on Nimo TV.
LH CUP started from Season 1 which was held in mid-February 2022. The tournament was won by Darwin Rasubala with the nickname DR.
The enthusiasm of the game players was very high because there were as many as 256 slots at the inaugural event.
Furthermore, the LH Cup continued to experience a significant increase until the LH Cup Season 9 reached 4096 slots and the prize pool reached Rp 100 million.
The number of tournament participants which reached more than four thousand is a fantastic tournament participation figure.
This makes whoever wins deserves to be called a champion.
Because he managed to eliminate so many other players beyond the official Magic Chess Indonesia Championship (MCIC) tournament.
Read also: Top Up Papaya Live and Uplive Diamonds at VCGamers, Lots of Promos!
About VCGamers
VCGamers is a pioneer of the web-3 ecosystem for gamers in Indonesia.
VCGamers has raised US$2.6 million or Rp37 billion in seed funding led by BEENEXT and Rans Venture in mid-2021.
Supported by Blockchain technology, VCGamers launched a cryptocurrency called $VCG Token which can be used as a whole to support the VCGamers ecosystem.
$VCG operates on the Binance Smart Chain and is built on a platform-agnostic and game-agnostic social trading network, staking tokens and NFT assets.
Later, it will be universally integrated through existing Infrastructure and communities so as to benefit any metaverse connected to it.
Read also: $VCG Crypto Token VCGamers Officially Launched, Check Out the Full Info!
You can watch the match in the LHxVCGamers S15 MLBB Magic Chess tournament by following this link.
Come watch the LH x VCGamers S15 MLBB Magic Chess Tournament and see which meta will win this season!
For information, you can also buy all your game needs at VC Market by VCGamers and enjoy various attractive promos.