Chess game is a form of
game
complicated. Here players are required to master the power of logic far ahead, because the tactics needed to achieve victory generally involve tactics and extensive knowledge. For chess game lovers who are looking for a match, developer AI Factory has launched an Android chess game that can be run from a smartphone. That Android chess game is Chess Free.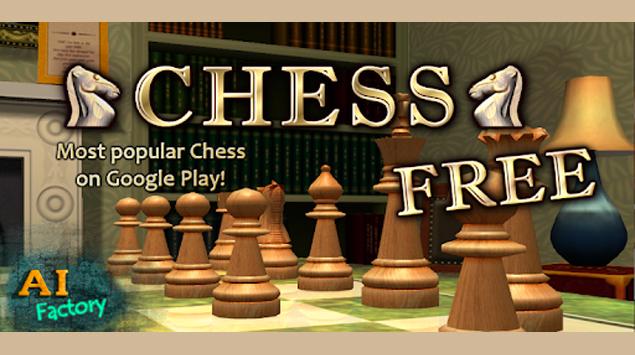 Scroll to continue reading
Scroll to continue reading
Scroll to continue reading
Scroll to continue reading
Free Android Chess Games
Chess Free is a free chess game with the Android platform. But not just playing chess, Chess Free can also train
one becomes a professional chess player. For those who haven't even played chess, there's no need to worry. Chess Free offers the option of "Rules Of Chess" where players can learn everything about the game of chess which unfortunately is in English. The menu describes the implementation of the steps of pawns, ministers, horses, rooks, and sters, and others in detail. Chess Free also provides technical lessons to outperform the opponent by surrounding the opponent's King so that he doesn't move.
Chess Free Android's interface is quite intuitive, just touch the chess piece you want to move, the system will immediately present instructions in which direction you can move it. To make it even easier, the Chess Free game also provides a landscape mode that is suitable for running on an Android tablet. Chess Free Android is also equipped with a complete statistics board plus a timer.
ELO Rating
Players who are familiar with the game of chess must also understand the term ELO. This is a rating that standardizes chess playing prowess. In the Chess Free game, when the player runs the "Pro" mode, the ELO value is automatically calculated, depending on the skill of playing chess. However, the ELO rating used cannot be compared to the actual ELO rating, which also includes various other factors. So the ELO value obtained by players in Chess Free is higher than the ELO value in the chess world.
Tutorials
Please note that the game Chess Free offers a Tutor method. Players will get recommendations on moves to choose from. tutor
it also provides lessons to novice players about the formations that can be used to avoid mistakes. But player
It's up to you to use this advice or to believe in your own calculations. But what is certain is that novice players can learn quickly and master professional-style chess playing techniques.
Play with AI
In this Chess Free game, players can choose to play against AI (artificial intelligence) by selecting Single Player mode. There is a "Show CPU Thinking" option for level 3+. The menu will make it easier for players to know what the AI is thinking. However, players can also choose multiplayer mode with friends and other players from around the world. Of course, against players from other countries, Internet access is required. It is necessary to spend a long time when playing online so that the game can finish.
Customization
Chess Free Android includes a chess game on cellphones where players can customize the look according to their wishes. For example, if you prefer the appearance of a two-dimensional chessboard, players can easily change it. Even so for those who like the three-dimensional appearance. Just define yourself by going to the Boards & Pieces tab. In fact, both 2D and 3D views, players can also customize it further, for example changing the background color, changing the appearance of chess pieces to changing the color of the board. This Chess Free game does not include background music, you know, so if the player wants a song to play, just use the music player application.
100 Percent Free
Chess Free Android game is interesting because all the features available can be used entirely without being locked. Also, this chess game does not have a shop service at all, so the revenue earned by the developer is from ad serving. Because Chess Free can actually be enjoyed without the internet, the presence of these ads can be removed by simply deactivating the mobile data or WiFi connection on the device.
Chess Free offers 12 difficulty levels from Novice to Expert levels. There is also a Casual or Pro Mode. What is also interesting is that there are
Very useful Chess Tutor for beginners. However, this chess game is also suitable for professional players who want to hone
his abilities. What are you waiting for, immediately install and play Chess Free for free!
Don't miss it to always get the latest and complete news updates about games. Starting from new game reviews, tips and tricks, how to