Carlito Ribo, or commonly known as Ribo and Cj Ribo, has officially announced a hiatus statement from MPL PH Season 9 Mobile Legends which will be held soon.
As one of the well-known retainers of Bren Esports, this announcement immediately made fans gape and wonder about the clarity of the decision.
The fans especially regretted this decision, as Carlito 'Cj' Ribo is an important asset for Bren Esports, especially when it comes to long-range attack tactics.
Get a Free ROG Laptop and other attractive prizes just by joining Discord Quest #GamingYourWay at VCGamers. Join Now Here!
Ribo Hiatus Announcement On Account Facebook personal
Carlito Cj Ribo uploaded status updates on the page Facebook personal on January 3, 2022 at 00:24, or two days after the 2022 New Year celebrations.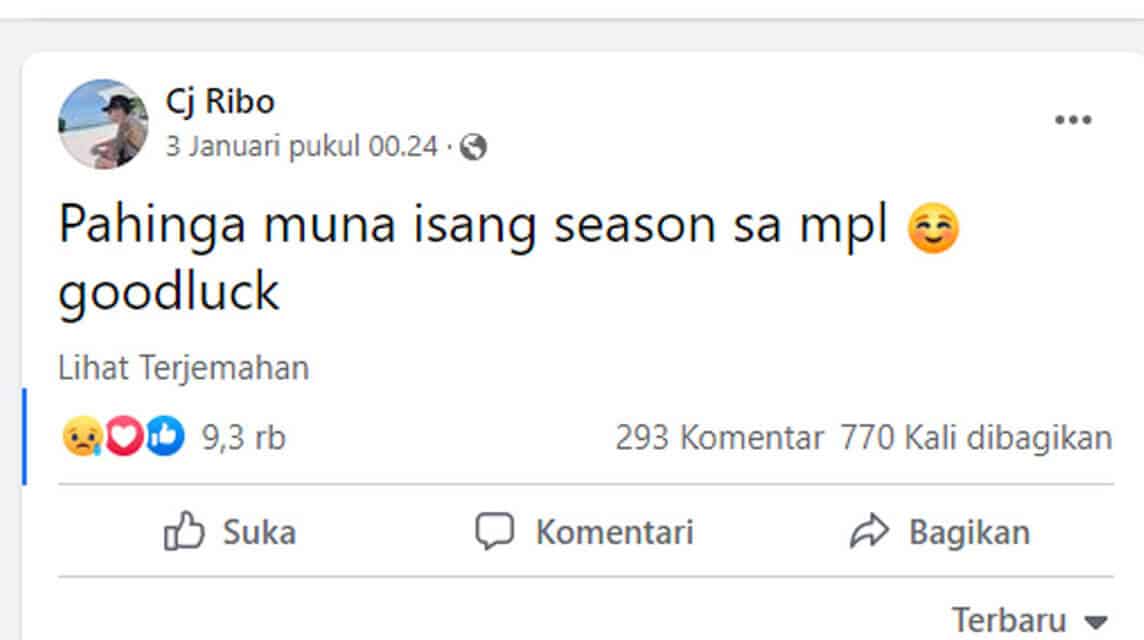 Status updates it roughly reads: "I will rest for a season. Good luck!"
Para fans and netizens too many comments status updates the.
Some say that Ribo deserves a break from MPL for a while, then there is netizens faithfully waiting comeback Ribo. There are also those who commentRIP Doc Ribs' as if Ribo was resting for good.
Until this article was written, status it has been liked by 9,300 netizens, commented 293 times and shared 770 times.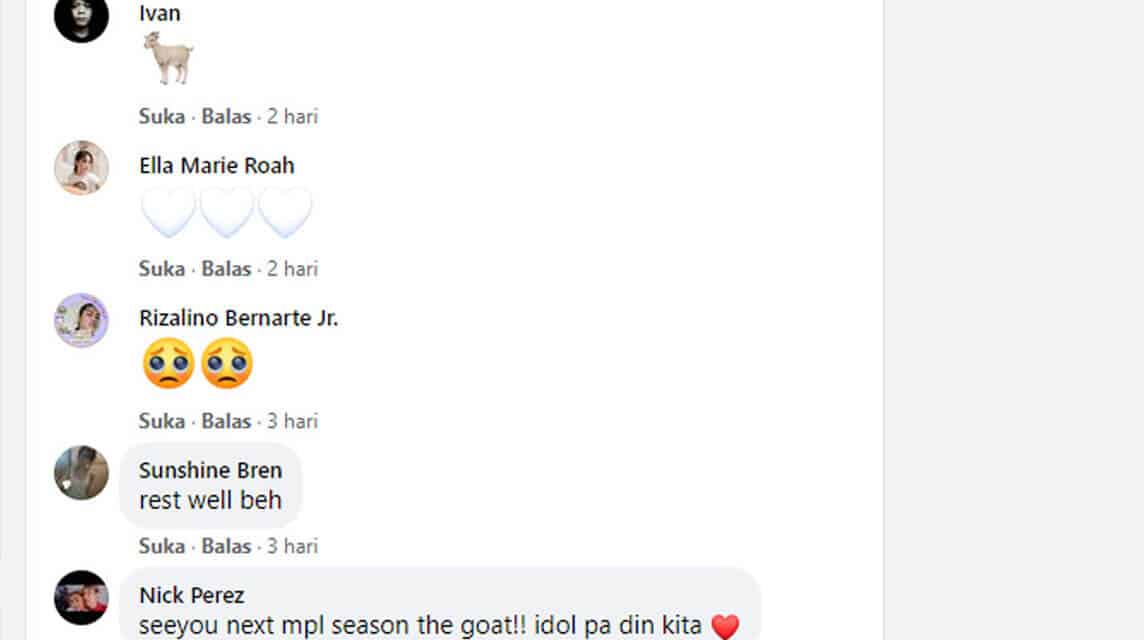 From the many comments, it can be seen that fans and netizens who greatly admired Carlito 'Cj' Ribo's playing style. Some of them mention that Ribo is a player best for Gold Lane, solid and worthy of the nicknames "GOAT" and "The Doctor".
There are also those who simply affix a "mountain goat" sticker in the comments on their status.
Apart from that, it is undeniable that Cj Ribo is pro player Bren Esports who has very positive values without any scandals throughout his career.
Read also: Most Valuable Player of MPL Season 8 Week 7 Day 3, Who Are They?
Carlito Ribo's Gait with Bren Esports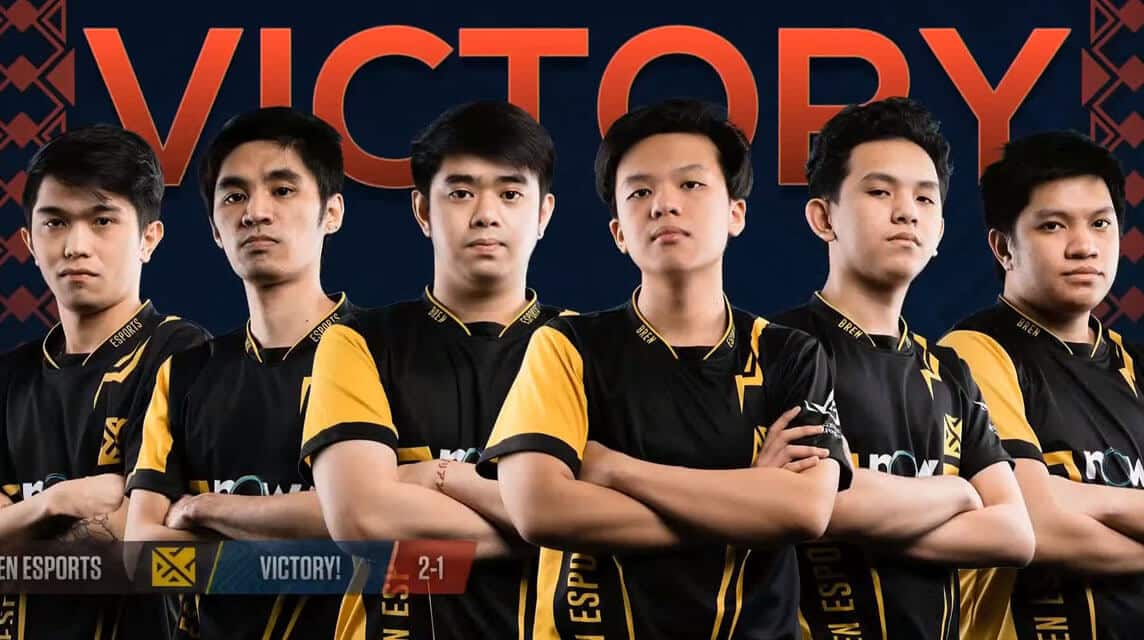 Carlito 'Cj' Ribo has won many proud achievements in his work with Bren Esports.
Scroll to continue reading
Scroll to continue reading
Scroll to continue reading
Scroll to continue reading
Bren Esports is starting to be known among the player Indonesia especially when they beat the Digital Devils team with a landslide score of 3-0 in MSC 2018 which was located at the Jakarta International Expo.
It didn't stop there, Carlito Ribo's name also became known after he used a lot hero mage, support and tank versatile, starting from hybrid heroes like Alice, to Akai and Lolita as well hero mages other.
Based on those preferences, it's no wonder you see Ribo always on the side lane and sometimes up to the area jungle lane. Ribo's formation is also always solid according to hero which it uses.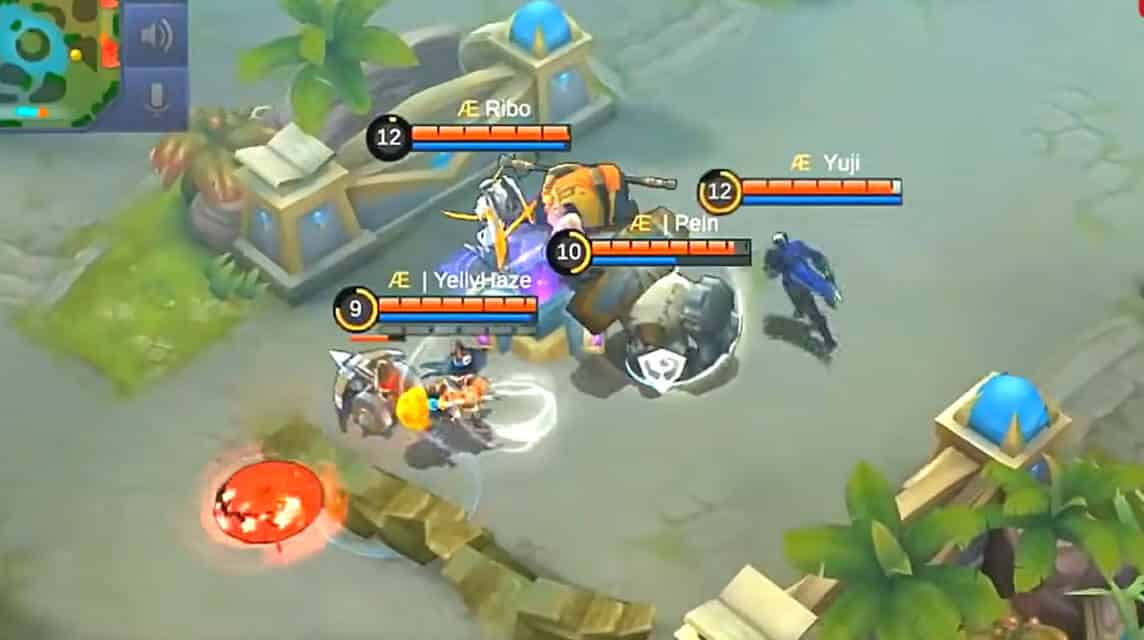 For example, when Ribo uses mage or marksman, Ribo is always looking for the right place to help the attack. When he uses tanker, then it will cover while attacking his opponent.
Due to the solid formation and position of Carlito 'Cj' Ribo during the match, the fans fans nicknamed him The Doctor. This title has led him to win with Bren Esports at MPL PH Season 6 as well as Runner-Up at MPL PH Season 2 and 3.
Read also: These 3 Underrated Heroes Rock MPL Season 8's Stage!
The fate of Bren Esports after being left by Cj Ribo
It is undeniable that Carlito Ribo's hiatus will have a major impact on Bren Esports' performance. The reason is, Bren Esports has also been left by one of the best retainers, Karltzy, who is now playing for Echo Esports.
many para fans who regretted Ribo's decision, but actually, Ribo had already expressed his desire to temporarily leave MPL at the end of MPL PH Season 7 ago.
When MPL PH Season 7 Then, Bren Esports had to settle for being in 4th place after being defeated by Execration with a narrow score of 3-2.
So far, there hasn't been a dramatic improvement for squad This Bren Esport because they also failed to enter MPL PH Season 8. Squad Aether Main was forced to sit in the second-bottom position with a collection of just 14 points in the season 8 ago.
Read also: How to Play Atlas MLBB Like a Pro Player Captain Resurgence Kayzeepi
Beside the crisis pro player With this, it is not impossible that Bren Esports will start climbing again so that they can compete again in MPL PH Season 9 this. To be honest, Bren Esports is a formidable team with a composition of players who pro in every position.
Most definitely, hopefully Carlito Ribo will also really comeback in seasons next time and again helping to raise the prestige of Bren Esports so that they can compete again. Have a good rest, Ribo!