Yoimiya Genshin Impact is the second character introduced by miHoYo for release patches Inazuma.
If Mondstadt has Klee as a troublemaker with his bomb blast, Inazuma has Yoimiya who will enliven the festival with his fireworks.
According to the author, Yoimiya is very underrated compared to other characters because it is considered kit His abilities are not as strong as other characters.
VCGamers this time will provide various recommendations for build Yoimiya Genshin Impact you can earn damage optimal.
Yoimiya Genshin Impact Build Recommendations
This article will cover all the recommendations build starting from priority skills, artifacts, to team recommendations suitable for build Yoimiya Genshin Impact.
No need to worry about running out of Genesis Crystal Genshin Impact because in VCGamers you can do Top Up Genshin Impact easily and quickly.
Artifact The recommended ones are adjusted to the artifacts that have already been released, where new artifacts will continue to be added throughout updates Genshin Impact.
Skill Priority for Build Yoimiya Genshin Impact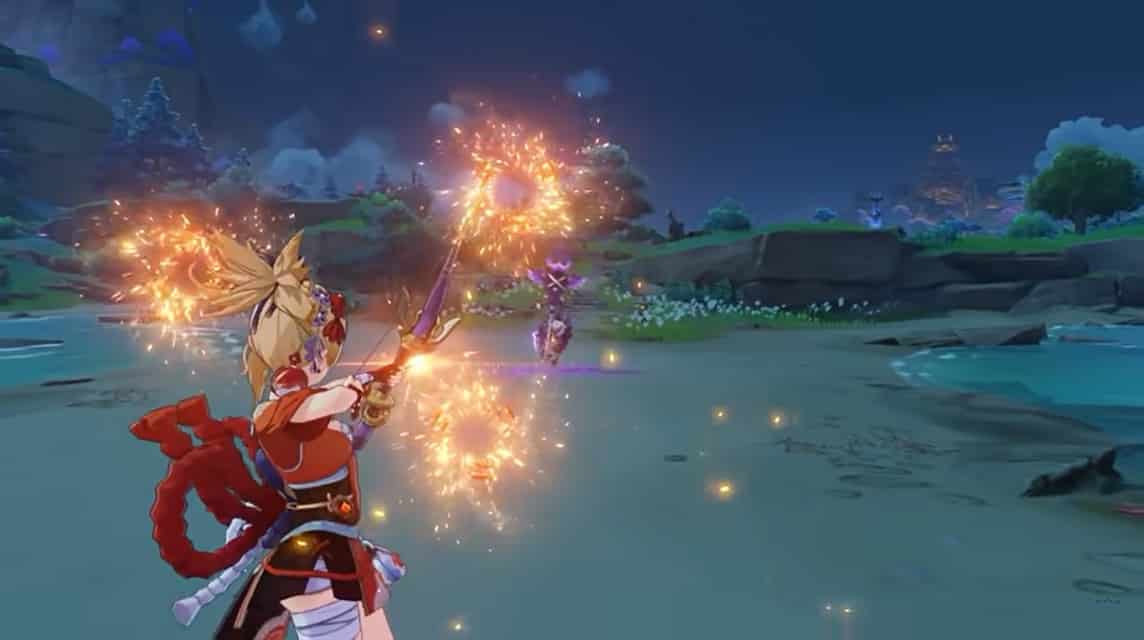 Yoimiya is a 5 star character with Pyro elemen elements and use bow. 
Yoimiya's normal attacks consist of 5 consecutive attacks dealing Physical DMG.
The Charged Attack from Yoimiya Genshin Impact has 2 stages depending on the duration you hold it.
Your long-lasting Charged Attack generates Kindling Arrows, which causes Yoimiya to fire an additional 3 arrows for Pyro DMG.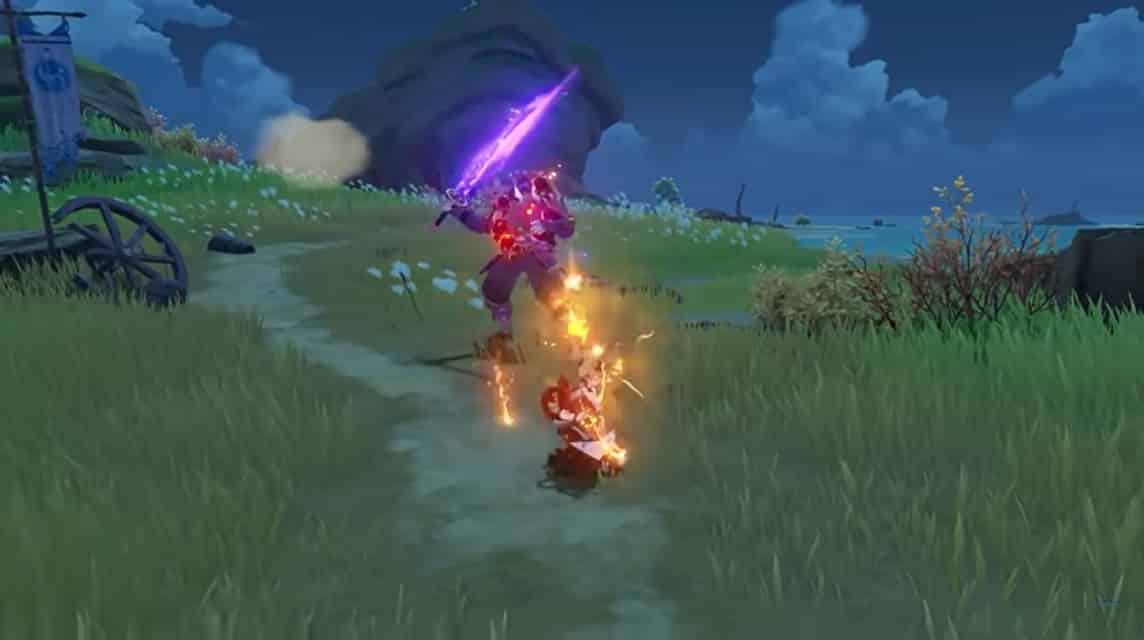 Yoimiya's elemental skill is Niwabi Fire-Dance will replace Yoimiya's Normal Attack attack to Pyro DMG.
During this duration, you cannot use Kindling Arrows.
When Yoimiya already got skills passive named Trick of the Trouble-Maker, as long as Yoimiya uses Elemental Skill will get additional Pyro DMG which can be stack.
Elemental burst from Yoimiya Genshin Impact namely Ryuukin Saxifrage, Yoimiya will jump and attack using fireworks for AoE Pyro DMG.
Yoimiya will also mark the enemy with Aurous Blaze against 1 enemy. Enemies marked with Aurous Blaze will get AoE Pyro DMG when hit by attacks from characters on your team other than Yoimiya.
For build DPS Yoimiya, the author suggests that you prioritize the order skills which is leveled up is Normal Attack> Elemental Skill> Elemental Burst.
Artifacts Suitable for Build Yoimiya Genshin Impact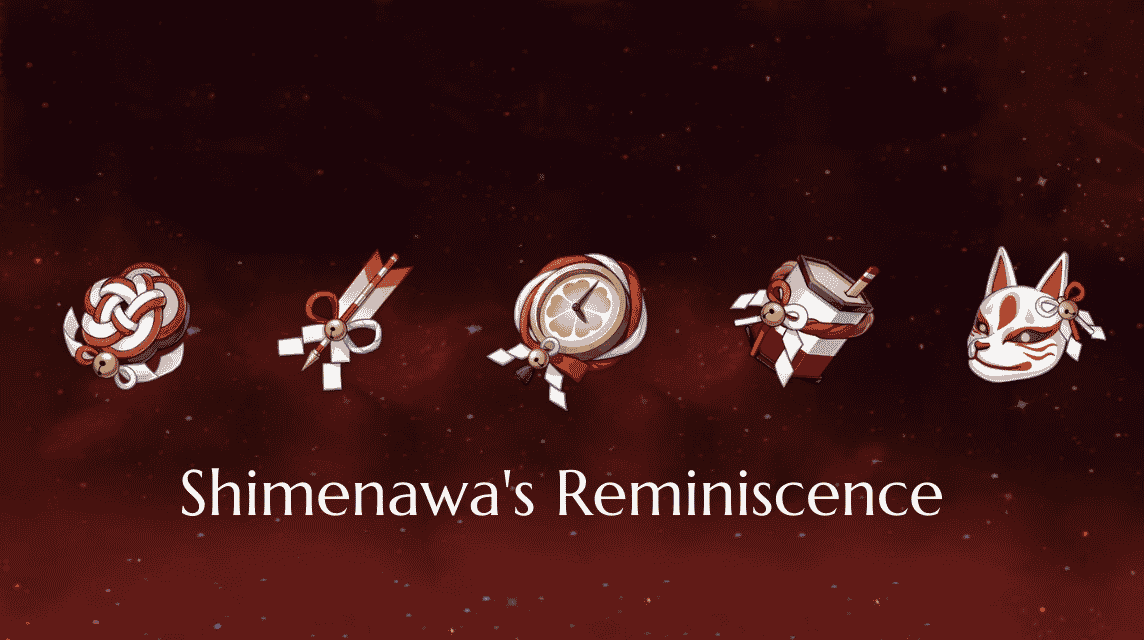 Scroll to continue reading
Scroll to continue reading
Scroll to continue reading
Scroll to continue reading
The stats you should focus on build Yoimiya Genshin Impact is stat artifact Crit Rate/DMG, Pyro DMG Bonus, and ATK or ATK%.
Artifacts recommended for build Yoimiya Genshin Impact is the Crimson Witch of Flames and Shimenawa's Reminiscence. 
4 sets of Shimenawa's Reminiscence will increase ATK when Yoimiya uses elemental skills. ATK in the form of Normal/Charged/Plunging Attack DMG of 50% for a duration of 10 seconds. 
But when using this artifact you need to be careful because when it will reduce energy Yoimiya.
So you will have more time to use Elemental Burst Yoimiya Genshin Impact.
You can outsmart it by adding stat Enough Energy Recharged or use a Pyro character that generates enough energy particles to act as a Pyro Battery.
If you like gameplay which produce damage bigger by relying on elemental reactions, you can use artifact set Crimson Witch of Flames.
4 sets of Crimson Witch of Flames You could say the artifact will increase the Overloaded and Burning DMG elemental reactions by 40%, and increase Vaporize and Melt DMG by 15%. 
You can add Elemental Mastery sub stats when using this set because it will increase damage of elemental reactions.
You can also combine the two artifacts if you haven't gotten 4 sets that have good stats.
Crimson Witch of Flames 2 sets will give bonus Pyro DMG Bonus and Shimenawa's Reminiscence can give bonus ATK DMG.
You can use 2 sets of artifacts that give you other ATK such as Gladiator Finale, Echoes of an Offering, and Vermilion Hereafter which you can get from domain at The Chasm.
Weapon Recommendations for Yoimiya Genshin Impact Build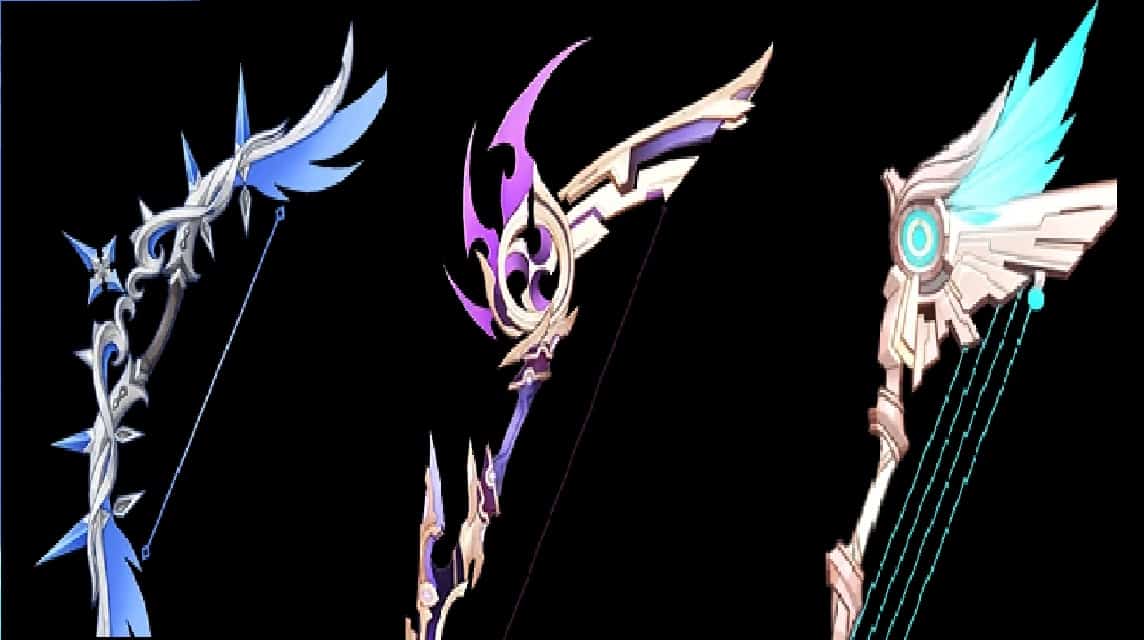 Recommended 5-star weapon for Yoimiya Genshin Impact almost 5 star weapons currently released are all great for Yoimiya to use.
The 3 recommended 5-star bows are Polar Star, Thundering Pulse, Aqua Simulacra, and Skyward Harp. 
Polar Star and Thundering Pulse according to the current author are the best to use for build Yoimiya Genshin Impact.
In addition to providing additional ATK and Crit Rate or Crit DMG, these two weapons will provide a bonus ATK that can be redeemed stack maximum 4 times, giving damage Yoimiya's normal attack increased.
You can also use Aqua Simulacra and Skyward Harp as they will also be good for Yoimiya and almost all users bow suitable to use both of these weapons.
4 star weapon suitable for build Yoimiya Genshin Impact are Viridescent Bow and Rust.
The 4 star F2P weapon option that can also be used for Yoimiya Genshin Impact is the Blackcliff Warbow which you can trade in Paimon's Bargain. 
The weapon options that you can make are the Hamayumi Bow and the Prototype Crescent will also be good for Yoimiya Genshin Impact to use.
Also Read: 5 Star Genshin Impact Weapon Abilities Guide 2022
Recommended Team Composition (Party Setup) for Build Yoimiya Genshin Impact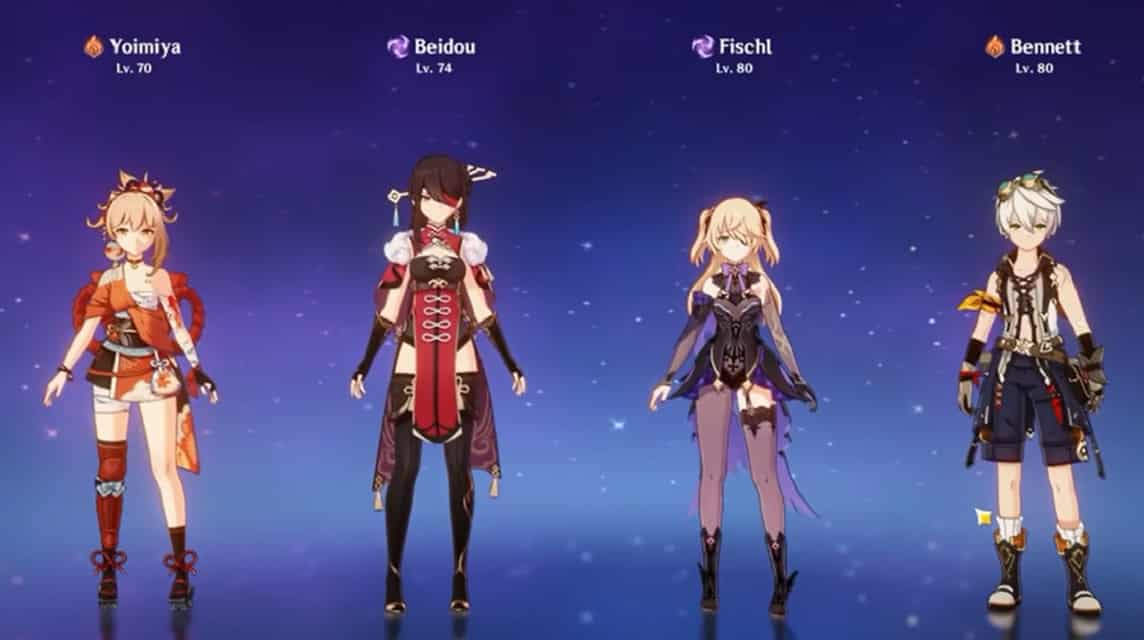 Composition party what suits Yoimiya according to the author is a team composition that pairs Yoimiya and other characters who can support elemental reaction off field.
Team recommendation 1 were Yoimiya, Beidou, Fischl, and Bennett. This team would rely on Overloaded's elemental reactions. 
But the drawback is that the enemy will often be ejected or 'mentally' to another place, especially weak enemies like Hilicurl.
Team recommendation 2 were Yoimiya, Xingqiu, Thoma, and Sucrose. Thoma can be used as an alternative shield which is pretty good replacing Zhongli.
In addition, Thoma will give a bigger Pyro to perform elemental reactions.
You can replace Sucrose with other Anemo characters such as Venti and Kaedehara Kazuha.
Xingqiu will give Hydro DMG from his Elemental Burst so that it can produce an elemental Vaporize reaction.