Check this page to see what are the recommendations for building Dyrroth heroes in season 24 Mobile Legends. Make him tougher and kill enemies in one combo.
Dyrroth is a very cruel warrior hero in Mobile Legends. This one hero can be a dream for the Hero Warrior who has the same job as him. Because he was blessed with chest damage from his skill set.
It is enough to have a tank class fighter hero that is easy to destroy with a deadly combination of skills. Not infrequently in matches his presence becomes a big threat to the enemy.
This hero is also suitable for beginners because it has very painful damage to opponents in the game and is also very easy to use. The procedure for collecting Dyrroth hero build materials is simple.
Even though she was once known as an epic hero, she is now the main donna of good players in expansions ranging from Legends to Mythic.
To maximize its potential, there are several tips that you can use to match, one of which is about build items. By buying the right item, his strength could be completely unstoppable by his opponent. 
List of Build Hero Dyrroth Season 24
Warrior Boots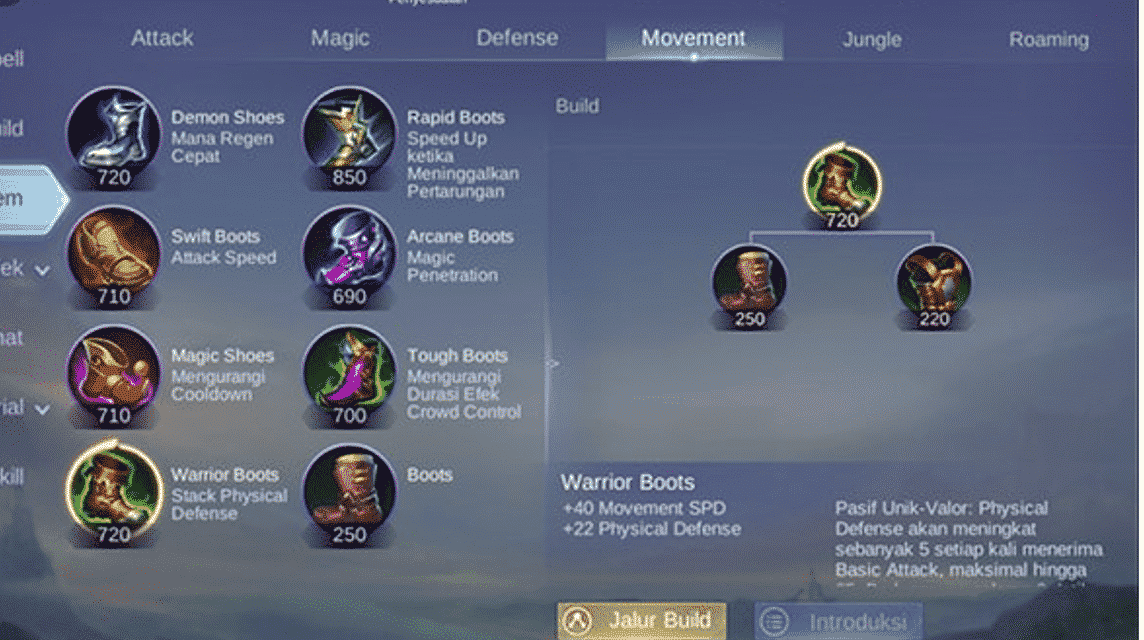 As a fighter, he must wear Warrior Boots. The problem is, most of the enemies you'll be dealing with are physical attack-type owners. So, to minimize the damage you receive, you need Warrior Boots.
These shoes offer an additional 22 physical defense and 40 movement speed. Additionally, Warrior Boots have a unique passive that increases physical defense by five each time it receives a standard attack, up to a maximum of 25.
To increase armor defense and reduce damage, the right choice for moving falls on Warrior Boots.
Because the warrior hero will grip perfectly and will fight intensively in battle. If the opponent often uses Hero Mage, Tough Boots might be the second choice to optimize Magic Resist.
War Ax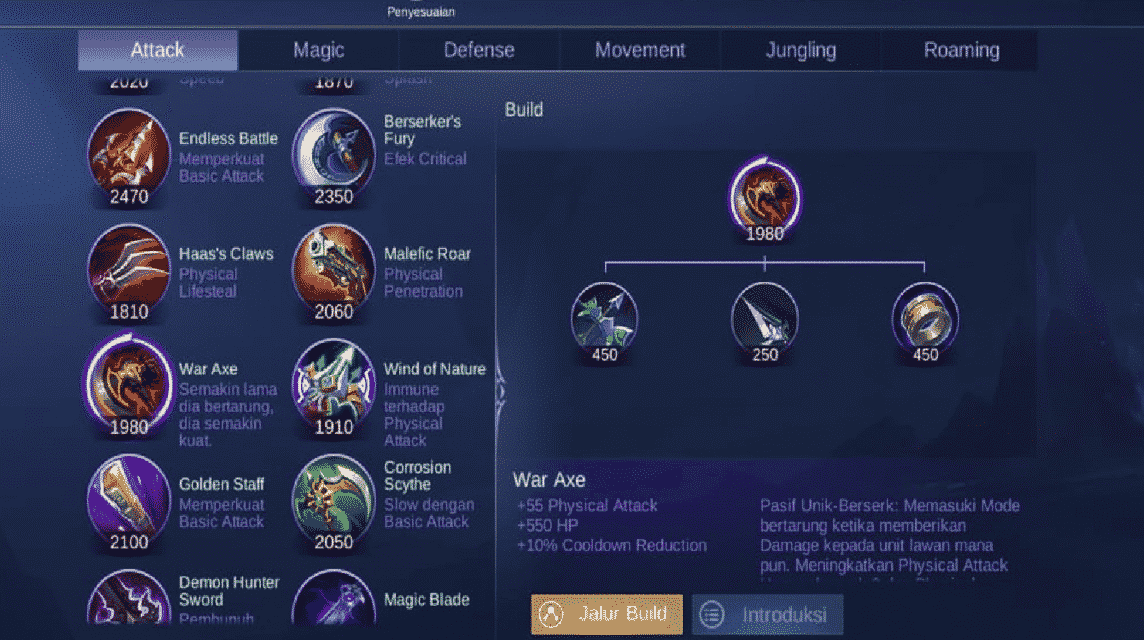 Because of the damage caused by this hero with basic attacks and skills, this item is worth using. In addition to increasing physical attack, this item can also reduce the cooldown of skills by 10 percent, allowing you to use spam skills to fight orbital mechanics. 
In addition, this item has a unique passive that can provide additional physical attack and physical penetration for three seconds and can be stacked up to eight times. This makes his basic attack stronger and can be far superior to his opponent in the exp lane. 
War Axe sangat berguna bagi build hero Dyrroth karena dapat memaksimalkan sebagian besar kemampuannya sebagai Fighter. Keuntungan War Axe bisa meningkatkan +10 persen Cooldown Reduction, +550 Max HP, dan meningkatkan Physical Attack. 
Saat menggunakan item ini, efek pasif pun semakin meningkat karena akan merusak unit lawan dalam meningkatkan penetrasi sebanyak tiga detik.
Bruteforce Breastplate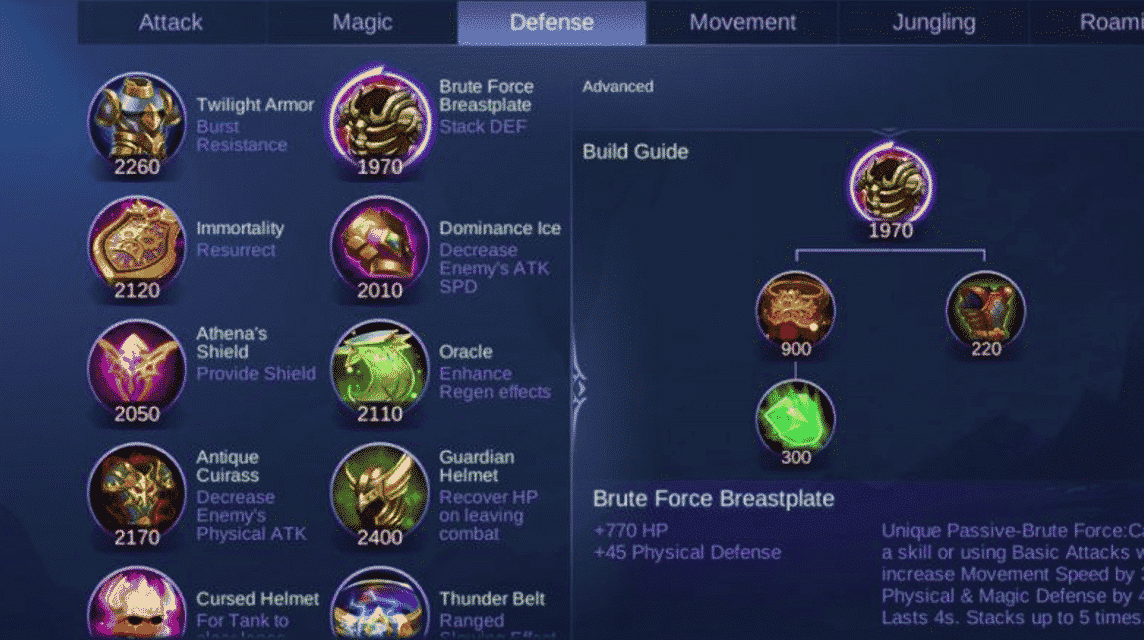 Item ini adalah salah satu dari sedikit item di Mobile Legends yang menggunakan stack untuk meningkatkan aspek pertahanan. Namun, ini bukan satu-satunya keuntungan. Ada banyak hal lain yang perlu kamu ketahui tentang ini.
Keunggulan utama Bruteforce Breastplate adalah munculnya berbagai fitur pertahanan saat kamu menggunakan item ini. Ini termasuk HP dan pertahanan fisik. Kenaikan ini tentunya akan membuat hero kamu semakin sulit untuk dibunuh.
Sambil menghemat uang untuk hal-hal lain, pastikan kamu mendapatkan pelindung dada Bruteforce terlebih dahulu. Karena item ini berfungsi untuk meningkatkan pertahanan dengan +750 Max HP, +6 persen Action Speed ​​dan +4 persen Magic Resistance setelah menggunakan skill.
Jika item ini digunakan, dia akan semakin meningkatkan mobilitasnya dan bisa menjadi kuat hingga +50 physical defense.
Sea Halberd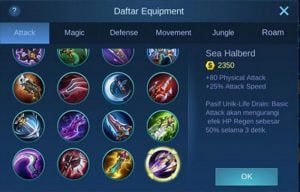 Karena hero ini memiliki base attack yang bagus, pengguna Dyrroth harus menggunakan Sea Halberd untuk memaksimalkan keuntungan tersebut. Item ini juga meningkatkan status serangan fisik dan kecepatan serangan.
Efek pasif yang dihasilkan juga memiliki keuntungan membantu build hero Dyrroth menyerang lawan, karena hal ini memaksa lawan untuk mengurangi HP dan memulihkan perisai sebesar 50 persen.
Read also: 5 Advantages of Hero Dyrroth in Mobile Legends, Good Early Game!
Hunter Strike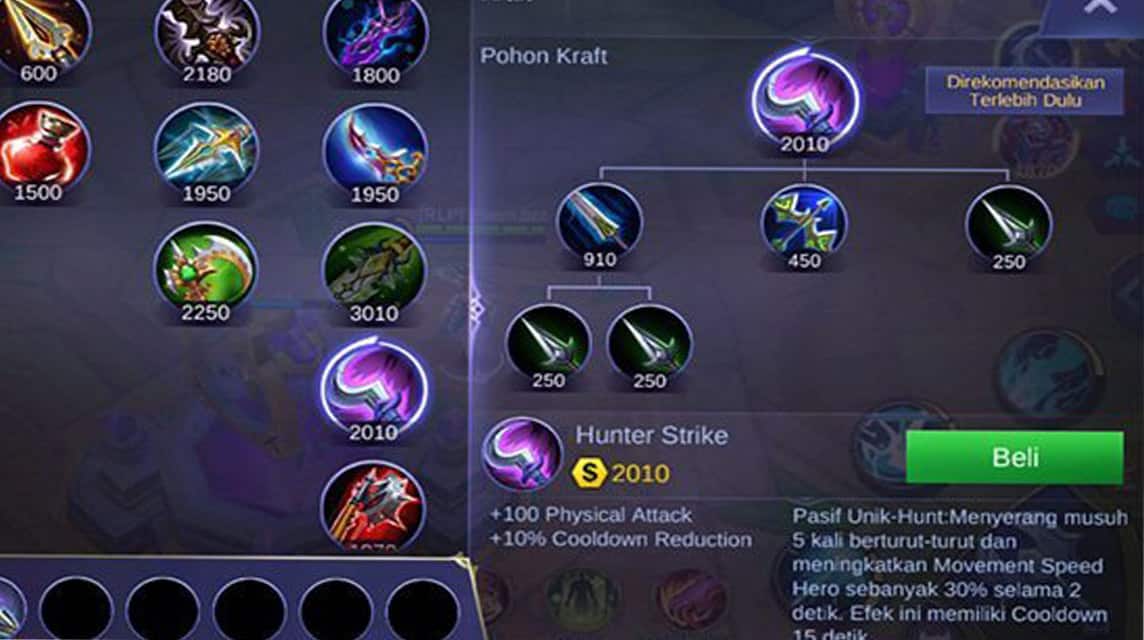 Hunter Strike dibutuhkan untuk meningkatkan penetrasi serangan. Soalnya, benda ini bisa meningkatkan input fisik sebanyak 15 poin. Selain itu, penambahan efek speed membuatnya lebih mudah mengejar musuh yang berusaha kabur.
Di Land Of Dawn, Hunter Strike menambahkan 80 serangan fisik dan pengurangan 10 persen dalam cooldown. Setelah membeli item ini, dia memiliki serangan yang fatal. Jika mengetahui target serangan dengan baik, perut tipe musuh sebagai MM bisa langsung mati.
Sebagai item serangan, aspek serangan adalah atribut terpenting dari item Mobile Legends ini. Bahkan, semakin banyak statistik yang tersedia, heromu bisa menang. Keduanya merupakan serangan fisik dan pena fisik, yang cocok untuk menghadapi hero dengan pertahanan tinggi.
Berbicara secara pasif, benda ini memiliki Retribution. Kewajiban ini memastikan peningkatan kecepatan gerakan hingga 50 persen. Pasif bisa diaktifkan setiap kali kamu menyerang hero lawan atau merangkak lima kali. 
Read also: 5 Heroes who are Good at Counter Dyrroth 1vs1 in EXP Lane!
Dengan cara ini kamu dapat mengejar musuh mana pun di Land of Dawn. Sekarang kamu dapat menggunakan build hero Dyrroth dan menambahkan pengalaman bermain game yang luar biasa di season 24 Mobile Legends.