Binance cancels acquiring FTX. The cancellation was made based on a number of considerations made by Binance.
This condition is called making the crypto market fall. Where, the red market has been deeper since last November 2022.
This is inseparable from public concern with the bankruptcy of FTX. So they started selling their crypto assets.
How chronologically the cancellation of the acquisition of FTX by Binance? Let's see!'
Also read: How to Register for Binance for Beginners, Doesn't Take Long!
Binance Chronology Cancels Acquisition of FTX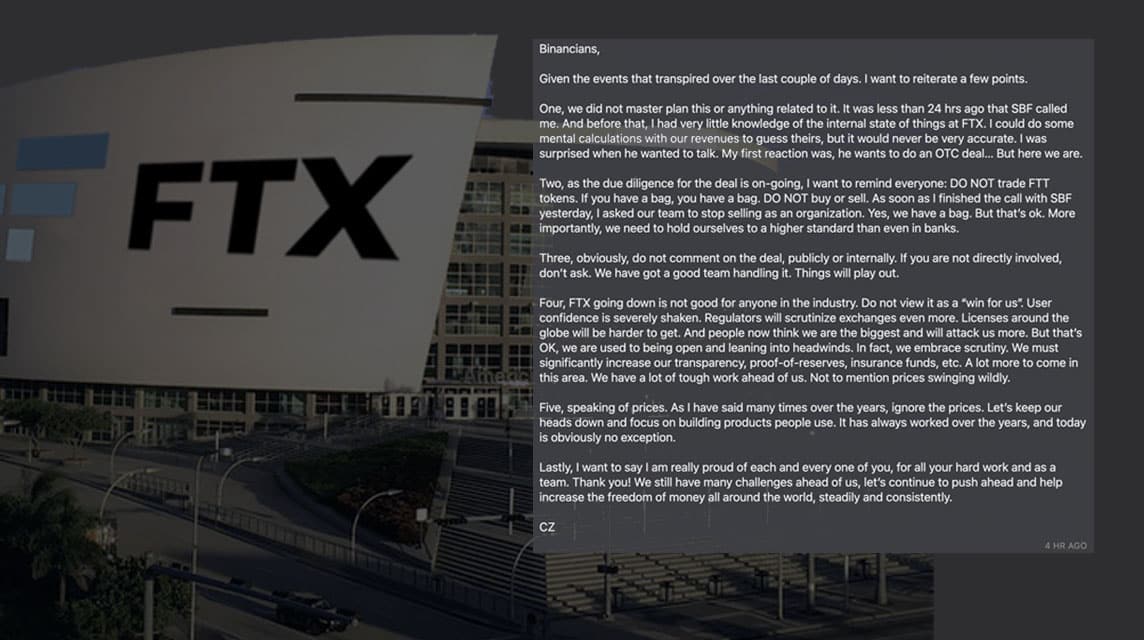 Changpeng Zhao, CEO of Binance, had tweeted about the planned acquisition of FTX via his Twitter account two days ago, on Tuesday 8 November 2022 to be precise.
He said, that FTX asked Binance for help to be able to acquire due to a significant liquidity crunch.
With that, Binance also signed a non-binding LOI with FTX. Nothing else, this is done to acquire FTX.
"This afternoon, FTX asked for our help. There is a significant liquidity crisis. In order to protect users, we signed a non-binding LOI, intending to fully acquire FTX.com and help cover the liquidity crisis. We will be doing a full DD in the coming days," tweeted the man who is known as CZ.
This tweet regarding Binance's plan to acquire FTX was also conveyed by Sam Bankman-Fred, CEO of FTX, on November 8 2022. There were several things he conveyed through his tweet.
Like CZ, Sam Bankman-Fred also stated that it has agreed on a strategic transaction with Binance but is waiting for DD.
Currently, he stated that his party continues to work on completing the Withdrawal. This is expected to overcome the ongoing liquidity crisis.
"This is one of the main reasons we asked Binance to come in. It may take a little time to complete, etc., we apologize for that," he said.
He also expressed his gratitude to CZ and Binance. Sam Bankman-Fred also stated that CZ has, and will continue to do great things to build a global crypto ecosystem, and create a freer economic world.
Not forgetting, he also dismissed the issue that he and CZ had a conflict through his tweet.
"I know that there have been rumors in the media about conflicts between our two exchanges, but Binance has shown time and time again that they are committed to a more decentralized global economy while working to improve industry relations with regulators. We are in the best hands," he said.
Two days have passed, today there is news that is not wearing related to the planned acquisition. This was conveyed by Binance through its social media channels.
Wherein, Binance has decided not to acquire FTX.
"As a result of the company's due diligence, as well as recent news reports regarding mishandled customer funds and an alleged US agency investigation, we have decided that we will not pursue the potential acquisition of http://FTX.com," the Binance account tweeted.
Also read: The 5 Best Exchanges in the World for 2022, There's Binance!
Impact
The cancellation of Binance's acquisition of FTX has had a number of implications for the crypto market. In fact, this condition has a domino effect on almost all crypto tokens and coins.
Of course, some are wondering why the cancellation of Binance's acquisition of FTX had an impact on the crypto market.
Currently, the public prefers to sell their crypto assets due to panic that FTX will go bankrupt due to the internal liquidity crisis.
The withdrawal of crypto assets occurs in all crypto tokens and coins on the market. That is, not just to one or two crypto assets.
Reported from Kompas.com, it was announced that the crypto market capitalization of around 200 billion US dollars had disappeared.
Where, the crypto market capitalization which was originally at 1.05 billion US dollars on 7 November 2022 now remains 840 billion US dollars on 9 November 2022. This condition caused market conditions to fall the deepest since last November 2020.