PUBG Mobile has many categories of weapons, and the most popular are AWM PUBG Mobile, AKM and M416. Here are the five best weapons from this weapon group. Just look at the reason they became Kings Of Guns here.
PUBG Mobile has many categories of weapons, including sniper rifles, assault rifles, SMGs, LMGs and Shotguns. Here are the five best weapons from this weapon group. 
AWM PUBG Mobile – King SR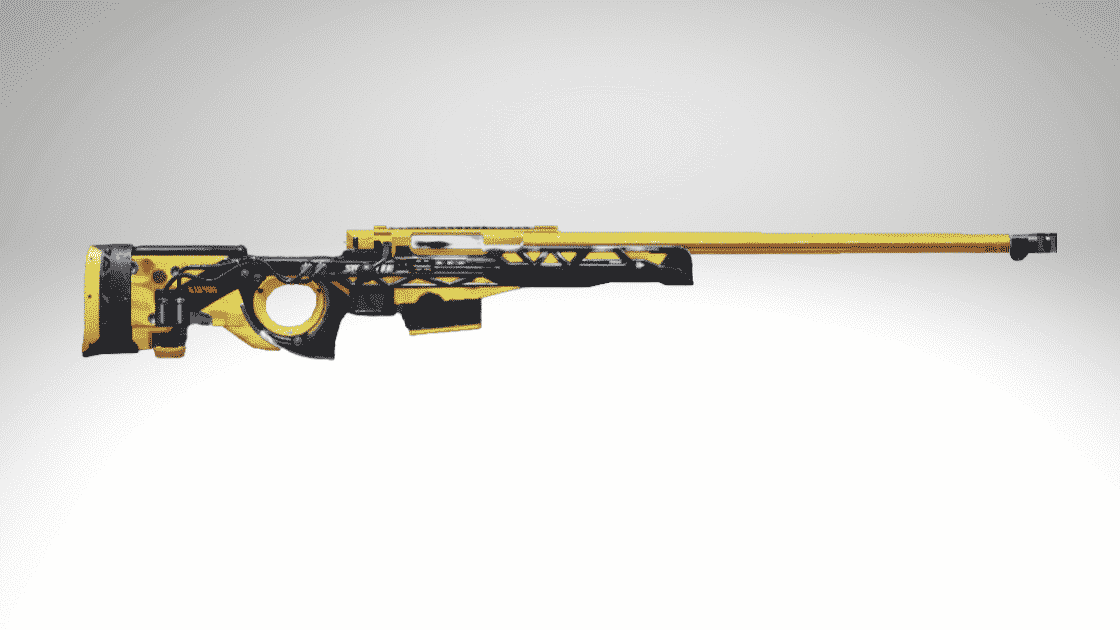 AWM PUBG Mobile is the king of sniper rifles with the biggest damage per hit. AWM PUBG Mobile guarantees kills per headshot as long as you aim and shoot correctly.
Get a Free ROG Laptop and other attractive prizes just by joining Discord Quest #GamingYourWay at VCGamers. Join Now Here!
The only drawback of PUBG Mobile's AWM weapons is the low spawn rate on classic maps. PUBG Mobile AWM can only be found in airdrops, but not all airdrops contain PUBG Mobile AWM weapons.
There are hundreds of different ways to play PUBG Mobile, but with AWM it only takes two. Some play super aggressively and surprise the enemy with a quick boost.
On the other hand, there were passive players who held onto important angles for a while and waited for the enemy to walk in front of their crosshairs.
Like AR, AWM-ing shares the same idea of active and reactive aiming. Those of you who have low sensitivity on the mouse will generally use AWM to slowly clear the corner when pushing towards the enemy.
UZI – Best SMG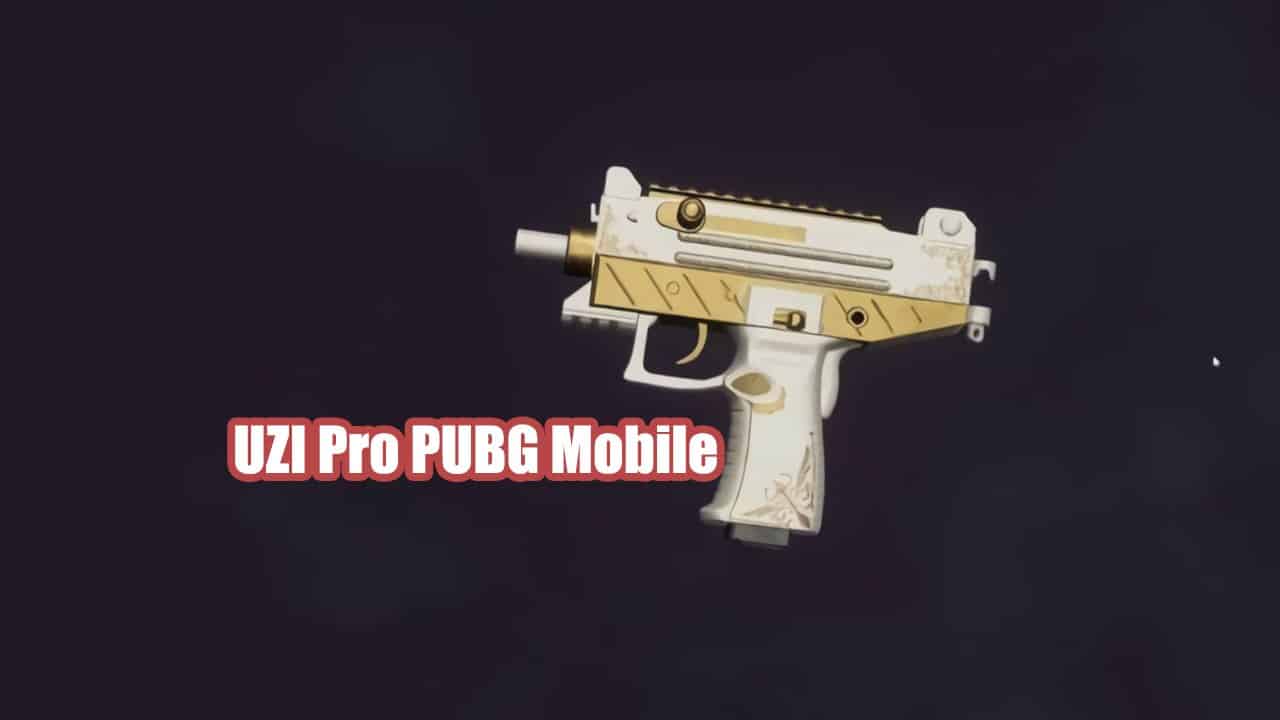 Micro UZI is the best SMG with the highest rate of fire. Moreover, it is also one of the most stable weapons in this game with very low recoil.
Therefore, you can win every close and medium range battle when mastering this weapon. In addition, it is easy to find in all maps.
When you compare the hip fire performance among all the SMGs, the Uzi definitely has lower recoil and also less bullet spread. This makes it the most accurate weapon when shooting enemy hips.
For the unknown, the Micro Uzi's rate of fire is the fastest of all automatic weapons. Performance remains the same when aiming down or basically zooming in with a scope or iron sight.
Scroll to continue reading
Scroll to continue reading
Scroll to continue reading
Scroll to continue reading
M416 – Favorite AR
M146 has the most number of fans in this game because of its various advantages. First, it is very stable and balanced. Second, the M416 is the most versatile weapon effective at all shooting ranges.
In addition, this AR has a high fire rate and base damage. In addition, this weapon is also the most popular that appears in all maps and other PUBG Mobile game modes.
DP-28 – Pro Player's Favorite LMG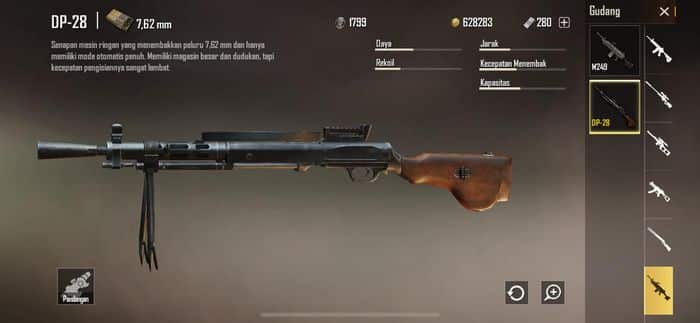 The DP-28 is one of two LMGs in this game apart from the monster weapon M249. The reason why it represents this weapon category to appear on this list rather than the M249 is its popularity.
Apart from that, it is also more stable and versatile than the M249. The DP-28 is strong enough to grip a duo in close-range engagements. Moreover, you can use a 6x scope on this weapon to face enemies at a longer distance.
The DP-28 is a powerful n LMG in PUBG Mobile. The DP-28 is a popular LMG that appears randomly on two maps, including Erangel and Livik. The DP-28 has some similarities with the AKM, such as power, bullet speed, etc.
Both of these weapons use 7.62mm ammo, so the damage is similar. These guns also have the same bullet speed as the AKM (715m/s), so they have the same bullet drop.
Read also: 6 Best Loot Locations in Miramar PUBG Mobile, Lots of Weapons!
AKM – Best AR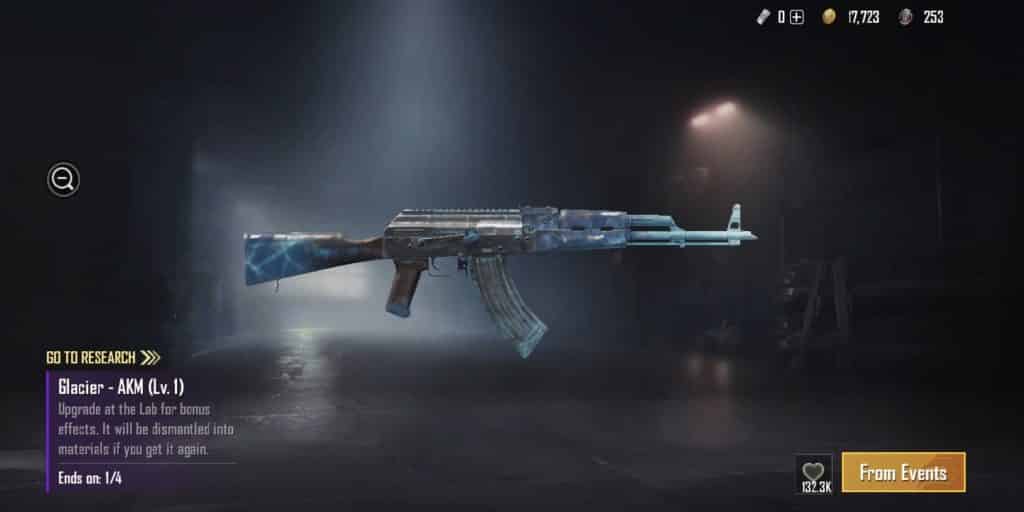 AKM is the best AR that uses 7.62mm bullets. It has the same base damage and rate of fire as Groza but AKM is more popular than Groza. 7.62 The best AR Groza only appears in airdrops.
The only advantage of the AKM is its high recoil. In addition, it has fewer attachment slots to help reduce weapon recoil. However, pro players often choose this weapon to finish off the enemy quickly.
The AKM is an AR that uses 7.62mm rounds and has an impressive base damage of 49. It's great for short to medium range shooting, and has a decent fire rate of 68, with a standard magazine capacity of 30 rounds. But mastering it is another challenge entirely for PUBG Mobile fans.
Read also: Tips for Winning 1vs1 PUBG TDM Battle in 2022
Those are just some of the weapons dubbed the kings of guns. One of them and the most feared is AWM PUBG Mobile. Players who can use AWM PUBG Mobile are very feared. Because you can get kill with just one shot.