Reported from official twitter account DOTA 2, the latest animated series based on valve games DOTA 2 : Dragon's Blood, was released by Netflix on Thursday (25/3/2021) which is now available to small screen platformsits Netflix. Ashley's series Edward Miller, known for his work on X-Men: First Class, Thor, and Black Sails, is produced by Netflix Animation and Valve, the developer of the video. games DOTA.
The anime series is also animated by Korean Studio MIT as the animation writer who has also been responsible for productions such as The Legend of Korra, Voltron: Legendary, and Mortal Kombat Legends: Revenge of the Scorpion.
We're excited to announce a brand-new anime series exploring the Dota universe like never before. As fellow fans of Dota and its passionate global community, we look forward to sharing this new adventure with you when it premieres on Netflix March 25.https://t.co/rHcL5QSi5b

— DOTA 2 (@DOTA2) February 17, 2021
It is fiction that has opted for an anime style, much like other productions such as Castlevania or Dragon's Dogma. The story itself is adapted from games DOTA 2 which was released in 2013. DOTA: Dragon's Blood as kthis fantasy story tell about experience of Davion, a Dragon Knight who aims to defeat all the evil monsters wreaking havoc on his world. After meeting the powerful Eldwurn and Princess Mirana, Davion must face his greatest challenge to date.
Based on trailers Primarily for the series below which released on March 2, this series will follow the story of the popular Dota 2 hero, Davion the Dragon Knight, who is best known for his ability to transform from a man in armor to a ferocious fire-breathing dragon.
More specifically, Davion (Yuri Lowenthal), a famous dragon knight who is devoted to wiping dangerous monsters from the face of the Earth. One time, he met Slyrak the Ember Eldwurm (Tony Todd) in a strange event. After the incident, Davion was possessed by a demonic power which sometimes transforms him into a dragon hungry for humans.
In the process, he also meets Princess Mirana (Lara Pulver) who has a secret mission. They then work together to heal Davion and prevent havoc on the world. This made Davion involved in a major event that was unimaginable before. He and Princess Mirana must face demons and gods with unlikely allies. Apart from Yuri Lowenthal and Lara Pulver, actors Josh Keaton, Troy Baker, and Kari Wahlgren also joined the anime series.
The first season, consisting of a total of eight episodes over half an hour long, is now available on Netflix. Here is a leak about sall episodes and how long they last.
1. The Words of Thunder (27 minutes)
2. Princess of Nothing (26 minutes)
3. Strange Land (26 minutes)
Scroll to continue reading
Scroll to continue reading
Scroll to continue reading
Scroll to continue reading
4. The Monster at The End of this book (26 minutes)
5. The Fire Sermon (25 minutes)
6. The Knight, Death, and the Devil (25 minutes)
7. Say the words (25 minutes)
8. A game of chess (25 minutes)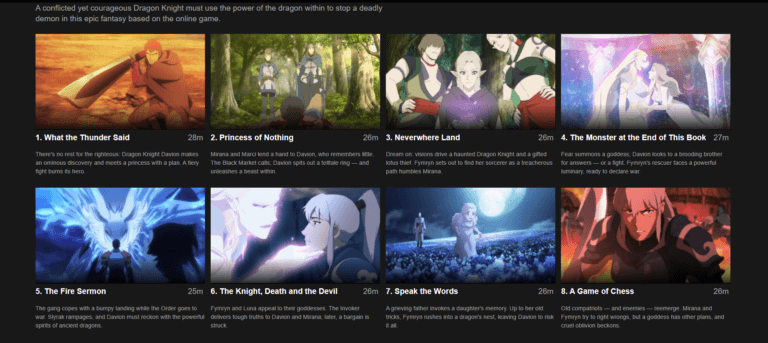 In fact, at the same time Netflix is also working on various video adaptations games for the platform. This is the case for productions like Assassin's Creed, Splinter Cell, or Resident Evil. In the case of Capcom's survival horror, there will not only be 3D anime series, but series as well live action.
So, those were all the leaks regarding the synopsis, how many and the duration of each episode. If you are curious about the excitement of the story, DOTA: Dragon's Blood can be watched at Netflix starting today, guys!
Previously, don't forget, don't miss it to always get it updates the latest and complete news about games. Starting from game reviews news, tips and tricks and so on. Straight to follow account Instagram VCGamers and channels YouTube yes. Come on! Join the community at Discord VCGamers, community gamers the biggest in Indonesia.